Despite helping thousands of fans lose weight and get in shape, Joe Wicks, The Body Coach, is firmly anti-diet.
Joe's new book, 'Lean In 15: The Shape Plan' out now, rejects the common misconception that changing your body means cutting out major food groups and denying treats.
Instead, Joe's recommends eating three large meals per day and two snacks, alongside regular HIIT (High Intensity Interval Training) and resistance training.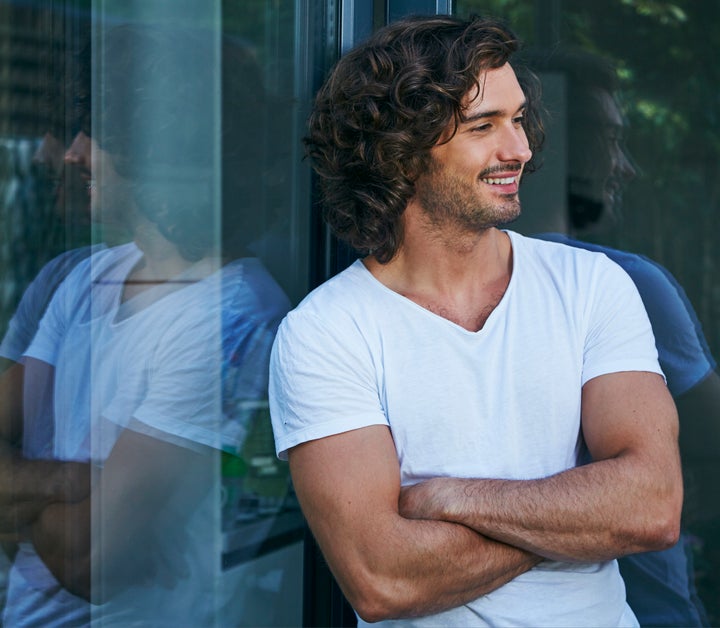 The new book offers 100 new recipes, split into three sections: reduced-carb meals (for rest days), high-carb meals (for workout days) and snacks, full of protein and fats.
"It's a simple way of eating, you'll never go hungry," he says. "You're just giving your body the right energy source at the right time."
The book follows the principles of phase two of Joe's bespoke 90 Day Shift, Shape and Sustain (SSS) plan that has helped more than 100,000 people get fit, burn fat and build lean muscle.
The book contains detailed information on HIIT exercises and resistance training.
Here are two recipes from the new book, one reduced-carb meal and one high-carb meal.
GRILLED SALMON WITH AVOCADO, FETA AND PUMPKIN SEEDS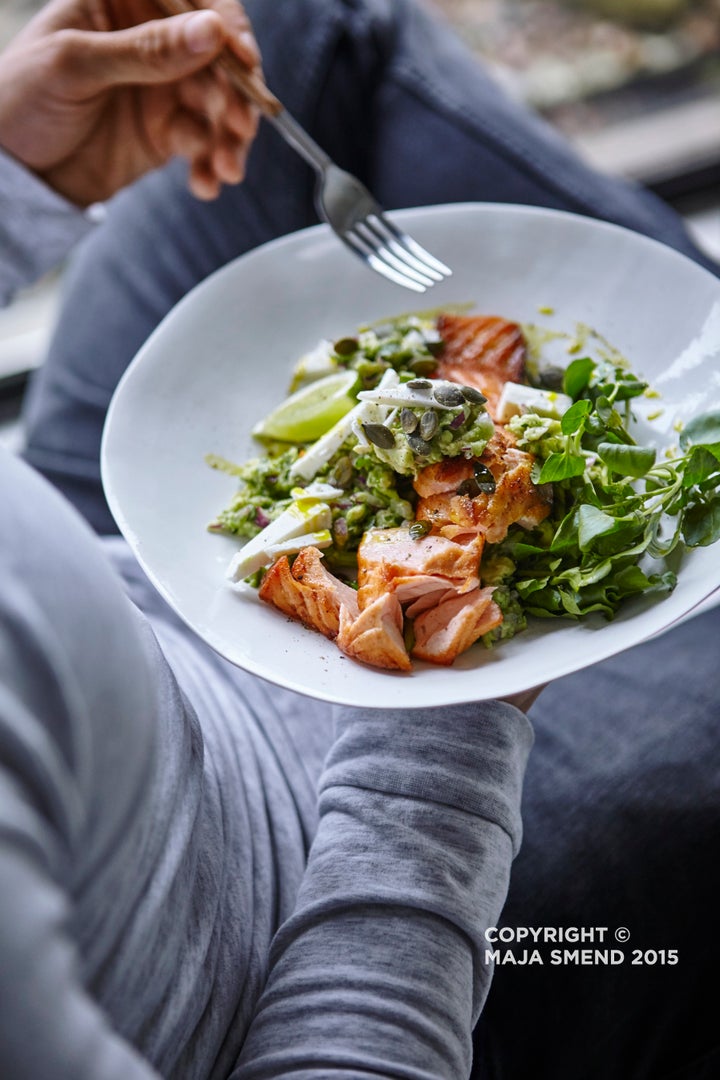 From the 'reduced-carb section', to eat on rest days
Wow, talk about healthy fats... this one not only looks and tastes great but is also literally rammed with goodness.
drizzle of olive oil
1 x 240g salmon fillet, skin on
2 tbsp pumpkin seeds
salt
1 avocado, peeled, de-stoned
and roughly chopped
¼ red onion, finely chopped
2 tsp sesame oil
1 tbsp chopped coriander
40g feta, drained
handful of watercress, to serve
juice of 1 lime, to serve – optional
Preheat your grill to maximum.
Drizzle a little olive oil over the skin side of the salmon, place on the grill pan or a baking tray and slide under the hot grill.
Cook for 6 minutes on the skin side, before carefully flipping and grilling for a further 4 minutes. Turn the grill off and leave the salmon to keep warm until you're ready to eat.
While the salmon is cooking, tip the pumpkin seeds into a dry frying pan and toast over a high heat for about 2 minutes,
or until they start turning brown and popping. Season with a little salt and leave in the pan.
Using the back of a fork, break up the avocado in a bowl. Add the onion, sesame oil and coriander. Mix the whole lot together until the ingredients are well combined.
Slide your salmon onto a plate, removing the skin as you go.
Pile up the guacamole, slice and scatter over the feta, and finish with a sprinkling of toasted pumpkin seeds, a pile of watercress and a squeeze of lime juice, if using.
JOE'S BIG BEEFY MEATBALLS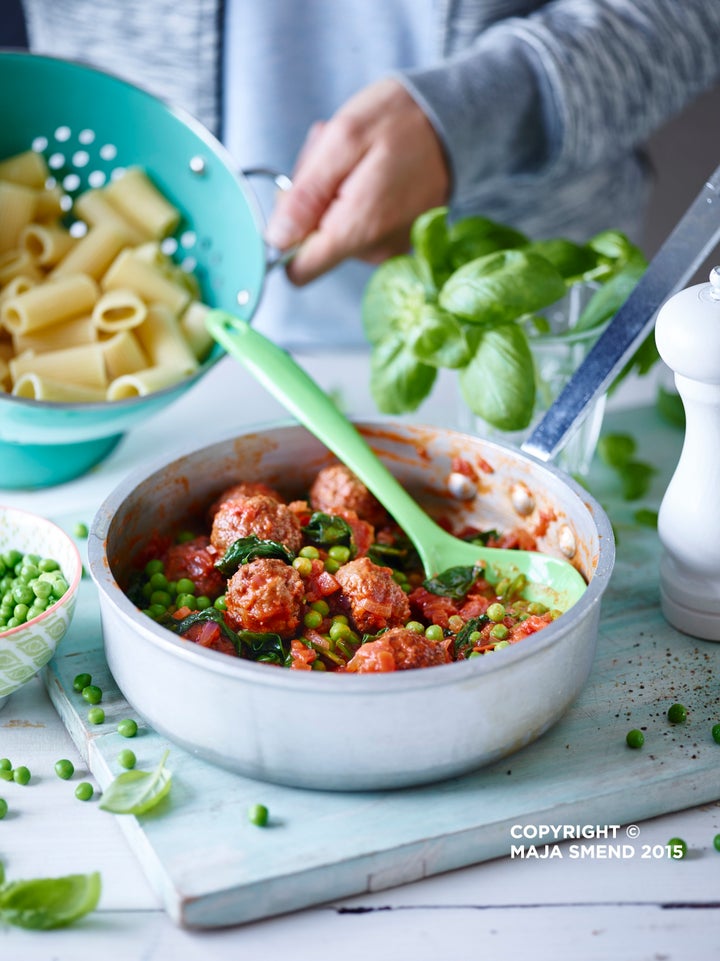 From the 'high-carb section', to eat on workout days
Oh! They're back again – my big juicy meatballs. But this time with my favourite rigatoni pasta. Turkey, beef or pork meatballs will all work well with this sauce, so feel free to mix it up.
INGREDIENTS
200g dried rigatoni
½ tbsp coconut oil
½ red onion, finely chopped
250g ready-made beef
meatballs
1 tbsp red wine or balsamic
vinegar
200g tinned chopped
tomatoes
1 tsp sugar
50g frozen peas
handful of baby spinach
leaves
a few basil leaves, to serve – optional
METHOD
Bring a large saucepan of water to the boil. Drop in the rigatoni and cook according to the packet instructions.
Melt the coconut oil in a large frying pan over a medium to high heat. Add the onion and fry, stirring regularly, for 1 minute before tumbling in the meatballs.
Fry the ingredients together, stirring every now and then, for about 2 minutes,
by which time the meatballs should be starting to colour.
Pour in the vinegar and the chopped tomatoes, along with about 75ml of water, and sprinkle in the sugar. Place a lid on top of the pan (if you don't have a lid then cover with a large plate), bring the whole lot to the boil and simmer for 5 minutes, by which time the meatballs should be cooked through.
About 2 minutes before the pasta is ready, drop the frozen peas into the saucepan. Bring the water back up to the boil and then drain in a colander. Leave in the colander until you're ready to serve.
Check that the meatballs are cooked by cutting into one to make sure there are no raw pink bits left, then stir through the spinach, allowing it to wilt in the residual heat. Chuck the drained pasta and peas into the meatball sauce, mix everything together and serve with a scattering of basil leaves, if using.