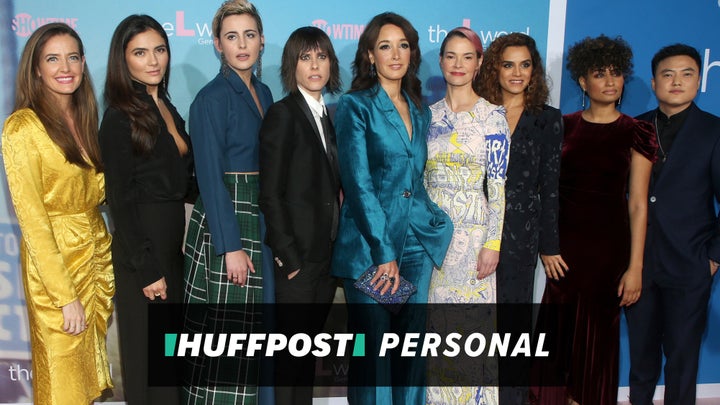 Watching The L Word is a rite of passage. Every lesbian I know has a story about it: how they saved up to buy the DVDs from HMV and secretly watched it when their parents were out; how they lied about their age and joined online chat rooms just to talk about it; how they masturbated in their childhood bedroom to Shane and Carmen's season three sex scene.
When I found the show on Netflix – almost 10 years after it had first aired – I was stuck in a heterosexual relationship that I was desperately unhappy in but terrified to come out. I've always craved what I thought was normal – marriage, kids, a house, some dogs. I was on the well-trodden path to getting all that and being gay did not tie in with my life's agenda. So I lived out my alternative reality by reading Sarah Waters novels and watching the entirety of the LGBT section on Netflix.
When my then fiance was out with friends or working late, I'd curl up on the sofa watching The L Word. It was, I thought, my guilty pleasure. But as the first series unfolded, I realised it was a lot closer to home than I'd imagined. While my basement flat in South East London was about as far as you can get from The Planet (the chosen cafe hang-out of our protagonists), the show gave me the only experiences I had of queer people on TV were those that weren't shrouded in drama and deceit.
"If being gay was anything like it was on the soaps, I didn't want to be out at all..."
I grew up watching British soaps, where gay people were only ever cheating partners embroiled in saucy same-sex affairs, leaving behind jilted husbands and wives. There was no sense of normality, no easy coming-outs and supportive families; no finding a partner and settling down; no chance of marriage and children. Before The L Word, all I'd seen was Corrie's Sophie and Sian get exiled from the family home after being caught snogging on the sofa by Sophie's mum.
According to Nineties and Naughties TV, being gay was nothing but a scandalous storyline, and I felt the impact like a blow to the head. Without a media blueprint for what my future could look like; I internalised the forms of homophobia I saw on screen. If being gay was anything like it was on the soaps, I didn't want to be out at all.
But then I discovered The L Word, which showed me – showed all of us – that lesbians can live successful, happy and fulfilled lives. It gave us narratives previously exclusive to heterosexual characters: Bette had a high-powered career, Jenny started dating women and gained a huge group of female friends; Tina had a baby. Their sexuality wasn't the pinnacle of their character development. The L Word gave me a peek into what my future could look like, and gave me the push I needed to start living more authentically.
It's been almost a decade now since I came out, and I've spent a huge part of that time trying to figure out where I fit into the sprawling lesbian scene. I had a handful of gay friends, so without The L Word and those Sarah Waters novels from which I managed to carve out an identity by taking tiny parts of the characters, I'd be lost and lonely.
"Without the show, it's quite likely I'd have succumbed to the boring hetero life I thought was destined for me..."
But how did a trashy, wildly far-fetched and, at times, devastating (RIP Dana) TV show become one so treasured by gay women? The answer is The L Word's legacy isn't its quality writing or relatability storyline. It's not that it was 'great TV' – it's that, for people like us, it was the only TV. The show's impact is felt so deeply is because it was so isolated, a beacon in the huge void of lesbian representation on screen. While heterosexual narratives of life and love saturated the media, The L Word, then, was the only thing we had of our own.
I hate to sound like a broken record, but representation is so important to the LGBTQ+ community. Without nuanced, emotive, realistic media portrayals of what it's like to be a queer person in modern society we're constantly entering uncharted territory, afraid at what's around every corner you're about to turn.
That's not to say that the original L Word was without fault. From problematic attitudes towards bi and trans characters and uncomfortable conversations about race, to the erasure of butch women – Generation Q has a lot of work to do to repent for the sins of the past, and must leave no stone unturned in exploring the whole spectrum of queer people as intersectionally and inclusively as possible. With homophobic hate crimes in London up 55% in five years, being out can be scarier than staying in. If you aren't ready to face the outside world just yet, or if you're feeling lonely, you can put on the TV. There are people like you out there. You are not alone. That's why young queer people need Generation Q now more than ever.
For so many queer women like me, The L Word, meant the world. Without the show, it's quite likely I'd have succumbed to the boring hetero life I thought was destined for me. Without the show, I wouldn't have known life could be so sweet on the other side, where I belonged.
Sophie Brown is a freelance journalist. Follow her on Twitter at @SophieBrownHP