It could be time to ditch your PJs because according to a sleep expert, the best way get a good night's shut-eye is to sleep naked – apart from bed socks.
Sammy Margo, author of The Good Sleep Guide, says this unconventional get-up helps your body to maintain its optimal temperature for sleep, but prevents your extremities from getting too cold.
"In order to get a quality night's sleep you need to be cool," she tells HuffPost UK. "By doing this you're releasing your sleepy hormone, melatonin."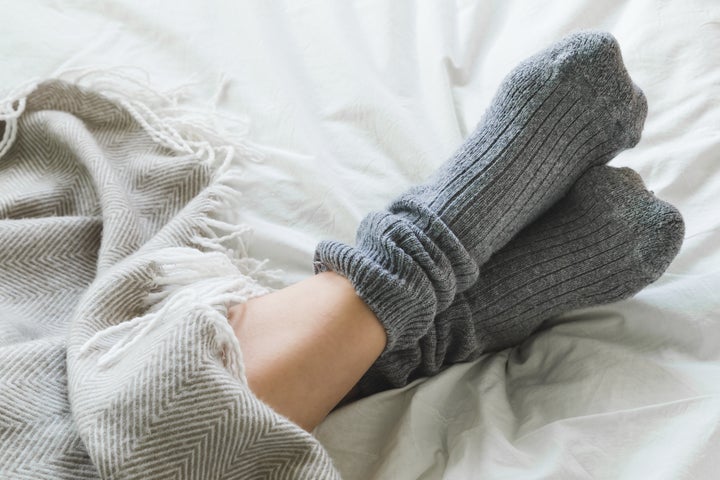 The optimal temperature for sleep varies from person to person and people in warmer climates adjust to their environments. But studies have shown most people in the UK sleep best when their room is between 16°C-18°C, Margo says.
For much of the year, we maintain that temperature in our birthday suits, so Margo advises against cosy pyjamas that'll make the body temperature shoot up.
"If you think about the temperature within a house, it's probably going to be about 12 degrees, but then you turn on the heating to about 20," she says. "When you turn off the radiator in your bedroom at night, you'll usually be left with a room that's about 16 degrees.
"The issue comes in the summer when the temperature outside is 25-30, that's when it's difficult. But most of the year in the UK, just not having the radiator on, opening a window during the day and sleeping naked is a really good thing."
Bed socks are an essential accessory because when you sleep, your circulation changes and many people wake in the night because they have cold feet, Margo says.
"The important part of sleep is protein synthesis – it's when your body goes through recovery and repair and restoration. And that happens more centrally [in the body], so your peripheries – your feet mainly, get chilly," she explains.
She recommends splashing out on wool or cashmere socks – instead of cheaper synthetic ones – because they are heat regulating, meaning they'll keep you warm when it's cold or cool when it's hot.
"You can't really put a price on having a good night's sleep," Margo argues. "Even if you buy a £10 or £15 pair of bed socks, they're going to last you quite a long time and when you work out how much one night's sleep costs, it's negligible."