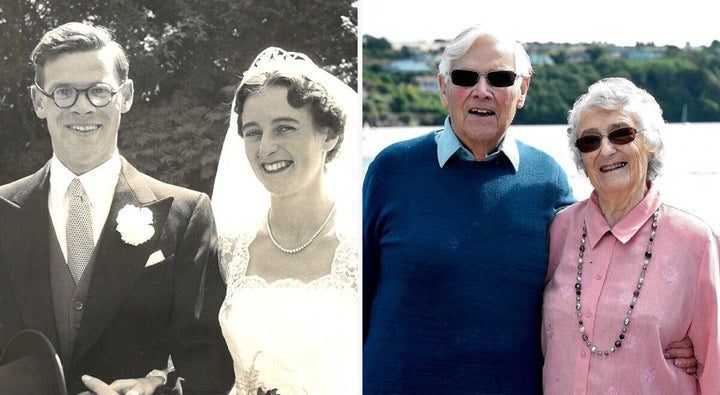 You're reading Relationships DIY, a series full of tips, tricks and perspective on keeping your relationship healthy and happy during the pandemic.
"You'll know when you find that special someone. Everything will be easier with them by your side."
Those are the simple yet beautiful words of 87-year-old Ivor Sherne, who's approaching 50 years of marriage with his wife, Margaret.
The pair are among the couples – in their 60s, 70s, 80s and 90s – who agreed to tell HuffPost UK the secrets to long-term love. Because if anyone knows, they do.
Some of them have lived through a world war and now, a global pandemic, with several of them torn apart for the first time in decades, due to ongoing restrictions on care home visits. But their love for one another is unshaken.
Here, we learn a little about their lives, plus hear their advice for others on maintaining strong relationships, whatever life throws at you.
'Never be afraid to say sorry'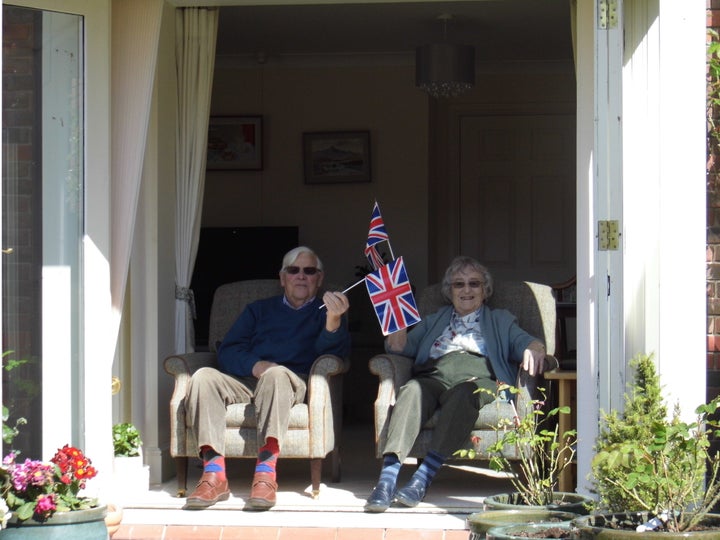 Married in July 1955, George, 95, and Olive Ford, 92, recently celebrated their blue sapphire wedding anniversary, marking 65 years as husband and wife.
The pair met at a friend's house in Dublin, Ireland, in 1952, and got so carried away chatting, they missed the last bus home – so George walked Olive home.
"I knew I'd met somebody special so, when we said goodnight, I asked if she'd like to go to a dance together the following evening, and it went from there," George recalls.
They've enjoyed a happy marriage with three children, eight grandchildren and five great-grandchildren since. In 2018 they moved to Richmond Nantwich retirement village in Cheshire to be closer to their daughter.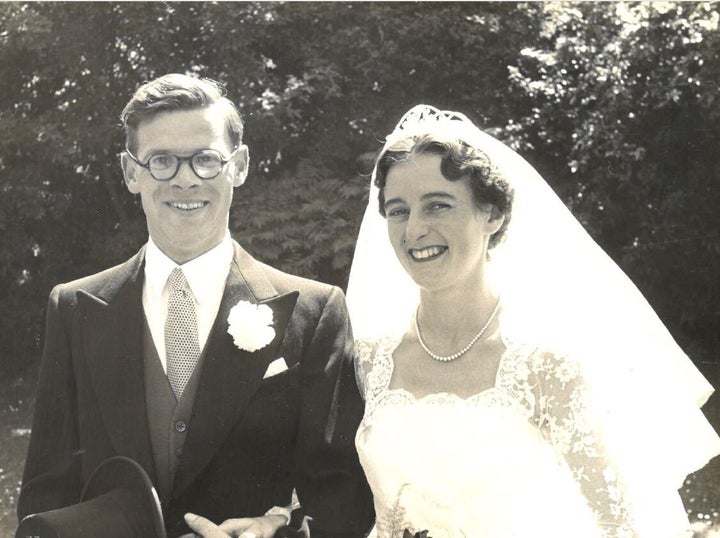 Olive says the key to staying happy long-term is good communication. "You should be able to share everything with one another, good or bad," she says.
"And never go to bed on an argument. There's really no need and all too often it'll only have been about a trifling matter anyway."
"Exactly," agrees George. "Never be afraid to say sorry – no matter if you feel you're in the right or wrong. And if someone apologises to you, be gracious: accept it and draw a line under it, or apologise too if you've responded in a way you shouldn't have. That way you can both put it behind you and move on."
George's advice to younger couples is to share your feelings and build trust. "With good foundations you can weather the hard times – however few and far between – and enjoy every moment of the good ones," he says.
Olive believes a strong relationship boils down to three things: love, loyalty and respect. "You're both entitled to your own opinions and you don't always have to agree," she says. "But it is important that you respect each other's views, even when they differ."
'Give a little and take a little'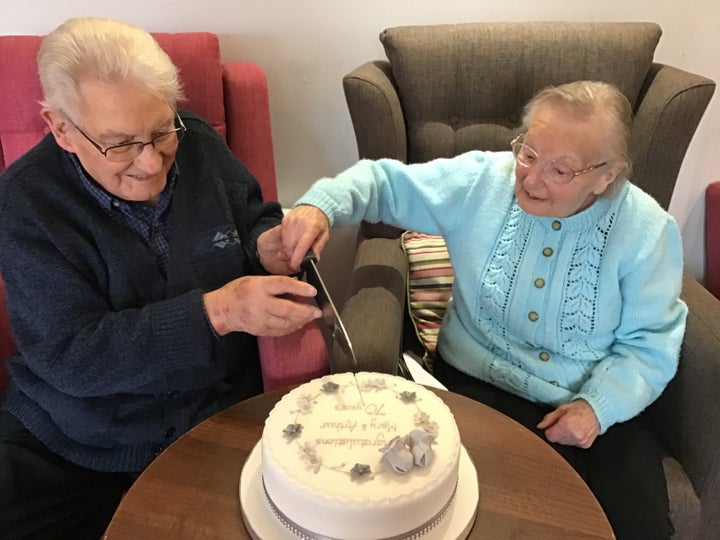 Arthur Freeland, 90, and his wife Mary, 91, were childhood sweethearts, who lived across the road from each other in Claygate, Surrey. They began dating when they were both 16.
The couple got married in 1950 at Holy Trinity Church in Claygate and the reception was held in Mary's parent's garden. They spent their honeymoon in a caravan near Bognor Regis and – although it rained most of the time – they enjoyed day trips to Hastings and Eastbourne.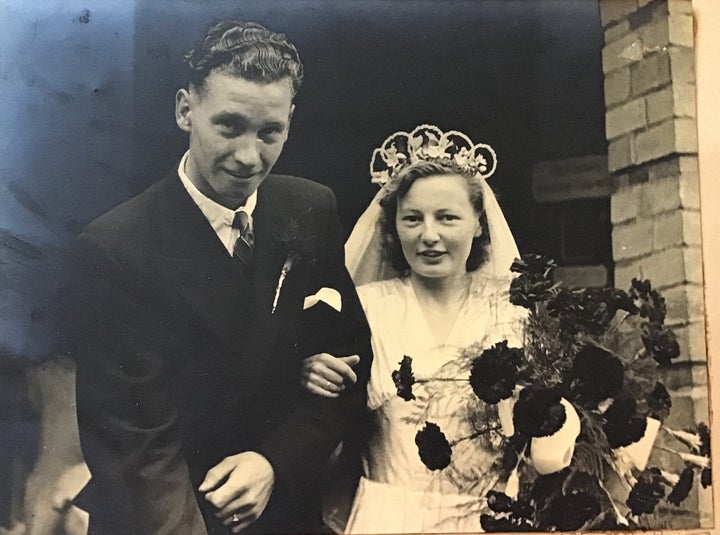 The couple moved into Westbury Court Care Home in Wiltshire in October 2019 and celebrated their 70 wedding anniversary last month.
When asked what they think is the secret to their long relationship, Mary laughed and said: "Christ knows!"
Arthur thinks Mary's decision-making is to thank. "Mary has always made all the decisions, so that's number one, but also having children and both working hard to provide for our family as a team," he says.
His advice for younger couples is to "give a little and take a little." Mary adds: "Get married first, then have children."
'Respect your differences'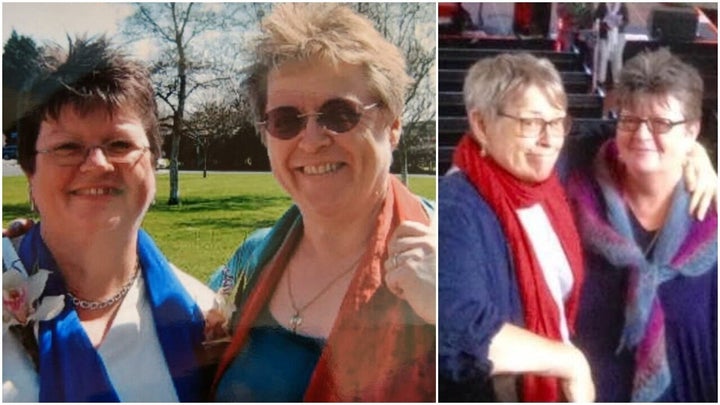 Finola Brophy, 68, and Liz Armour, 72, from Worthing, met through mutual friends in 1989 and got talking at a friend's 40th birthday party. They quickly bonded over their interests in music, education, politics, and equal rights.
"I'd been slightly in awe of this woman I'd heard so much about, so it was good to finally talk to her," recalls Finola. "The chemistry between us was palpable."
As an active parent in the local primary school, Finola had become friends with some of the teachers. Liz, a drama advisory teacher, invited Finola to her flat to prepare a song for a teacher's leaving do. "On arrival at her beautiful little flat I felt apprehensive when Liz said the other person wasn't able to come. I learned later she hadn't actually invited them!" says Finola.
"I looked at her and knew I was falling in love," adds Liz. "We kissed, knowing this was the beginning."
More than 30 years later, the pair say "we're as deeply in love now as we were then" – they celebrated their love with a civil partnership in 2006.
"We've been through 'hell and high water' and have survived contentious divorce and custody battles, family ostracism, life-threatening illnesses and disabilities and society's ongoing disapproval," says Finola.
"We're now grannies, our children and grandchildren are thriving, laws have been changed and hearts and minds won over, to some extent. Love doesn't conquer all, but goes an awfully long way to help. We are very lucky women."
Finola says the secret to their relationship is mutual respect and chemistry. Liz agrees, adding "attraction, excitement and love" have kept them strong. Finola's advice to younger couples is: "Respect your differences and give each other space to grow separately and together."
'Don't stay mad for long'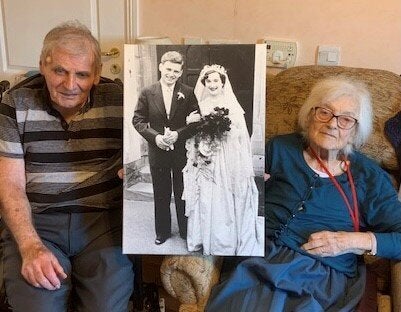 Kathleen, 88, and Michael Burke, 89, have been married for 65 years. They tied the knot in 1955, at a church in Brislington, Bristol, close to where they met.
They honeymooned on the Isle of Wight and had three children, eight grandchildren and 10 great-grandchildren – plus a dog named Whiskey.
The couple now live in Bamfield Lodge Care Home in Bristol. Kathleen needed some extra help after she was discharged from hospital four months ago and Michael decided to move in shortly afterwards, to be with his wife. They were "so happy" to be reunited.
In a joint message, the pair agreed that the secret to a happy marriage is "don't stay mad for long". And their advice for younger couples is to "take your time with everything".
'Make sure you're always having fun'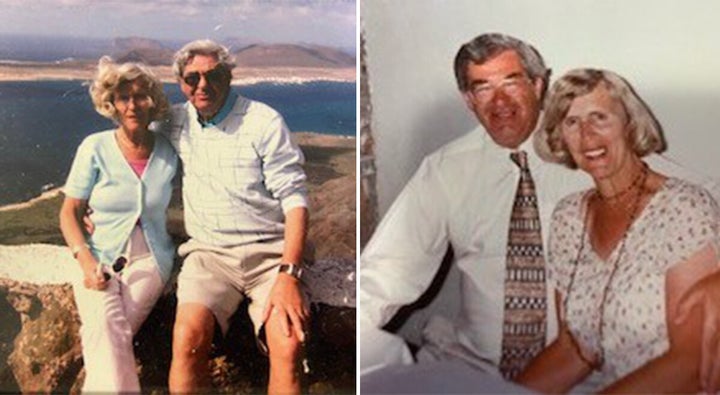 Ivor, 87, and Margaret Sherne, 84, met at a local tennis court in 1972. They struck up a friendship over their passion for the sport and, over time, their relationship blossomed. The couple married in 1973 at Harrogate Registry Office and they have six children – two together and two each from previous relationships – and 12 grandchildren.
The pair lived together in Knaresborough and Harrogate for more than 45 years, before Margaret moved to Bupa's Southlands Care Home in September 2020.
Ivor has temporarily moved into the home while visits are limited during the pandemic. He arrived earlier this month and the couple have been inseparable since. The secret to their relationship is "mutual respect".
"Always be there and care for one another regardless of what else is going on," says Ivor. "I also think it's important to have shared interests. You don't need to do everything together, but having mutual hobbies or passions gives you time to connect and brings you closer."
His advice for keeping a relationship strong is: "Make sure you're always having fun. Knowing there's a smile on their face will always put a smile on yours."
'Don't rush to complete milestones'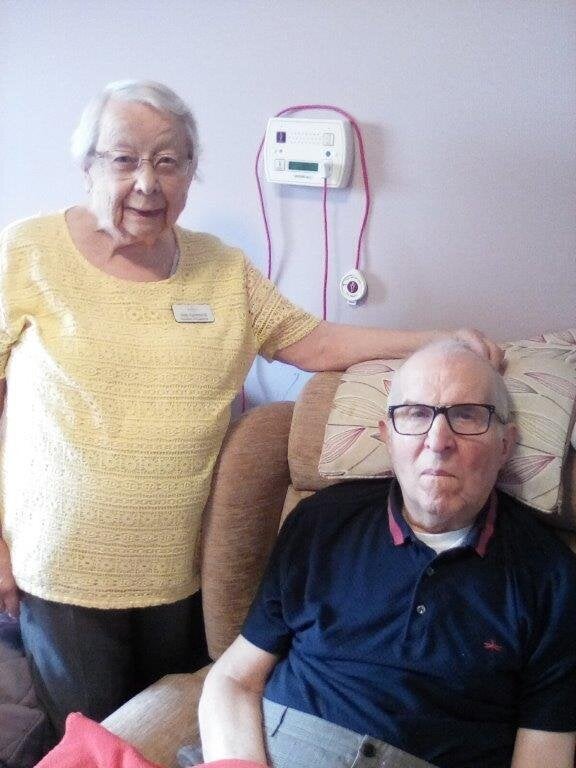 Roy Hammond, 84, and his wife Avis, 86, met in 1958, in the office where they worked together. They soon hit it off and have now been married for 60 years.
The couple live in Barchester's The Wingfield Care Home in Trowbridge, Wiltshire, which Roy initially moved into in August 2018, before Avis joined him in February 2019 to be closer to her husband. They say the secret to their relationship is "basic friendship and companionship".
Their advice to younger couples is to slow down and enjoy dating, rather than rushing to complete 'milestones'. "Be sure and take their time before they live together or get married," the pair said in a joint message.
'Don't give up too easily'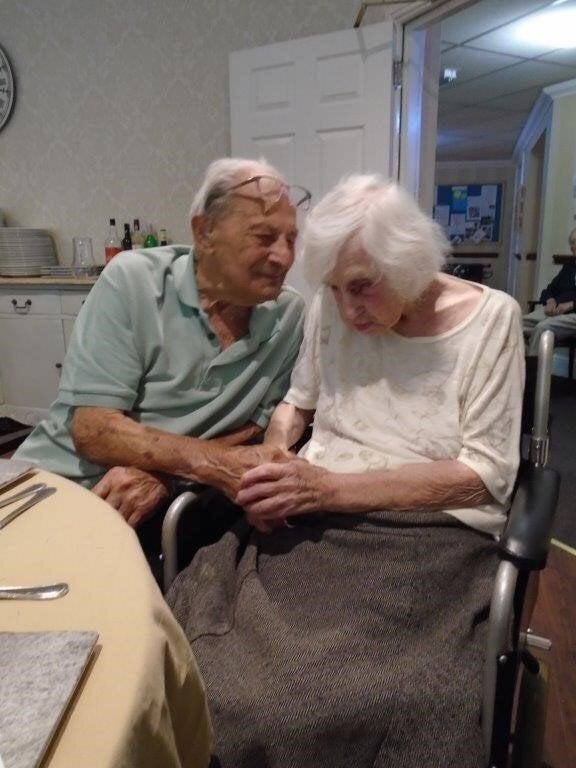 Beryl Greasley, 95, and her husband Tony, 97, met at the County Arms pub in Blaby, Leicestershire and married in June 1949. Beryl moved into The Lawns Care Home in Oadby, Leicestershire, in December 2015 and after months without visits due to the pandemic, Tony decided to move in this June.
The couple agreed that the secret to their relationship has been keeping their priorities in check. "Family is the centre of everything," they said in a joint message.
Their one piece of advice to other couples is: "Not to give up too easily and work through any difficulties." Apt advice, after the challenges we've all faced this year.