The last time I caught the 5am train to Windsor, it was with crowds of people, many of them wearing Union Jacks, heading to the royal town to celebrate the wedding of Prince Harry and Meghan Markle. Today, the 5.58 from London Waterloo is rather less full. In fact, it's not full at all.
I had been looking forward to discussing the intricacies of how exactly to pronounce Princess Eugenie's name with people I didn't know, or comparing eccentric outfits with my fellow passengers. Instead, I find myself sitting alone, eating a bacon roll and trying not to get ketchup on myself.
In Windsor itself, it's a little busier, and by 8am there are about 50 people already waiting along High Street. Terry Hutt, 83, who calls himself the Union Jack Man, is among them. He slept here overnight, snuggled down in a sleeping bag, sitting on a fisherman's chair. This morning he's dressed head to toe in Union Jack flags.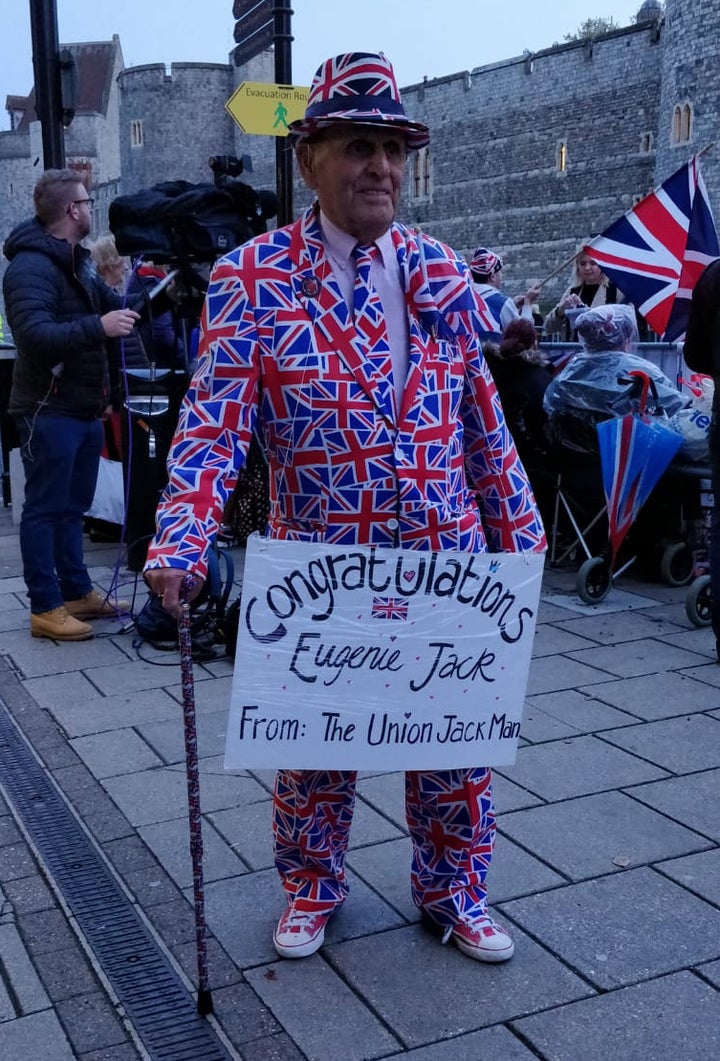 "I got a couple of hours sleep," he tells me, smiling. A huge fan of the royals, he attends every event. "I first met the Queen mum when I was four years old. Later in the years she used to invite me to her birthday parties," he explains. He's excited at the prospect of spotting the royals, particularly 'Fergie'.
Sharon Mcewwan, 57, from London has been here since 5am. "I love the royal family and I'm excited to be here with my friends," she says. "I was here for Prince Harry and Meghan's wedding." She's most excited to see the bride and groom and possibly Prince Harry and Meghan. "If I saw the Queen I'd be very excited," she adds.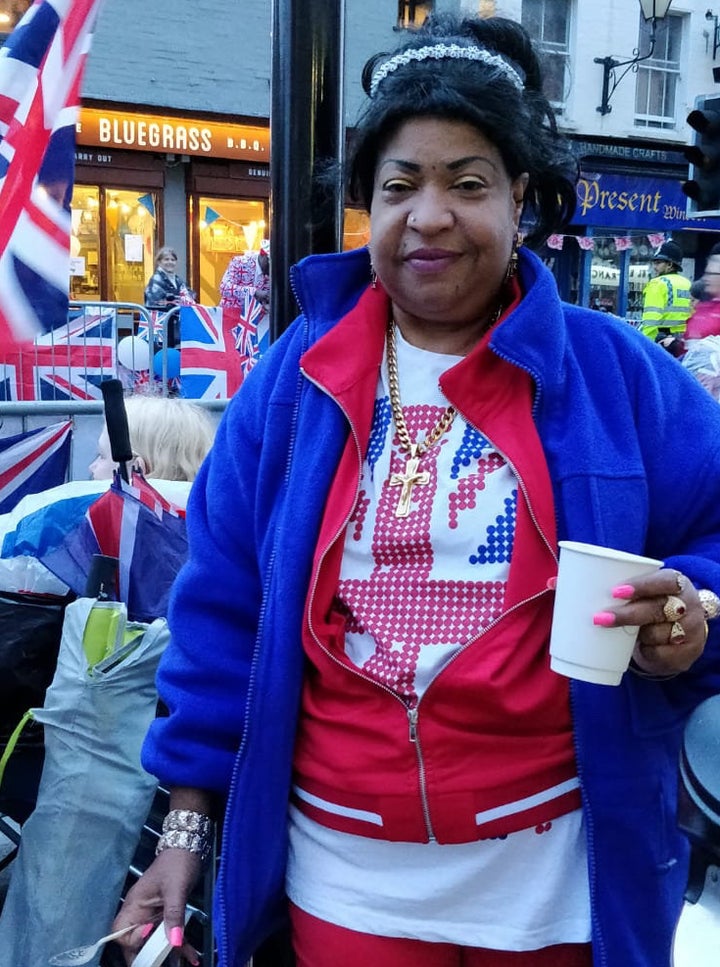 On the street I overhear a woman tell the police that there are more of them than members of the public. And when I meet Kerry Evans, 54, from Barton upon Humber in Lincolnshire, who has been camping by the riverside, I get the feeling that she might be regretting having arrived so early. "I came on Tuesday thinking there would be thousands here. I'm a bit underwhelmed really," she says.
But more fans are emerging. Bartly Grahan, 30, from County Durham, shrugs out of his sleeping bag in the middle of the path ready for the day. He's been sleeping on the street since Wednesday to get a good spot. He's shivering when I speak to him and, through chattering teeth, tells me he's excited to see the happy couple go past. He's been to William and Kate's wedding and Harry and Meghan's wedding. "I thought there would be more people," he says looking around.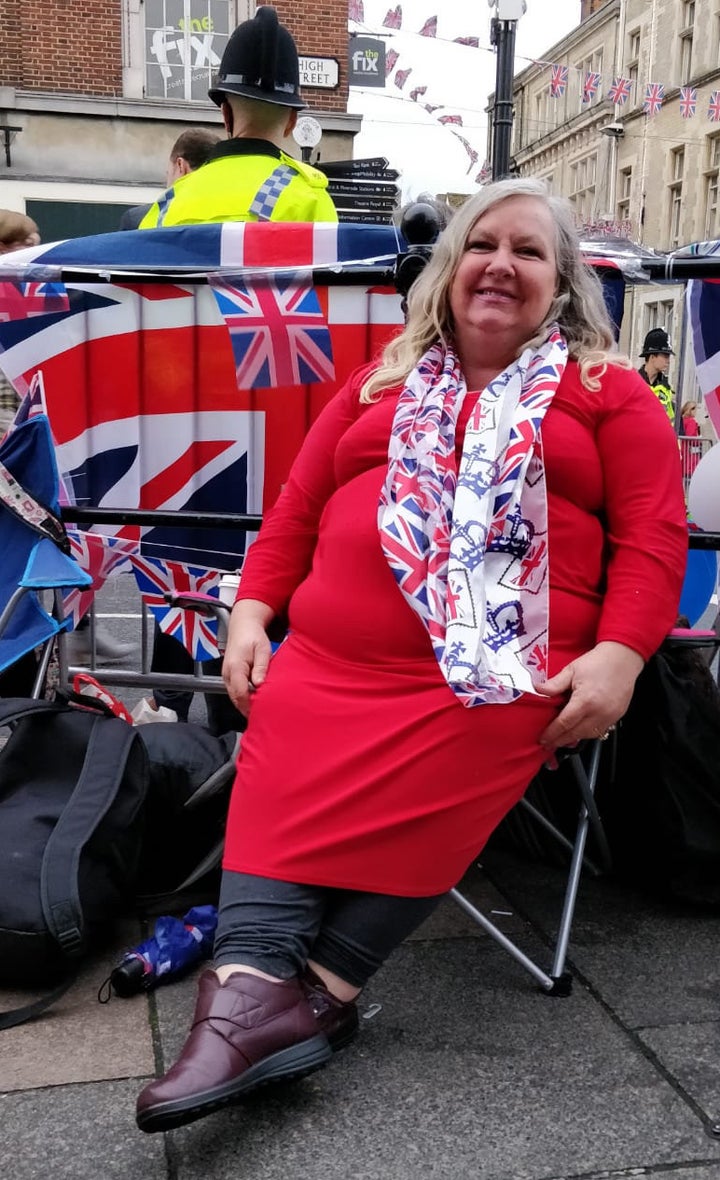 It's hard not to draw comparisons with the first royal wedding of the year, which took place on a sunny Saturday morning in late spring and saw hundreds of thousands descend on the town. Certainly business people are feeling the difference.
Jamie How has come from Leicester to sell purple scarves with the happy couple's faces plastered across them. When I chat to the 63-year-old mid-morning, he says that selling them has been "like pulling teeth", despite the cool and windy weather. "They were a tenner but they're a fiver now," he admits. "I put it down to Brexit because everything else is."
When Harry and Meghan got married, How sold 460 knitted scarves and went home a happy man. "It was roasting hot and I sold all the scarves," he says. This time around he's sold between 20 and 25 – and says he can't go home until he's flogged all 119.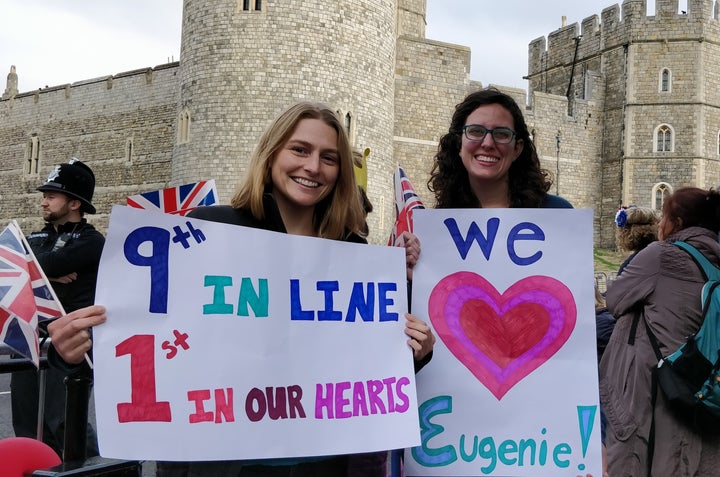 At Bluebirds Smokehouse, situated on the royal procession route, one staff member tells me that business hasn't been that busy considering the crowds – although she suspects that might pick up later. That's echoed by Aamir Bukhari of Chippy of Windsor, who tells me he's not yet had many customers ordering fish and chips. (Although we chat some way before lunchtime). "After the procession we are hoping people will come inside," he says. Custom is definitely slower compared to Harry and Meghan's wedding. "The previous wedding was different, that was something else."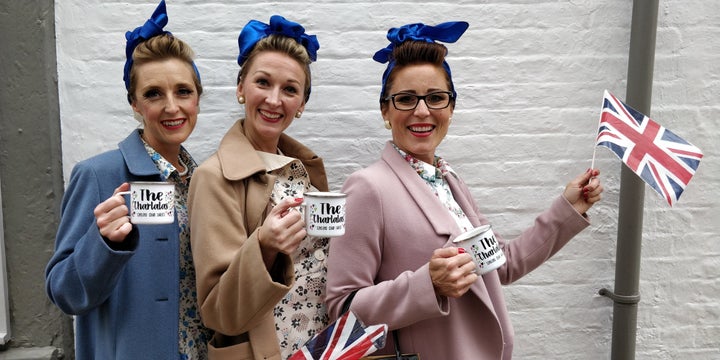 At souvenir shop King and Queen on Castle Street, Derek Prime, 74, agrees with the comparison, but is feeling quite upbeat. Decked out in a Hawaiian shirt and Union Jack hat, he is helping out for the day at the shop he worked at full time between 1981 and 2009. It's quieter than for Harry and Meghan's wedding, he says, but he's still selling some flags and the odd mug here and there. "[Then] we sold no end of stuff," he notes.
"There were 100,000 people in May," he says. "Now you'd be lucky if you have 100."