In case anyone doubted that Wednesday's vote of confidence was anything other than a brief respite from Theresa May's ongoing troubles, the EU last night confirmed it. The blunt and brutal message to the PM was that there's no way she will get fresh 'legal' assurances on her Brexit deal. No matter what language the leaders spoke, the answer was 'No'. She didn't get anything at all on an 'end date' for the vexed customs backstop. The Telegraph's Europe editor Peter Foster describes her treatment as 'an absolute kicking'.
Throughout the past two years, Brussels has been frustrated by the lack of detail, or the sheer impracticality, of the UK's plans. And the EU27 felt that May last night was frustratingly vague about what kind of 'legal' assurances she wanted. Jean-Claude Juncker twisted the knife in his late night press conference: "Our UK friends need to say what they want, instead of asking us to say what we want, and so we would like within a few weeks our UK friends to set out their expectations for us, because this debate is sometimes nebulous and imprecise." This fascinating clip shows a clearly irritated May saying 'come on' to Juncker.
Most damning of all, the BBC has got hold of a diplomatic note which states that May was "not really clear" when she made her 10-minute speech to the gathering. That sounds like a withering echo of the complaints Tory MPs had during the tense 1922 Committee the other night. New intake backbencher Lee Rowley put it perfectly, telling May to her face "stamina is not a strategy". He could have added that panic is no substitute for policy. And it was surely panic that caused May to talk on the steps of No.10 about 'legal' assurances. With that one phrase, she set herself up to fail last night.
De facto deputy PM David Lidington tried to put a brave face on it all on the Today programme, pointing to the stronger language from the EU on things like the temporary nature of the 'backstop'. He suggested that further talks would be undertaken, though Austria's idea of a special Brexit summit in January was firmly rebuffed last night. There is a case for saying that Brussels' hardline stance has actually helped May by ramming home there really isn't a better negotiated deal on offer than hers. But back home Tory MPs are already saying 'we told you so'.
2. ALTERNATIVE STRIFE STYLES
Lidington was in fact more interesting when he gave a strong hint of what May would do next, once her deal was rejected in the New Year. "The Prime Minister would need to take stock and come to Parliament accordingly," he said. And he didn't rule out a series of indicative Commons votes on alternative plans, with a second referendum and a managed 'no deal' the main options. "The alternatives have got their pros and cons…What MPs have to face up to is that the alternatives - basically either going back on Brexit or crashing out with no deal - themselves have massive drawbacks." Note he didn't mention the Norway-plus option, which as I've been saying recently has fallen out of favour among the Cabinet.
Tony Blair is out and about again today, pushing the People's Vote option. But the confusion over Labour's position was underlined by Angela Rayner last night when she told Question Time (David Dimbleby's last ever edition) that holding a fresh referendum would "undermine democracy itself". Rayner was so firm that she may look rather daft if the party does indeed end up following the logic of its conference policy and back a 'public vote'. Her words will not have endeared her to the party membership either, a key fact in a future leadership contest. Then again, a lot of people in all parties may have to eat their words in coming months. All of the alternatives to May's deal will trigger more political strife, but some may have less strife than others.
Blair had a typically alliterative way to frame the debate this morning, saying that with May's plan doomed, Brexit would now be either "pointless [Norway] or painful [no deal]". He claimed he had talked to EU sources who would look again at reforming free movement if the UK held a second referendum to Remain. "I think they'd go a long way to facilitate this". That sounded like the kind of promise Cameron sought and failed to get way back in 2016.
Speaking of no deal, our Arj Singh reports this morning that military officers have been drafted in to help ministers prepare for sudden upheaval in the event of a no-agreement Brexit. A Whitehall source suggested the situation was "like the Olympics bail out", when some 4,700 troops were drafted in to fill a shortfall of security and other staff in 2012, which contractors G4S failed to provide. Brexiteer Steve Baker says "people ought not to hyperventilate about it", but Sarah Wollaston told us it would be "utterly and grossly irresponsible for the prime minister to knowingly lead us over the cliff into a chaotic no deal exit for which we are so unprepared that the army will need to be drafted in".
It's been an extraordinary week but there's a danger of missing the huge importance of the PM confirming that she will not be leading the Tories into a 2022 general election. After complaints that she garbled her answer to the 1922 Committee, she explicitly confirmed the pledge yesterday in Brussels. We do indeed have a lame duck PM. The Times' Francis Elliott reveals today that May decided to make her announcement after chief whip Julian Smith canvassed cabinet ministers on what she needed to do to save herself from the sack. There's still a real risk of a deep split among Tories, underscored by the way Philip Hammond had to apologise (via the Sun) for labelling Brexiteers as 'extremists'.
Blair, who knows what it's like to be forced into pre-announcing your departure, told the BBC this morning that May could still "secure her place in history in a very benign way" if she became "the facilitator" of a Brexit solution that healed the nation. But many Tory MPs think that she can only do that if she makes even clearer she's going to step down next year. On our CommonsPeople podcast, former policy adviser George Freeman tells us (click HERE for full version) that May will get a 'tap on the shoulder' soon after March to tell her to go. He also predicted there would be a Tory leadership contest in the summer, followed by a general election in the autumn. Any longer than that and the danger of a Labour majority win would grow.
As I said yesterday, one cunning plan among ministers is for May to propose a 'Brexit-only' second referendum (to make it palatable to Brexiteers), with just her deal or no deal on the ballot paper. Parliament would then amend the legislation to remove 'no deal' and replace it with Remain. But an even more cunning plan is for May to propose a 'multi-option' referendum rather than a binary one. It sounds mad but other countries have done this. The options would be May's plan, no deal and Remain. And by splitting the Leave vote, Remain would win, some ministers think.
Meanwhile, it's worth asking now: is May's deal still government policy? Despite No.10 trying to downplay it, the importance of Liam Fox's remark the other day to Laura Kuenssberg cannot be overstated. He made clear he felt the Cabinet would need to sign off the deal if the EU failed to come up with new legal assurances demanded. And yesterday, a techie note from the Commons Library made me think the deal has been deemed dead (or at least placed in the Dignitas waiting room) by the Government itself: "The fact that the Government is still treating the 21 January 2019 as a legally relevant deadline, as regards what it must do in Parliament, implies that political agreement may already have lapsed". May keeps stressing that deadline, but it is only 'legally' relevant if agreement on her deal has ceased. Keep an eye on this one, folks.
BECAUSE YOU'VE READ THIS FAR...
Watch this motorist insist he can drive safely while on his mobile phone…then crash.
Sajid Javid tried hard yesterday to hail the new police funding settlement as a victory, with the total £1bn the biggest since 2010. But Labour and the Police Federation were quick to point out the big downsides. For a start, it's nowhere near enough to reverse the 30% real-terms cut in central government funding to police forces of the past eight years (and a fall of 44,000 staff). But more importantly, it's local council taxpayers who face bigger bills to fund the rise. When you add in higher council tax bills to fund social care, it underlines that the Treasury really does prefer to pass the buck to local authorities rather than cough up itself. In normal times, the battle ahead of next year's spending review would be getting lots more attention. It surely will soon.
Everyone was still taking in the PM's confidence vote and her fresh trip to Brussels, so it seems Whitehall felt that yesterday was a good day to bury bad news. Our round up of the stats dump shows: knife crime is at its highest for a decade, 120,000 children are living in temporary accommodation, black people are disproportionately more likely to experience police force, the NHS had the worst A&E wait times since March, 2,000 children were referred to the anti-terror Prevent programme. Away from Brexit, that's quite a snapshot of the other problems we all face.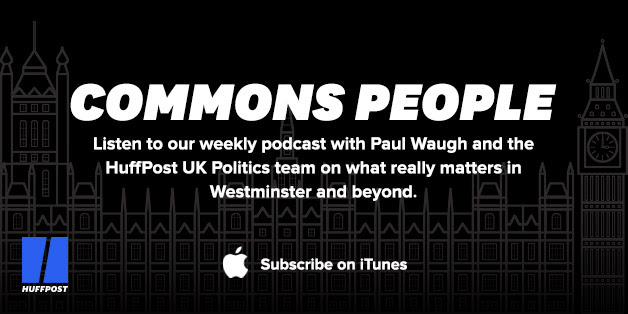 HuffPost is part of Oath and on 25 May 2018 we will be introducing a new Terms of Service and Privacy Policy which will explain how your data is used and shared by Oath. Learn More.
If you're reading this on the web, sign-up HERE to get The Waugh Zone delivered to your inbox.