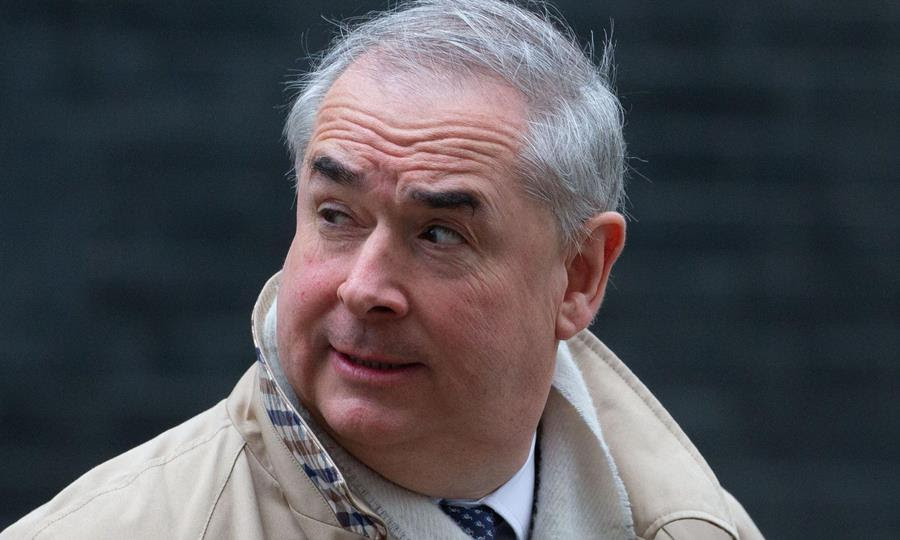 Commons Brexit statements by Theresa May are so frequent and long (and repetitive) these days that there's a danger few MPs actually turn up. A packed House is however guaranteed immediately after the PM finishes, when Attorney General Geoffrey Cox MP QC rises to deliver his own, much-anticipated statement on his legal advice on May's Brexit deal. But although he will publish an 'unprecedented' summary of his 'full reasoned political statement', he will flatly refuse to publish the full legal advice to Cabinet.
Given that Cox's booming voice makes him the Brian Blessed of the Commons chamber, its perhaps fitting that today will be more political theatre than legal substance. As the pre-Christmas panto gets underway, Labour will yell 'behind you!' as Keir Starmer points to Cox's fellow Brexiteers on the backbenches who suspect his advice confirms May's deal is a terrible deal. The Sunday Times reported that advice warned the UK could be tied to EU rules 'indefinitely'. Today's Telegraph has a letter from chief negotiator Olly Robbins warning the Northern Ireland 'backstop' is a 'bad outcome'. Robbins will probably finesse his remarks when he's grilled before the Brexit Select Committee at 1.30pm, well before May or Cox come out fighting.
Of course, the Attorney General is as much a political position as a legal one. Cox is no expert on EU law (UK criminal law is his speciality), just as Peter Goldsmith was no expert in international law when he had to advise on the legality of Blair's Iraq war plans. Goldsmith initially harboured serious doubts about the legality of the invasion right up until the eve of war. In fact, I recall former White House lawyer John Bellinger allegedly told colleagues: "We had trouble with your attorney. We got him there eventually". Cox, it seems, got there eventually on May's deal too. He's the kind of MP whom many already assume is a knight of the shires, and some colleagues mutter that his gong will surely be on its way once the Brexit dust clears.
In the Lords last week, Goldsmith himself pointed out that unlike in 2003 (when Blair refused to publish his advice), the Commons had now passed a 'Humble Address' that ordered ministers to publish in full. Ministers will today effectively refuse to carry out the will of the Commons. The next steps will be a contempt motion passed by the Commons and a reference to the Standards and Privileges Committee. The advantage for the Government is that process will take weeks, after which time the Brexit deal ship will have sailed…or have been sunk.
Another day, another Commons statement, another display of Theresa May's political and physical stamina. After a gruelling 14,000 mile round trip to the G20 in Argentina, it says a lot about the state we are in that it's now almost a footnote that another Minister of State quit this weekend in protest at May's Brexit deal. Sam Gyimah's resignation on Friday night was the seventh ministerial departure since the deal was published.
Gyimah came out strongly for a second referendum. One big question is whether there are enough 'Remainer' Tory MPs inside and outside government like him to outnumber the Labour MPs in Leaver seats, who believe their voters will never allow them to back such a plan. On Marr yesterday, Michael Gove said Leave would again win a referendum, but warned the very act of holding a fresh vote would corrode public trust in politics. What may help that message is the Archbishop of York John Sentamu warning in the Yorkshire Post that a new referendum would risk 'civil unrest and violence'.
In their different ways Cox, May and Robbins all agree that her deal is the least worst option. That's not an easy sell, though Gove did a better job than anyone in making the Brexiteers' case for the compromise. Some in the European Research Group (ERG) believe Gove is as guilty of self-charm, and self-delusion, as Blair was on Iraq. The PM herself is finally launching a charm offensive, by meeting backbenchers wavering over the meaningful vote. One MP told me last week he'd requested a meeting with May but was told by the whips she had no plans to do any one-on-ones. That's clearly changed.
The Sun reports today that the figures are so bad that the whips are thinking of postponing the vote and allowing the PM one final attempt to get the EU27 to give her more concessions. Sajid Javid killed that on Today this morning, declaring: "This vote is taking place as planned." But as one of the favourites as next Tory leader, will Javid tell May the game is up if she loses her meaningful vote heavily next week? Well, when asked directly by Nick Robinson if he was ready to negotiate a new deal if May left office, Javid notably didn't rule it out. "I'm not getting into hypotheticals," he said. The vote was "the only thing I'm thinking of…let's take our time and explain this deal to our colleagues". Time, however, is running out.
Javid told Radio 4 'I'm a big fan of immigration' and pointed to the fact that his parents had migrated to the UK (he also revealed that at the age of 11 he had suffered bullying similar to the Syrian refugee in Huddersfield recently). Yet when it comes to EU migration, the Home Secretary is trying to pull off a compromise that is a microcosm of the PM's own bigger compromise on Brexit itself. With no clarity over just how harsh or liberal the new post-Brexit immigration regime should be, Javid told MPs last week he still 'hoped' to publish the long-awaited White Paper before the Dec 11 vote. This morning, he confirmed that was now 'very unlikely'.
No one should underestimate just how important this issue is, and the delay will fuel Eurosceptic claims that MPs are being asked to vote for a 'blindfold Brexit'. The CBI warned yesterday that a crackdown on low-skilled migration (those earning less than £30,000 a year) would inflict 'massive damage' to the UK economy. Javid was rather irritable about that this morning, saying: "The last time I looked around the Cabinet table I didn't see the CBI sitting around it."
Yet maybe he doth protest too much. The Sun reports he and the PM are at 'loggerheads' over how quickly to curb low-skilled migration. May wants restrictions as soon as the transition is over, Javid wants longer to ease business into the change. As ever on migration, it seems the PM is in a minority of one in the Cabinet. Maybe she'll only give way after the Big Vote. As for her cherished 100,000 target for net migration, Javid sounded like he was ready to read it the last rites, saying only the 'broad direction' should be downwards, not the actual figure.
Recent migration stats show that many EU nationals are leaving the UK ahead of Brexit, but non-EU nationals are stepping into the breach to do the work. That underlines the problem with May's 100k target, while highlighting the difficulties of her rhetoric on the subject. Many leading Brexiteers are actually liberal on migration and prefer to focus on more cerebral matters like sovereignty. Which may be why Michael Gove yesterday studiously refused to rule out backing EFTA membership if May's deal failed. His words in full are worth repeating: "It is better to be outside the European Union and being in the EEA or EFTA is better than EU membership, but this deal offers us opportunities which the so called Norway option does not." Giving way on migration may not be a red line for Gove. Will it be for the PM?
BECAUSE YOU'VE READ THIS FAR...
Tired of a boring commute to work? Watch these guys rock the subway.
Meanwhile, Labour this weekend saw the resignation of Shadow Cabinet minister Kate Osamor after she threw a bucket of water over a Times journalist and allegedly threatened to hit him with a baseball bat. The Times also reported that the Labour party claimed she had not been aware of her son's drug dealing case until after he was sentenced in October. That claim was blown apart when the paper revealed she'd written to the judge beforehand pleading for leniency. Dan Carden, who has been only an MP since 2017 and a shadow minister since January, was this weekend made acting Shadow International Development Secretary. That's quite a big step up, and proves again that Jeremy Corbyn believes his best talent pool is on the Left.
5. UNACCOMMODATING PRICES
It will be yet another test of how organised No.10 is to see how long it takes to replace Sam Gyimah as Minister of State for Universities. The role is kinda important, after all, Brexit or no Brexit. HuffPost reveals today that the cost of accommodation at the UK's top universities has soared by as much as 77% over the past decade. Our investigation found that the cost of the cheapest halls at Russell Group universities jumped by an average of 41% between 2008 and 2018, despite maintenance loans rising by as little as 13%. Freedom of Information requests revealed that some of the UK's brightest students are being priced out of universityaccommodation all together.
Our latest Commons People podcast is out. Hear us chinwag about Hear us chinwag about the Brexit TV debates and Labour and Tory tactics on a Peoples Vote. We also chat to Alan Wager, the boffin from UK in a Changing Europe think tank about his research on marginals flipping from Leave to Remain. There's even a daft quiz on FISH. Click HERE to listen on Audioboom or below for iTunes.
HuffPost is part of Oath and on 25 May 2018 we will be introducing a new Terms of Service and Privacy Policy which will explain how your data is used and shared by Oath. Learn More.
If you're reading this on the web, sign-up HERE to get The Waugh Zone delivered to your inbox.