Theresa May's letter to Jeremy Corbyn last night has certainly divided opinion. Was it a dastardly move to keep open the option of a soft Brexit (via a customs union), as Jacob Rees-Mogg and other Brexiteers seem to think? Or was it actually just a bit more window-dressing by a PM who has no intention of working with Corbyn but wants to be seen as reaching out?
Well, suspecting the PM of bad faith these days is almost an Olympic sport on all sides at Westminster, but perhaps what matters most here is that some key Labour people I've talked to are firmly in the latter camp. They think May's letter underlined her red line, while trying to argue 'a customs union' was not needed because her political declaration on future UK-EU trade would sort it all out. "It's a vague series of non-commitments, we can't sign off on a blind Brexit," one source says.
Rather than a genuine pitch to Corbyn, May's letter felt more aimed at offering fresh comfort to those Labour backbenchers in Leave seats whose votes she needs to get her deal through. All the talk of legislation on workers' rights, 'further financial support' to communities 'left behind', compromise on. EU agencies and even security co-operation (see below) was designed to maintain and even expand the number of MPs thinking of backing her plans. As ex-minister Sam Gyimah put it on Radio 4 last night, it felt like the PM was trying to "promise everything to everyone in the hope that we all clamber aboard the good ship May."
This Thursday's Valentine's Day vote will be another test of whether May's strategy of running down the clock succeeds. An amendment seeking to bring back the second 'meaningful vote' by February 26 will get Labour backing, but it's unclear how many Remainer Tories will be on board. If the amendment is non-binding, it could be an irrelevance anyway. This morning on Today, Boris Johnson tried to keep a high bar on his own support for the PM, saying a legally binding 'time limit' on the Northern Ireland backstop would "not be good enough". A "UK-sized exit" that allowed us to "get out by our own volition" was as crucial, he said. And he sounded happy for the clock to tick away.
The Parliamentary Labour Party (PLP) meets again tonight and, one week after it passed a motion demanding data on the scale of anti-semitism in the party, MPs hope they will get answers. There's been a dizzying run of developments on the issue in recent days, not least after activists in Luciana Berger's local party in Liverpool Wavertree tabled motions of no confidence in her, claiming she was seeking to undermine Jeremy Corbyn.
John McDonnell shocked several MPs on Friday by suggesting Berger could easily solve the problem if she would "just tell people you are not supporting a breakaway party, you are not jumping ship". Later that day, the motions were withdrawn, but Tom Watson weighed in and called for the suspension of the Wavertree party for 'bullying' its pregnant, Jewish MP.
General secretary Jennie Formby said there was no constitutional grounds for suspension. On Saturday, party chair Ian Lavery wrote for HuffPost that 'whole constituency parties' should not be "subject to trial by social media". Yesterday, the Wavertree party's executive put out a statement rejecting the bullying charge and declaring it had "very little choice on whether to debate legitimately-submitted motions". Still, Watson said Formby was investigating the conduct of some local members, including one who said on Facebook that Berger was a 'disruptive Zionist'.
The wider battle is over whether Labour is really getting a grip on the abuse within the party. We revealed on Friday night that an emergency meeting of the ruling NEC's officers group had agreed to the PLP's demands for more transparency. A party source told me that after last week's PLP, Formby asked the NEC for their permission to publish data and "pushed hard to get their agreement". But another NEC source tells me Formby failed to act on a similar demand at last month's NEC meeting. One thing that will be worth watching tonight is just who turns up to set out Formby's response. I'm told she had a prior commitment and may not be there in person. And note the carefully-worded PLP motion called on "the party leadership [not Formby necessarily] to provide a report" in one week's time. Will it be Ian Lavery who steps up?
Home Secretary Sajid Javid struggled recently to deny that a no-deal Brexit would make Britain less safe, while insisting that 'mitigants' could be put in place. Today, the top cop preparing us for that scenario revealed that a new £5.6m 'international crime coordination centre' plans to return the UK to 1950s-style policing methods to replace EU databases and other cooperation if we leave without a deal.
Theresa May has herself defended things like the European Arrest Warrant as invaluable in speeding up the capture of one of the men involved in the 2005 July 21 failed bomb plot. Deputy assistant commissioner Richard Martin now says a no-deal would make it harder to extradite suspects wanted in the UK such as Jamie Acourt, who was arrested in Spain on a drugs offence in Spain and returned quickly to Britain.
What may give some MPs further pause for thought is the recent case of Jack Shepherd, the 'speedboat killer' who fled to Georgia and for whom it took the police months to trace and seek extradition, precisely because they had to rely on non-EU systems. Whether any of this will sway the big votes on May's Brexit withdrawal agreement is anyone's guess. Trade, rather than security, has swayed MPs of late.
One Cabinet minister who is looking beyond Brexit is defence secretary Gavin Williamson, and in a speech today he will warn Britain needs bolder and stronger armed forces or risk being seen as a 'paper tiger' by those who flout international law. Williamson clearly has an eye on the Treasury ahead of the spending review, but some backbenchers mutter that it's more proof that the young pretender (he's only 42 and has a key ally in his friend the chief whip) still rates his chances of the Tory leadership one day.
BECAUSE YOU'VE READ THIS FAR...
In case you missed it, watch Alexandria Ocasio-Cortez reveal just how broken America's political funding rules are. Worth remembering that she's just 29, and that as a result under the US constitution she's barred from ever taking on Trump directly. All Presidential candidates need to have "attained to the Age of thirty five Years" in order to be eligible.
Boris Johnson has endorsed new calls from backbencher Bob Seely and a foreign policy think tank for the UK's overseas aid budget to be slashed, with some of the money spent on peace-keeping military projects and even the BBC World Service. Already Labour has attacked the plan, which would end cross-party consensus on the pledge to spend 0.7% of GDP on international development. As the BBC's Ross Hawkins points out, it feels like a key cause of a future Boris leadership bid.
Yet to me, it feels like a campaign whose time may have passed, rather than one whose time has arrived. Many 'moderate' Tories will fear that tearing up the aid pledge risks further alienating liberal conservatives already upset about Brexit. If May (who stood up to a voter in the last election to tell him why she believed in the aid policy) is right that austerity will soon be over, the cost pressure may reduce too. Even the Daily Express (now owned by the Mirror group) appears to have quietly ditched its UKIP-style campaign to axe the aid budget. But Boris clearly thinks it can be revived.
To some, the Guardian's splash today on the mass homicide of the world's insects may feel like that infamous Thick of It episode where spin doctors ridicule an Independent front page story about dolphins. But the paper is bang on in recognising the huge importance of a new analysis that has found 40% of the world's insect populations are declining and many are hurtling down the path to extinction, threatening a "catastrophic collapse of nature's ecosystems". And of course homo sapiens relies on those ecosystems for our own food.
In its exclusive report of the study by the journal Biological Conservation, the Guardian is also right to remind us that the planet is already living through the start of a sixth mass extinction in its history, and many animals are rapidly disappearing. The extra loss of insects, by far the most varied and abundant creatures on earth, is truly worrying.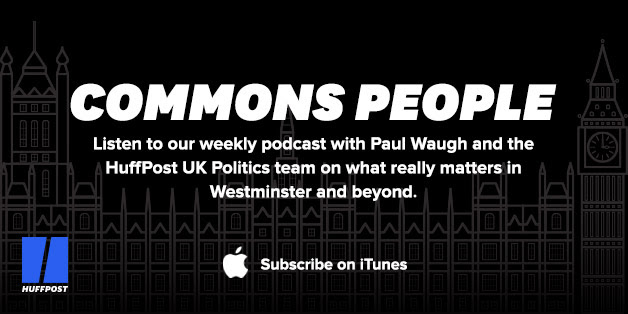 HuffPost is part of Oath and on 25 May 2018 we will be introducing a new Terms of Service and Privacy Policy which will explain how your data is used and shared by Oath. Learn More.
If you're reading this on the web, sign-up HERE to get The Waugh Zone delivered to your inbox.