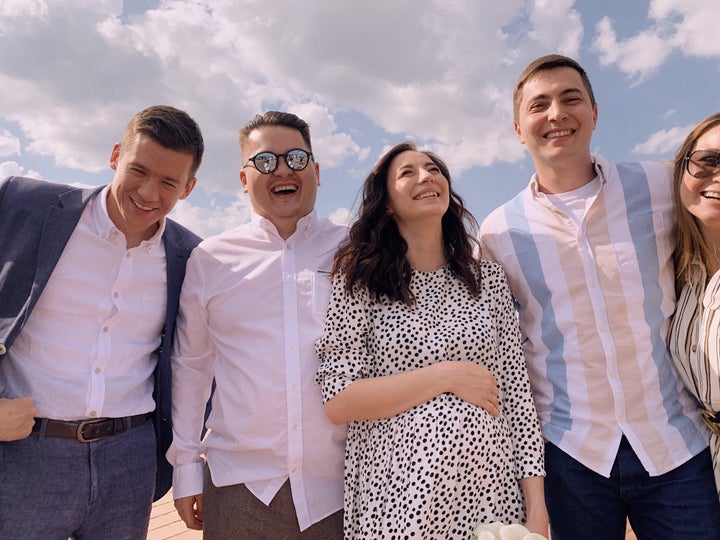 The Zara polka-dot dress has lived many lives in a few short months: feted, slated and celebrated as a one-style-suits-all miracle or – to invoke the spirit of the late Carrie Fisher – "your basic nightmare", depending on taste.
So, it was only a matter of time before someone got married in it, even if the bride in question didn't know she was wearing a piece of fast-fashion history.
In fact, Gulnaz Khusneeva, 28, was an early adopter, wearing the drop-hemmed maxi dress to get hitched to her graphic designer husband Azat, 33, in May.
The couple, who live in the city of Kazan in the central Russian republic of Tatarstan, had been together four years and though engaged by their local Muslim cleric – as is custom – were in no big rush to tie the knot.
Then, on New Year's Eve 2018, while visiting London on holiday, they found out Gulnaz was pregnant – and decided to get married before the baby arrived.
Despite being CEO of a children's clothing company, the bride-to-be wasn't planning a new outfit for herself. "I'm a hard working person and I didn't care about our wedding," she tells HuffPost UK via email. "I thought, 'it's just a formality' – we had lived together four years and it was just for our baby. I wasn't going to buy a special dress, just wear something old of my own."
But this is where her sister, aghast, stepped in. "She forbade me to go to the registry office in an old dress and bought me a new dress the day before our wedding," Gulnaz tells us. You can guess which she chose.
The wedding itself was a small affair among close friends and relatives in Kazan – about 25 people in all. And while her sister did buy the dress in their local Zara branch, there was little risk of wedding guests wearing it too. Turns out, "The Dress" isn't quite such a trend in Tatarstan as it is in London.
Gulnaz accessorised with simple white mules and a white bouquet – and Azat wore white trainers. "I felt happy! I didn't need anything else: my husband, my close friends and my perfect wedding dress," she writes – adding several beaming emoji faces.
Did Gulnaz know the Dalmatian-inspired design was a cult item in the UK? "No, I didn't!" she says. "I found out about it three months after the wedding, when my other sister sent me link to Instagram and asked me: 'Is this your wedding dress?'"
The account she's referring to is @Hot4TheSpot, a fan page for The Dress, which posts daily "street spots" to its more than 20,000 followers.
Gulnaz and Azat's wedding photo was added to the feed this week – garnering congratulations from fans. "Mic drop," commented one, while another wrote: "Aw love this! I got engaged in it and love love love that it has featured as a wedding dress."
So, what next for The Dress in Kazan? "I'm going to wear it for my discharging from the maternity hospital," pledges Gulnaz. "Historically important days in our family are associated with a magical dress from Zara!"
And she won't have to wait for long – the baby is due any day now. "What an amazing story for our children and grandchildren! I will tell it many times."