Donald Trump and Theresa May's hand-holding in the White House was a "chivalrous" act by the new President, Downing Street has declared.
The eye-catching photo of the Prime Minister and Trump, which flashed around the world and dominated British newspaper front pages, was simply his attempt to steady her on her feet as they walked down a ramp, No.10 said.
The awkward moment, followed by the President patting May's hand in his, sparked suggestions that he was overstepping usual etiquette in being so tactile.
According to a rival online theory, the hand-locking footage was even cited as possible proof of a new Trump phobia – a fear of walking down slopes - to match his infamous 'germophobia'. Others claimed that the 70-year-old President was unsteady on his feet.
But the PM's spokeswoman moved to dispel all the rumours by suggesting the President was just behaving like a gentleman.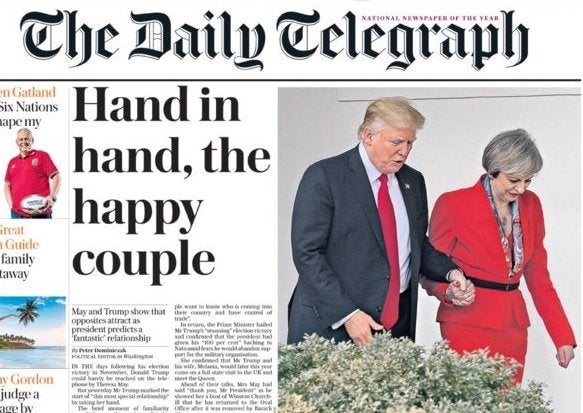 "If you watch the video, they're walking along and there is an unseen ramp. He offered his hand, which she took as they stepped down the ramp," she said. The spokeswoman agreed it was a "chivalrous gesture".
"She thought the whole visit was warm and friendly and positive. We all thought that today's front pages were very positive," she added.
The explanation for the hand-in-hand shot, which will now symbolise the new UK-US "special relationship", came as No.10 released new details of the private working lunch between the President and the British premier.
Over a meal of beef shortribs and glazed winter vegetables, Trump declared that he wanted their new relationship to be even "better" than that between Ronald Reagan and Margaret Thatcher.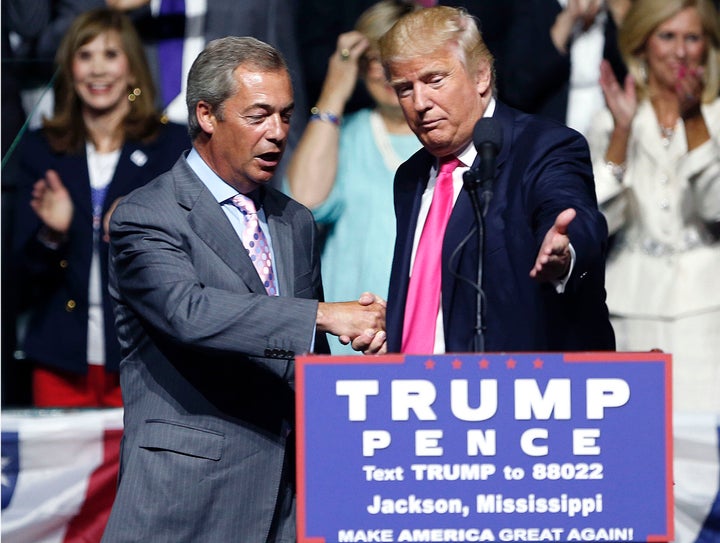 But in another example of his unorthodox approach to diplomacy, he raised Nigel Farage's views of Brexit as he discussed the issue with May.
"President Trump made clear his views on Brexit. He said he'd heard Farage's take on it and was interested to hear the Prime Minister's take," the spokeswoman said.
Trump had irritated the British civil service late last year when he Tweeted that Farage should be the new British ambassador in Washington.
"They spent quite a lot of time discussing the Brexit vote. He thinks Brexit is going to be a wonderful thing for our country," the spokeswoman said.
"The conversation was warm, free-flowing and unscripted. She said she thought people wanted the UK to be a sovereign nation in charge of its own decision-making and she talked about the hard-working people who she felt had been left behind.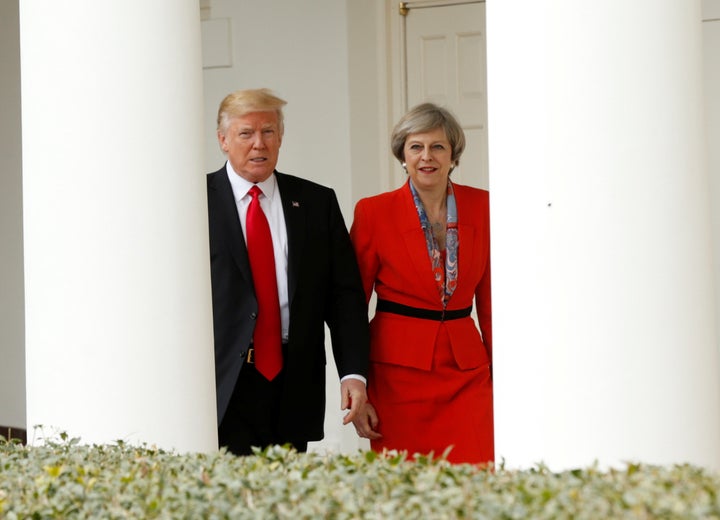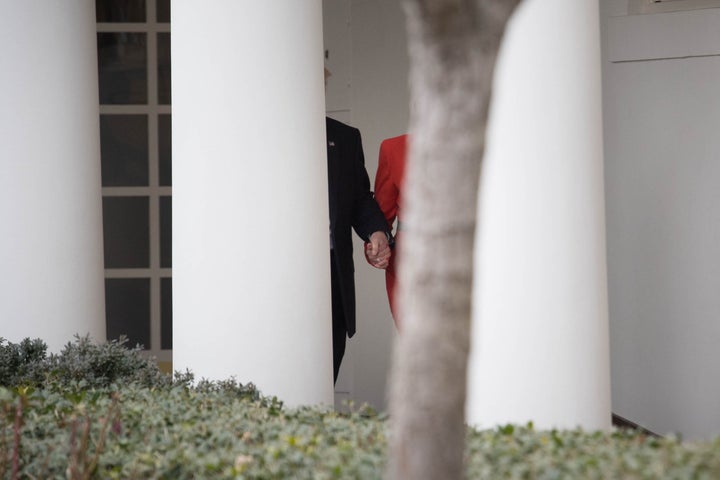 "He [Trump] said he cared for those people too and talked about how he felt there were many in America who felt the same."
The President pledged to increase trade between the two countries "more than ever before" and to work to ensure a new trade deal once the UK has left the EU.
The conversation over the lunch in the White House's State Dining Room followed May and Trump's first hour-long meeting in the Oval Office. At the lunch were the PM's key aides and national security officials.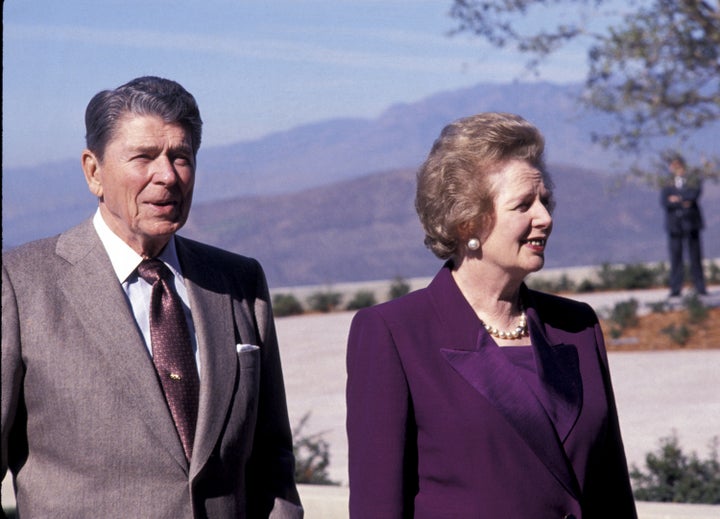 "They talked a lot about Thatcher and Reagan, and both agreed it was one of the most successful political relationships ever," the PM's spokeswoman said.
"Not just on a personal level, the achieved great things together in the interests of their countries and the wider world. The Prime Minister referenced freeing Eastern European countries.
"They referred to the time that Thatcher took over Britain and the large challenges that she faced, and agreed that they had a shared admiration for her. Trump went on to say that he always looked up to Reagan and said that he wanted their relationship to be even better than that one."
At the end of the lunch, the President had one final break with convention, pointing out to the PM that he always kept menus to remember significant moments.
The No.10 spokeswoman revealed: "He gave the menu card to one of his members of staff and said 'keep that safe, I had lunch with the British Prime Minister!'"
Their meal menu listed a starter of "Baby Iceberg Wedge Salad with Blue Cheese" followed by "Braised beef shortribs with potato purée and glazed winter vegetables" and a pudding of "Salted caramel Creme brûlée".
Trump was so gushing with his praise that he even vowed to meet May first, ahead of the Queen, when he comes to the UK for his State Visit later this year.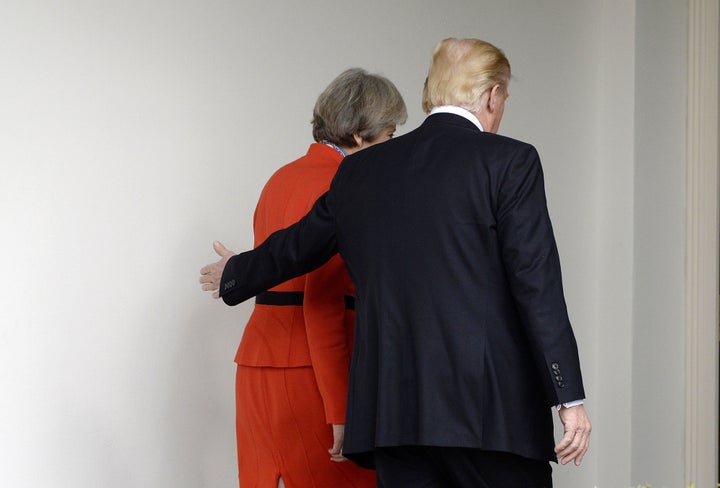 "He said several times that it was really important to see Theresa first and when he comes to England he wants to see her first on arrival. 'When I come to the UK, I want to see you first'," the spokeswoman said.
The one moment of possible tension came when May reiterated her worries about the US lifting sanctions on Russia, stressing her commitment to forcing Moscow to deliver on a peace plan for Ukraine before any such move.
The President's team included his chief of staff Reince Priebus, chief strategist Steve Bannon, his son-in-law Jared Kushner, economic council director Gary Cohn and strategic communications director Hope Hicks. Also present were Vice-President Mike Pence, acting Secretary of State Tom Shannon and National Security Adviser General Mike Flynn.
Downing Street later revealed the leaders had agreed a new Trade Negotiation Agreement (TNA) would create high-level talks - with a view to preparing for a new UK/US Trade Agreement soon after the United Kingdom has formally left the European Union.