Tory candidates are "fucked off" with Theresa May for running a campaign that has "shattered" confidence in her ability to be Prime Minister.
The stark warning comes from a Conservative candidate seeking re-election in a marginal seat, and they told HuffPost UK that other colleagues across the UK share their frustration.
Another candidate seeking re-election was even more damning, saying that if Jeremy Corbyn wasn't Labour leader, the Tories would definitely lose the election – "and we would deserve to."
The ill-feeling sweeping across large numbers of Tory candidates means that even if May does deliver a sizeable victory on June 8, she will need to earn back the trust of her MPs – many of whom are angry she called an early election in the first place.
Speaking to HuffPost UK today, one candidate originally elected in 2015 said:
"It's a completely different experience to what it was four weeks ago. It's made my job a hell of a lot harder. It's a completely different experience. I'm pretty fucked off.

"People on the doorstep are telling me: 'She's going after pensioners, she doesn't know what she's doing, she doesn't answer questions on the TV.' I've switched from saying 'vote for her' to 'vote for me'. It's hard to understand how people in London who get paid a lot of money made such a clusterfuck.

"People voted for her because of what they thought she was like rather than what she is like. It's totally shattered the confidence of the parliamentary party.

"Colleagues up and down the country are just fucked off.

"She said she wasn't going to call a general election, and they've totally fucked it up.

"If you were going to write what not to do in a campaign then running it on strong and stable leadership and changing your mind on everything would be it. It's like something out of Yes Minister.

"People are now beginning to vote for Jeremy Corbyn. I find that hard to understand."
Another Tory candidate – also first elected as an MP in 2015 – agreed with their colleague's assessment of the Conservative campaign.
They told HuffPost UK: "If Jeremy Corbyn wasn't leader of the Labour Party we would lose this election – and we would deserve to.
"Theresa May might get a big majority but she has definitely lost power in the party."
When May called the General Election in April, the Conservatives were 20 points ahead of Labour in the polls.
That gap has since narrowed, with aggregated polling data putting Labour within nine points of the Tories.
""Under-30s love Corbyn but they don't care enough to get off their lazy arses to vote for him!"
Tory candidate Andrew Bridgen, who is seeking re-election in North-West Leicestershire, was more optimistic about his party's campaign.
When his colleagues' concerns were put to him, Bridgen – who was first elected in 2010 – said: "I don't recognise that."
On May's social care plans, which would see pensioners with assets worth more than £100,000 required to pay towards the cost of their treatment, Bridgen said: "A lot of people here haven't got £100,000 of assets.
"The white working-class who voted to leave the EU are voting Conservative.
He added: "The manifesto was not good, but it was a manifesto for Government, not a wish list for opposition."
Another Tory candidate, who has served more than a decade as an MP, told HuffPost UK: "There's been some moaning about social care, it was poorly explained and the manifesto launch was a big missed opportunity.
"That said, I've had the best response in all the general elections I've run here, but I know and have helped thousands of folk. Theresa is neutral now, people have made their minds up. "
The candidate added that older Labour voters were still peeling off because of Corbyn. "Under-30s love Corbyn but they don't care enough to get off their lazy arses to vote for him!"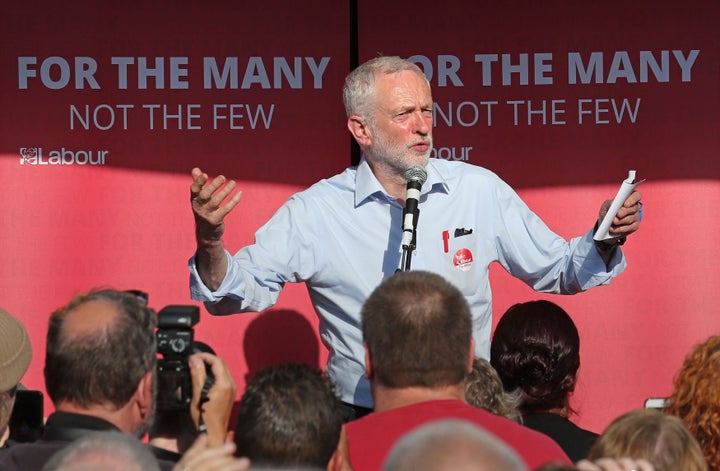 Another of the 2015 intake standing again argued that the early Tory poll ratings of 48% were "always artificial - 44-45% is probably an accurate reflection of where we are."
The candidate admitted the social care u-turn was "an unforced error".
"I am getting a lot of people saying 'I am not happy about it but I will still vote Tory'," they said.
This candidate believes the narrowing of the polls is not because the Tories have run a bad campaign, but that Labour is performing above expectations.
They said: "Labour campaign has done very, very well. It's hoovered up the fragmentation of the left, in the same way that we have hoovered up a lot of Ukip voters. It's a two party race for sure.
"At the start of the campaign there was an assumption Corbyn was toxic and the more people would see of him they less then would like him – which hasn't happened as he's attracted more of the left."
The candidate believes May's reputation amongst her parliamentary party can be repaired, but only if she learns from her errors.
They said: "It depends how she responds to it. It seems to be at the moment a reliance on a small circle of advisors, not road testing these policies or involving colleagues who are out on the doorstep."
Related