Theresa May is facing fresh 'zombie government' claims after it emerged that she will delay the next Queen's Speech until she has secured a Brexit deal.
Downing Street revealed that the next parliamentary session, which will set out the Tories' legislative programme, would not begin until the UK's 'divorce' plans from the EU were ratified by MPs.
The current session of parliament had been expected to end in June, but it could now continue until the autumn after Brussels gave Britain extra time to sort out its Brexit deadlock.
If May were to table a new Queen's Speech of bills, it could be voted down by rebel Tories in a bid to hasten her departure from No.10.
The Cabinet is due to meet on Tuesday to agree more time for talks with Labour on Brexit and on next steps in the Commons.
But although talks showed some progress on Monday, HuffPost UK has also learned that the prime minister faces further delay because the Opposition is unlikely to be bound by her plan for 'indicative' votes on various Brexit alternatives.
Under fire from her own Tory MPs unhappy with her exit deal, the PM is running into Labour's reluctance to support any radical X Factor-style knock-out scheme to force the Commons to hammer out a majority.
May dare not publish her last flagship piece of legislation, the Withdrawal Agreement Bill (WAB) to implement her Brexit deal, because it currently lacks enough support from Conservative backbenchers and her DUP partners.
Until she can somehow get enough MPs on board, she plans to delay the Brexit bill's introduction, and various government departments are scrambling to find other legislation to fill the time, the Times reported.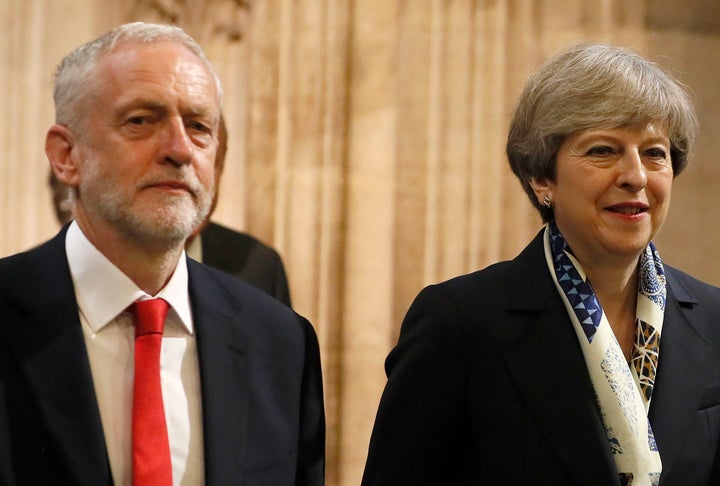 The PM's official spokesman said: "What we are focused on is the Withdrawal Agreement Bill [WAB], because that is the legislation which is necessary in order to ratify our withdrawal from the EU. That is part of the current Queen's Speech cycle and we need to finish that work."
The current two-year parliamentary session is already set to be one of the longest in modern parliamentary history. The PM's spokesman admitted there was "no specific date" for a new session.
One Labour source said: "Reports of a delay to the Queen's Speech because Theresa May cannot command a majority in the House of Commons prove that we have a zombie, Tory government which has run out of ideas as to how to govern in the national interest.
"May is clinging to office but is not in power. We need a general election."
May has told MPs that if she can't draft a joint plan with Labour on quitting the EU, her next step would be to stage a series of votes on different options.
But even that lesser option is now in real danger as the Opposition are not keen on agreeing to be bound by any process that could throw up Brexit options that they cannot control.
In a little-noticed remark last week, May's de facto deputy David Lidington said: "What is needed now is not just another parliamentary opinion poll where the majorities assemble against anything that's put on the table.
"You actually need a process that means that parliament has to endorse a third outcome, even if that for many MPs is the second or third best of what is available."
Lidington's remarks underline the frustration felt by those around the PM that MPs cannot come to a majority for any form of Brexit and may have to be forced by a new system of 'run-off' votes to find narrow the choice down.
When Tory grandee Sir Oliver Letwin took control of the Commons timetable before Easter, MPs failed to grant a majority for any alternatives to May's deal, including a 'Common Market' solution, a 'customs union' or a second referendum.
"The PM has said if it doesn't look like any sort of progress is possible then we could look to bring forward a small number of votes to try to find a way through parliament that way," the PM's spokesman said.
"Re-running the Letwin process in government time is not going to solve anything," one Whitehall source added.
But hopes are fading that Labour would commit itself to abiding by a new process and by the result of the votes.
It is understood that Jeremy Corbyn's team are reluctant to give a blank cheque to any new process, which would itself require a business motion that would win a majority in the Commons.
"Are they really expecting us to sign up to that? When we would have no idea what the outcome was?" one source said.
If Labour refuses to agree to either May's deal or to a process for forcing MPs to accept the result of votes on alternatives to her deal, the PM would be even more isolated than ever.
Some in both parties are now even contemplating that Brussels may extend until mid-2020 the Article 50 process that governs Britain's membership of the EU.