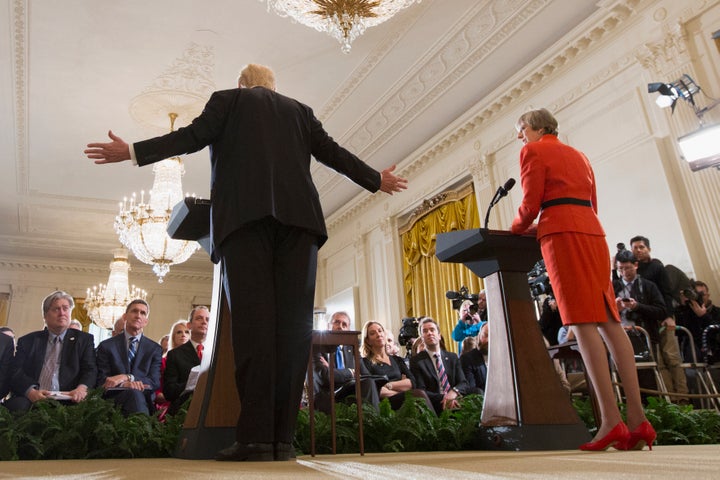 Even before take-off, Theresa May's historic trip to meet Donald Trump had hit some political turbulence. As she and her team arrived for the flight at Heathrow's VIP suite, the overnight news was the backlash over the new President's latest outburst: that torture "totally works".
The Prime Minister was trying to focus on the morning's latest economic figures, with growth upgraded again, but Trump just couldn't help grabbing the headlines. His remarks had come just hours after the No.10 team had sent out advance extracts of her big speech for the two-day US trip. And that speech was going to shower praise on the President. Brexit Britain and a renewed America were set to "rediscover our confidence together" and should "lead together again" on the global stage.
Cue outrage from those who felt May was cosying up too closely to the billionaire-turned-politician. Tory MP Sarah Wollaston declared: "You cannot lead on a global stage by advocating torture, disgusting racial stereotyping & turning back the clock on women's rights worldwide". Former Labour leader Ed Miliband was equally scathing. And even Harry Potter author JK Rowling tweeted a HuffPost story on the speech with a warning "History's watching, Theresa".
May, who was adding the finishing touches to her speech to the Republican Retreat in Philadelphia, boarded the grey RAF jet that now serves as her very own, if modest, version of Air Force One. When not needed by the PM, the 158-seat Airbus A330 Voyager frugally doubles up as an aerial refuelling tanker to help fighter planes cross the Atlantic. "It's like a flying petrol station," one of the air crew confided. The contrast with Trump's personal Boeing 757, valued at $100m, let alone his new official jet, could not be greater.
On board, Trump was the reason the plane was packed with 44 journalists, as well as RAF crew and an extensive Government machine of secretarial and security staff. Up in the 10-seat first class section specially designed for the PM, May sat in the prime seat, with co-chiefs of staff Nick Timothy and Fiona Hill sitting to her left.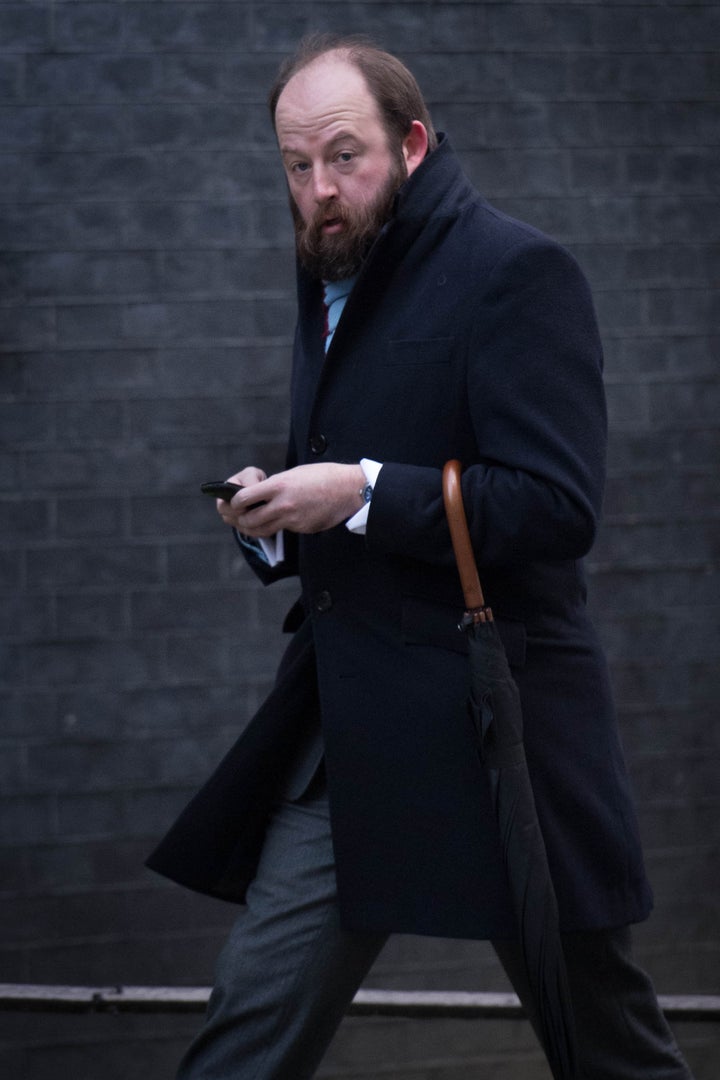 Sitting at a large oblong desk, May went through her Republican Retreat address a final time with Director of Strategy and speechwriter Chris Wilkins. Welshman Wilkins is a working class boy like his long-time friend Timothy, and served as his boss at the Conservative Research Department. The pair of them are entrusted with helping the PM shape her words, and crafted her party conference and major Brexit speech this month. Underlining just how tight-knit and long-standing the May team are, Wilkins had helped May with her infamous "Nasty Party" speech in 2002. All of them have travelled a long way since then.
But most of the time was focused on preparations for Friday's talks with Trump, with details of policy positions on trade, Nato, Russia, Daesh and Syria patiently finalised. National Security Adviser Mark Lyall-Grant and her military adviser John Clark talked through the central defence and intelligence-sharing issues with the US.
Four hours into the journey, high over the Atlantic, May was ready to chat to the media. The PM's press secretary Lizzie Loudon first sketched out the key themes of her speech as well as the usual logistical details. She added, "for those who want this kind of thing," the details of what the PM was wearing during the trip. To promote the "very best of the British fashion industry" she would be wearing Russell & Bromley shoes, an Amanda Wakeley two-piece and a coat styled by a young designer Daniel Blake. The last name, an echo of the Ken Loach film 'I, Daniel Blake', about life under the Tories' welfare regime, caused a brief ripple of recognition among some, but went unmentioned.
From behind the dividing curtain, May herself then stepped forward into the business class section of the plane, standing at a long table to take questions on everything from torture to Iran, Israel and trade. Unlike Tony Blair or David Cameron, who liked to shoot the breeze informally on everything from football to movies, May prefers to talk on the record at all times. Chillaxing is not her style.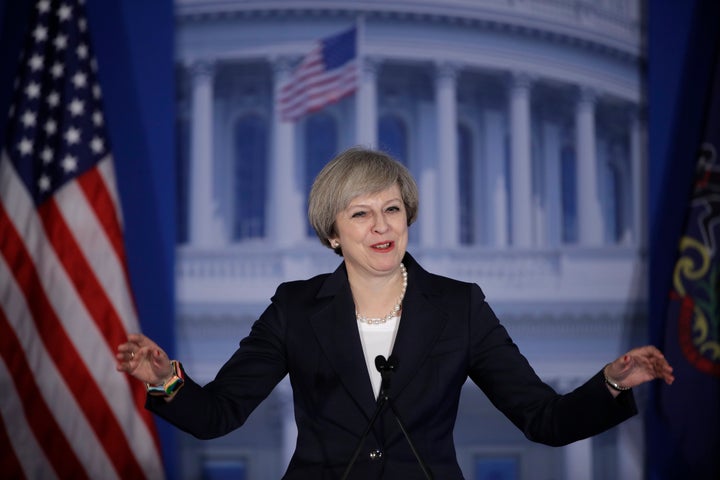 Her public and private personas, as her MPs have found out, do not differ. As if to ram home the point, when asked how she would avoid the Blair-Bush 'poodle' perception, she told us: "I will be very clear in the decisions I take and the conversations I have about UK interests. I'm not going to say anything different to Donald Trump to what I'm saying to you in terms of UK interests and where those lie."
After repeated questions about torture, and a signal that the issue was so serious the UK could have to withdraw intelligence co-operation with the States, May sounded almost relieved to be asked a personal question. Put to her that there could be a possible 'character clash' between an English vicar's daughter and a brash New York businessman, she came up with what sounded like a carefully-cooked line. "Have you not noticed, opposites attract?" she said, one eyebrow raised mischievously. The answer guaranteed the following day's headlines at least had another focus, and was viewed as a win by the comms team. After 12 minutes, her own 'enhanced interrogation' by print, online and broadcast media had ended and she returned to the front of the plane.
As the Voyager touched down in Philadelphia International Airport, it was all too obvious that Trump had already arrived in the US's original capital. The real Air Force One was on the tarmac, a very visible confirmation of his looming presence, and the RAF jet looked surprisingly small as it taxied past.
Downtown, anti-Trump demonstrators gathered to protest at the biannual Republican Retreat, where the real heavy lifting was meant to be agreeing party strategy on repealing Obamacare, trade and tariffs and more.
As May's entourage swept into the Loews Hotel, Trump's image dominated the giant TV screens as he was mid-flow on his own speech, that tell-tale finger pinch gesture working away. Classic Donald, he freewheeled on his favourite topics, praised his new Cabinet – "Where is Pompeo [his new CIA chief], where the hell is he? Is he working?" – and ad-libbed his braggadoccio. For his supporters, it was a tour de force. "The thing I do best is build!" he told them. "We've got to fix things!"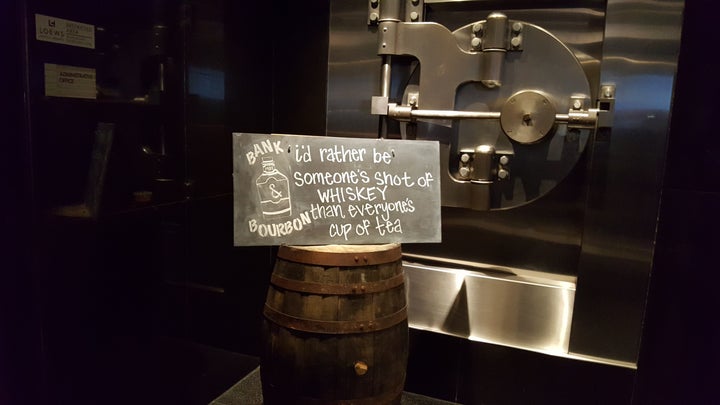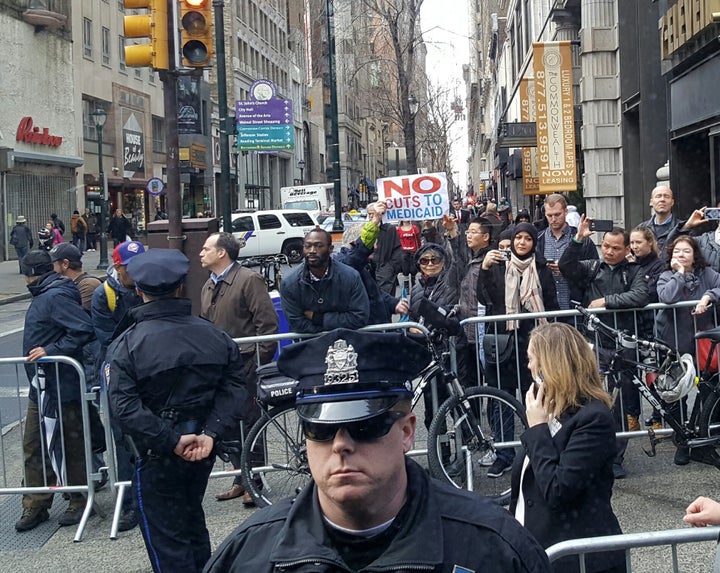 But Trump had just been caught off guard by the Mexican President announcing on Twitter that he was cancelling his trip planned for next week. He lashed out at the news, confirming the visit was off. It was yet another example of Trump's notoriously thin skin, but also how easily distracted he could be too. Karl Rove, President Bush's former strategist, told Fox News that Trump was undermining his own strong start - delivering on key campaign pledges like immigration control and oil pipeline jobs - because he "gets involved in food fights" on things like the numbers at his inauguration, claims of voter fraud and Twitter spats.
There had been hopes that Trump could take part in a 'brush-by', or informal meeting with the PM in the margins of the Republican event. In the end, the President had to go, and May instead met the party's senior figures in Congress, including Senator John McCain.
Downstairs in the hotel lobby, a blackboard advert for a local Bourbon read: "I'd rather be someone's shot of whiskey than everyone's cup of tea". It was a neat summary of the new President's political philosophy, but as May walked out into the conference room, the loud applause proved her brand of English conservatism was very much to their taste. "Damned, Brits, taking my seats," McCain joked as he spotted the Downing Street delegation.
May's speech was a deliberate attempt to build support on Capitol Hill for the British agenda of a free trade and a maintaining a strong Nato as a bulwark against a resurgent Russia. The standing ovations for each point underlined that this was a crowd more in tune with her values than perhaps the President.
Her references to solid conservative values of family and thrift, not to mention Philadelphia's historic role as a guarantor of liberty, gave her the space to roam more widely.
For some the 'special relationship' between the US and Britain is at best a polite fiction, at worst a delusional ignorance of the modern world. Yet May namechecked the phrase eight times, Ronald Reagan five times, Winston Churchill four times and Margaret Thatcher twice.
The speech was skilfully crafted to maximise British leverage with the Trump administration, appealing to the Reagan-Thatcher years with gentle warnings that neither of the two former leaders would countenance global isolation as a political strategy.
A key line was that "the days of Britain and America intervening in sovereign countries in an attempt to remake the world in our own image are over". A particular crusade of Timothy's, the argument generated useful headlines back home of 'no more Iraqs'. Yet the sentence that followed underlined how nuanced the speech was: "But nor can we afford to stand idly by when the threat is real and when it is in our own interests to intervene." It was an ever-so polite nudge of the Republican party's arm that Trump's phrase 'America First' had a dubious history before the Second World War. May even praised 'partnership organisations' like the UN, while stressing they needed reform.
Burying Blair's, and Cameron's, backing for 'liberal interventionism' may leave some Republicans uneasy. But May does have one thing in common with the former Labour leader and that's a hawkish stance on Russia and Iran. It was Blair who pushed Bush into military action on Iraq, not the other way around, though as former UN ambassador Sir Jeremy Greenstock puts it he "overestimated" his ability to influence the US Government as a whole.
That's not a mistake May wants to make. For this audience, one of her cleverest lines in the speech was a yoking together of the predicament of both Israel and Eastern Europe. "Whether it is the security of Israel in the Middle East or Estonia in the Baltic states, we must always stand up for our friends and allies in democratic countries that find themselves in tough neighbourhoods too."
May's team had heard the alarming chatter that Trump was considering an executive order to lift sanctions imposed on Russia over its Ukraine invasion, and her warning was pointed. In the make-shift conference room, much less slickly presented than UK party conferences, the Senators and Congressmen and women rose to their feet to applaud.
After her speech, as the PM held a meeting with House Speaker Paul Ryan, Senator McCain was one of several attendees to pay tribute to her. "You can tell by the reaction in the hall, that was a strong performance," he told HuffPost UK. McCain, a fierce critic of Trump, sounded relieved to have some British home truths delivered on Russia and Nato.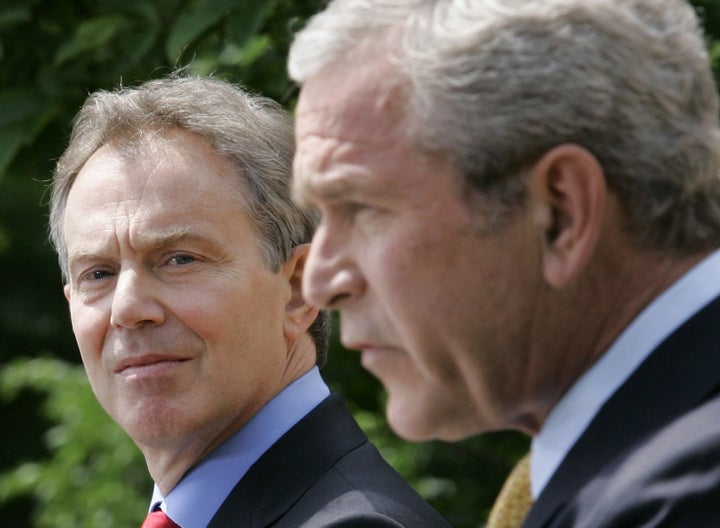 Her motorcade sweeping past the growing protestors, May headed to the airport for an hour-long flight to Andrews Airforce Base in Maryland. Once transferred to Washington DC, the PM hosted a drinks reception at the UK ambassador's residence. The star guest was Trump's new Defense Secretary General 'Mad Dog' Jim Mattis, seen by Brits as a crucial restraining influence on the President's wilder instincts. Mattis' condemnation of torture techniques, for example, was to prove useful the following day.
Also in the ambassador's residence were Commerce Secretary Wilbur Ross and Trump's press secretary Sean Spicer. Downing Street said that the event was 'cross-party', but refused to say which Democrats had turned up. Trump's political opponents had been irritated that May had breached usual protocol by attending the Republican Retreat, the first foreign leader to do so, without also securing a meeting with senior Democrats. But it felt like a diplomatic wrinkle compared to the bigger aim of hugging Trump close, but not too close.
After a private dinner with ambassador Sir Kim Darroch – whom Trump had suggested could be replaced by Nigel Farage – the PM retired to bed. Her 23- hour day was over.
On Friday morning, as the cloud cover lifted to reveal a cold but blue-skied Washington, May was up early. She headed to the Arlington National Cemetery in nearby Virginia, to lay a wreath at the Tomb of the Unknown Warrior. The cemetery is normally an essential on the itinerary of every British Prime Minister who visits the White House, a powerful symbol of the shared cost in blood and treasure of the two countries since the First World War. May decided to add the touch of paying her respects at the grave of Sir John Dill, one of Churchill's most senior generals in the Second World War.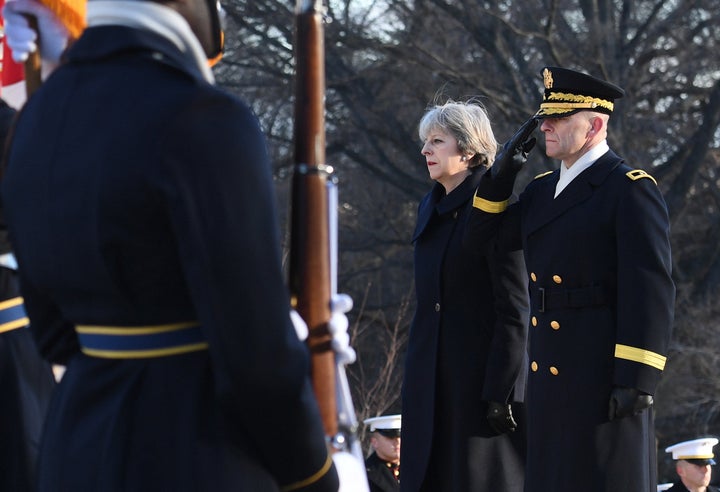 By 5pm, it was time for the most important part of the entire trip, the one-hour face-to-face meeting at the White House. After the initial embarrassment of Nigel Farage meeting Trump at Trump Tower following his election victory in November, May's team were determined to secure the kudos of the British Prime Minister becoming the first foreign leader meet the President after his inauguration.
It hadn't been an easy task. Before his arrival at No.10, Nick Timothy had tweeted his own disdain for Trump during the twists and turns of the Republican primaries and the election. "Urgh," he wrote. "As a Tory I don't want any 'reaching out' to Trump.". Fiona Hill had also tweeted a hashtag #trumpisachump. May too had once attacked Trump's remarks on a planned Muslim ban as "divisive, unhelpful and wrong". She wasn't too pleased either with his claim that there were several 'no-go' zones in the UK. "I think it was nonsense to say there are parts of the UK where the British police do not feel able to go or not willing to go."
Yet both Timothy and Hill flew out to Washington to meet the Trump transition team a few weeks ago, and their charm offensive worked. Their pitch of a Brexit Britain matching the 'renewal' of America under a new Presidency persuaded the White House that the UK should get the honour of the first formal visit. The details of the trip, and whether there would even be a traditional press conference, were in flux until hours beforehand.
May is famously "unclubbable", a deliciously English phrase that is meant by old white men as a criticism but is seen by her allies as proof of her no-nonsense approach to life and politics.
Another blunt female PM, Margaret Thatcher, was once described by French President Francois Mitterand as having "the eyes of Caligula and the mouth of Marilyn Monroe". And it was Thatcher – and Ronald Reagan – who were the ghosts at the feast as May and Trump met in the Oval Office, before their press conference and working lunch.
Earlier this year, the PM had bristled in private when told that the President was now calling her "my Maggie". May isn't 'anyone's anything', allies said. Yet she has clearly decided to embrace the comparison now, herself naming Mrs T twice and Reagan five times in her speech to Thursday's Republican Retreat conference.
Although her "Nasty Party" speech 15 long years ago had criticised the way Thatcher's Tories had been perceived by the public, May relishes the comparison to her predecessor's decisiveness. When former Chancellor Ken Clarke was caught in a 'hot mic' incident describing her as "a bloody difficult woman", just like Thatcher, May even quoted it as a badge of honour in her leadership campaign.
The trick with Trump was to convey that she's no pushover, but equally not to end up in the same camp as Angela Merkel, whose chilly reaction to his election has left her in the White House sin-bin. And Thatcher was the model.
More than 30 years ago, Reagan was in full showman mode when he hailed Thatcher in 1985. "Roosevelt and Churchill, Macmillan and Kennedy…I'd like to add two more names to that list: Reagan and Thatcher." When asked about their 'special relationship', Thatcher told reporters: "It is special, it just is and that's that."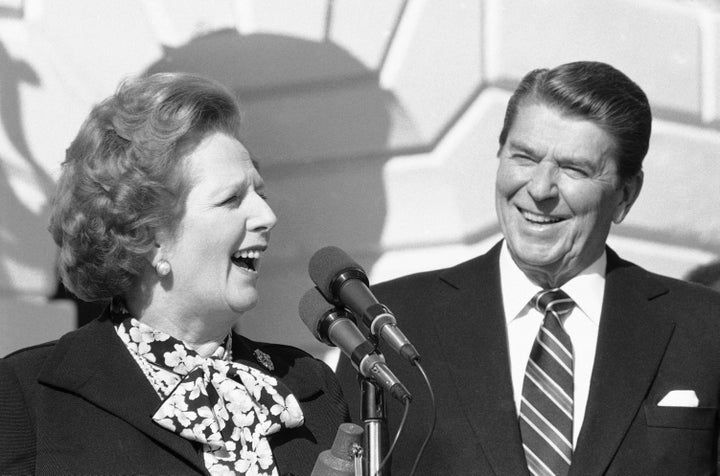 After that particularly triumphant trip to Washington, then Foreign Secretary Lord Carrington was asked how the event had gone. He told a friend: "Oh very well indeed. She liked the Reagan people very much, they're so vulgar."
That revealed as much about Carrington as it did about Thatcher. And May and her team believe such patrician attitudes were partly to blame for Westminster misreading the Brexit vote, and Washington for misreading Trump.
Instead, she preferred to accentuate the positive and eliminate the negatives, stressing policy agreements rather than differences.
And May and Trump have more in common than many think. Most starkly, both have been very lucky to face political opponents who are more divisive than they are. He emerged from the pack of squabbling Rubios and Bushes, while she outmanoeuvred the Goves and the Johnsons. Trump faced the Democratic candidate with the worst negative poll ratings in Presidential history. May faces Jeremy Corbyn.
Both face questions of legitimacy, as Trump won the keys to the White House despite losing the popular vote and May took over at Number 10 without even the messy business of a general election.
Both have also been repeatedly underestimated by their respective 'Metropolitan elites', whether that's the Republican leadership or the Cameroon clique that dominated the Tory party.
On policy too, they share core beliefs, while differing in degree. They agree that the ordinary 'working class' has been left behind by globalisation and have a similarly sceptical view of the merits of immigration. Both advocate a low-tax, high investment climate for business, with promises of billions on infrastructure. But the real worry among some Tories is that Trump's more hardline policies at home and isolationism abroad will mean the US will surrender its global influence. In their hour-long talks in the Oval Office, May impressed on Trump her twin-track approach.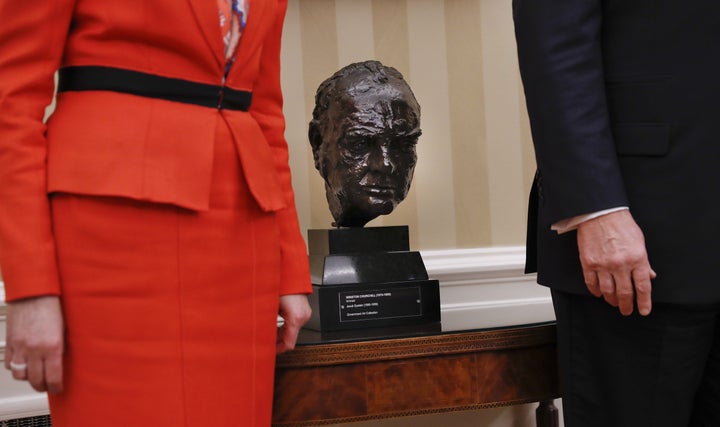 It was Tony Blair of course who loaned the Churchill bust to George Bush at the start of their very own special relationship back in 2001. After Obama's decision to remove the Jacob Epstein bronze copy from the Oval Office, May and Trump wanted to make a point of putting it back in its place.
Before their talks on Friday, both leaders posed for photos next to the famous bust, another key part of the theatre and symbolism of the visit. I remember well the so-called 'Colgate summit' in Camp David, when the President and PM struck up a surprisingly warm friendship. Bush revealed to a stunned press corps that he and Blair used the same toothpaste. Blair quipped back: "They are going to wonder how you know that, George."
It remains unclear whether May or Trump share any toiletries. Their press conference in the East Room didn't cover toothpaste, but Trump had a 100-watt grin as the PM paid tribute to his "stunning" election victory. It felt like a grand Washington marriage ceremony, or at least a renewal of wedding vows.
The British media questions got under his skin, but this was vintage Trump, showing a mastery of comic timing and a dominant personality that filled the ornately decorated room. Cameras clicked and whirred every time he spread his arms, every time he pointed his finger upwards, while May looked on. Even though he tried to be on his best behaviour, speaking with a softer tone than usual, he couldn't help 'mansplaining' to May at one point - suggesting she wouldn't be answering a question about his vexed relatons with Mexico because she had "other things to worry about".
As they walked to lunch afterwards along the White House colonnade, the President took the Prime Minister's hand in his, appearing to stroke it lightly, in front of the photographers. That super-awkward photo is likely to be the image of the entire visit, the 21st century equivalent of those spoof 'Gone With The Wind' posters depicting Reagan holding Thatcher in his arms. But it felt like for May it was a small price worth paying for a Brexit Britain that needs as many friends it can get in coming years.
A new biography of Trump details his trip to the Washington Post during the Presidential election, when one editor quizzed him about his divisive race rhetoric. After the meeting Trump told Karen Attiah "I really hope I answered your question." He then smiled and looked her up and down and added: "Beautiful".
Just how beautiful Theresa May's, and the UK's, relationship will be with the new President remains to be seen. As she boarded her Voyager plane on Friday evening, heading back east over the Atlantic, she knew this was going to be a long haul in more ways than one.