The Time's Up movement has issued a statement calling for people to "#MuteRKelly", after multiple sexual misconduct allegations against the US star.
An open letter signed by the Women Of Colour within Time's Up - a group that includes stars such as Janelle Monae and Ava DuVernay - reads: "To Our Fellow Women of Color: We see you. We hear you. Because we are you.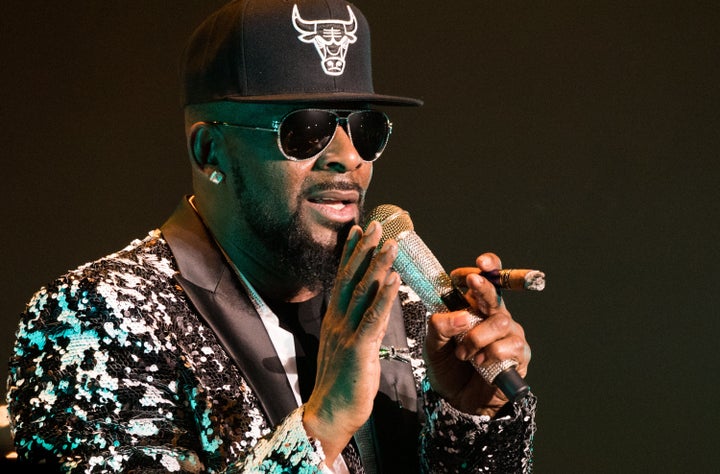 "For too long, our community has ignored our pain. The pain we bear is a burden that too many women of color have had to bear for centuries. The wounds run deep.
"As women of color within Time's Up, we recognize that we have a responsibility to help right this wrong. We intend to shine a bright light on our WOC sisters in need. It is our hope that we will never feel ignored or silenced ever again."
It goes on to highlight R Kelly's continued commercial success, before listing a series of the allegations against him and companies "with ties" to the singer, including his label RCA Records.
"We demand appropriate investigations and inquiries into the allegations of R. Kelly's abuse made by women of color and their families for over two decades now," it concludes. "And we declare with great vigilance and a united voice to anyone who wants to silence us: Their time is up."
Numerous women within the movement tweeted the letter after its publication, as did supporters including John Legend:
R Kelly, who has repeatedly denied all allegations against him, responded to the Time's Up announcement in a statement provided to BuzzFeed:
"R. Kelly supports the pro-women goals of the Time's Up movement. We understand criticizing a famous artist is a good way to draw attention to those goals — and in this case, it is unjust and off-target. [It's an] attempted public lynching of a black man who has made extraordinary contributions to our culture.

"We fully support the rights of women to be empowered to make their own choices. Time's Up has neglected to speak with any of the women who welcome R. Kelly's support, and it has rushed to judgment without the facts."

The statement said he is a victim of a "greedy, conscious and malicious conspiracy to demean him."
Many of the sexual misconduct allegations against the star are historical ones. As the Time's Up letter points out, he married the late Aaliyah when she was under 18 years old.
In 1996, he settled a case out of court after being accused of having sex with a minor and in 2008, was found not guilty on 14 charges of having child abuse images. The main witness in the case, a 23-year-old woman alleged to have appeared in a sex video made by R Kelly 10 years before, refused to testify.
More recently, a BBC Three documentary saw R Kelly's ex-girlfriend Kitti Jones say the singer forced her and other women to have sex with him in a "sex dungeon".
"I was introduced to one of the girls that he told me he 'trained' since she was 14, those were his words," she said. "I saw that she was dressed like me, that she was saying the things I'd say and her mannerisms were like mine.
"That's when it clicked in my head that he had been grooming me to become one of his pets. He calls them his pets."
Following the film's release, R Kelly's executive assistant and entertainment attorney both parted ways from the star.
Read the full letter from the Time's Up movement here.