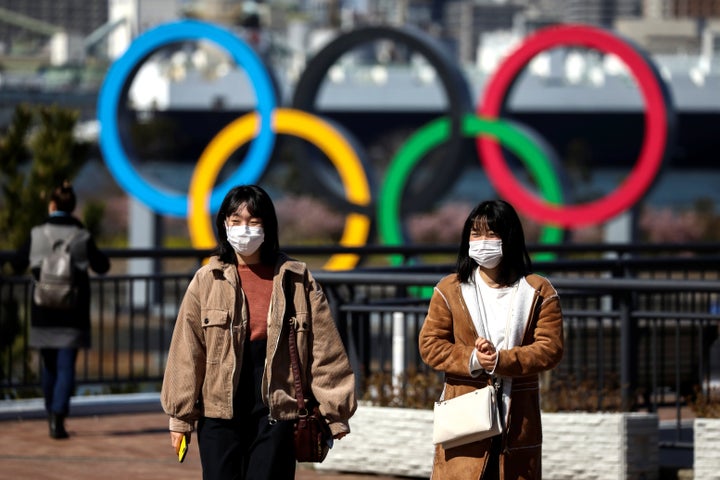 The 2020 Tokyo Olympic Games could be postponed until the end of the year due to the coronavirus outbreak.
Japan's contract with the International Olympic Committee (IOC) states the sporting event will be hosted from July 24 but, responding to a question in parliament, Olympics minister Seiko Hashimoto said: "The contract calls for the Games to be held within 2020. That could be interpreted as allowing a postponement."
Under the hosting agreement, the right to cancel the Games belongs to the IOC. Thomas Bach, president of the IOC, last week said his organisation was "fully committed" to holding the Tokyo Olympics on schedule despite the coronavirus spread.
"We are doing all we can to ensure that the Games go ahead as planned," Hashimoto told parliament.
The Olympics is due to open on July 24 with 11,000 athletes, followed by the Paralympics on August 25 with 4,400 athletes. Any halt to proceedings would be costly. The latest budget is 1.35tn yen (£9.7bn), with Japan's government providing 120bn yen to build the Olympic Stadium and 30 billion yen toward the cost of the 2020 Paralympics, Hashimoto said.
Japan's Board of Audit put government spending between the bid in 2013 and 2018 at 1.06 trillion yen.
The news comes as British Cycling's performance director Stephen Park raised the possibility of some Olympic events taking place without spectators if the crisis does not subside.
Park, who joined British Cycling in 2016, remains confident that the Games will go ahead, but says it could be 'different'.
"You would struggle to find a day when the Olympics didn't take [place] for any reason. But will it mean that they might be different? Possibly," he told reporters.
"Look, at the World Cup (Finals) skiing in two weeks time in Cortina, they are doing it on a closed circuit with no fans. And that's going to an area that doesn't currently have infections.
"So might there be some of those things that happen [at the Olympics]? Possibly."
Sporting events have been hit hard across the globe by coronavirus fears, especially in Asia with this month's Thai Moto GP race the latest to be cancelled.
The viral outbreak of Covid-19 began in China and has infected more than 80,000 people and killed more than 2,700 globally. Five deaths in Japan have been attributed to the virus.