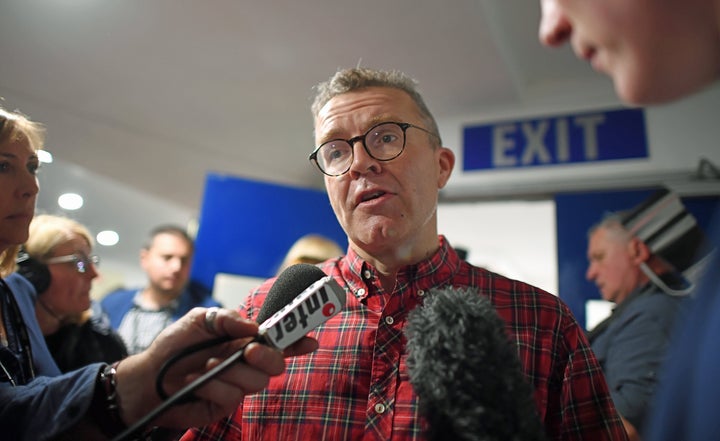 Jon Lansman has "shot himself in the foot" and the centre left will now be the "change-makers", Tom Watson has said.
The deputy leader has again hit out at the Momentum founder - who on Friday night led an attempt to abolish his job - calling him "incompetent" and a "student politician".
Speaking at a rally of the moderate Progress group at the party's conference in Brighton, Watson called on centrists to "stick at it" and "don't walk away" from Labour despite its meltdown.
Referring to Lansman motion to remove Watson, which the leader refused to support, the deputy said: "I know that attempt to get rid of me was a bit of an embarrassing mess: Jon Lansman, the hitman that shot himself in the foot."
Lansman was a "lone wolf operator without any authorisation", Watson added.
Continuing the joke, he said: "It must be very lonely being the Lee Harvey Oswald of the Labour Party. To cock it up in such a way is really incompetent."
Saying Lansman wanted to get rid of him because of his Brexit stance, Watson added: "I just want to make it very clear: I am remaining and going to remain campaigning for Remain and I know everyone in this room is going to do the same."
He called on moderates to keep trying to find a "new synthesis of ideas" even if the "leadership orthodoxy" was hostile, adding: "It's tough out there, I know it is."
"It is more important than ever before that progressives on the centre left are absolutely united as fully involved in shaping the future of our party," he said.
"I have described it before as a battle for the heart of the Labour Party - and you are absolutely part of that, just as legitimately a part of this family as every other organisation that makes up this broad church."
He told the group: "What you do matters more now than it ever has done in the last few decades because if you stick at it and you don't walk away then this party has a chance, and there are millions of people desperate for a Labour government that really is going to transform the political climate of Britain and without you that is never going to happen."
It comes as pressure builds on Corbyn to back a pro-Remain stance, but a motion set to be passed by the party conference on Monday looks set to allow Labour not to take a position until a second referendum is called.
Shadow foreign secretary Emily Thornberry also said the party must pick a side.
Speaking to HuffPost UK's Paul Waugh at a fringe event at the party's conference in Brighton, Thornberry said members should "thrash it out" this week and not wait until after the election.
Stressing Corbyn was a "servant of the members", Thornberry said: "We're all here [at conference]. I don't see why we can't make the decision now."
London Mayor Sadiq Khan was among those who weighed into the debate, telling a separate fringe event he wants the party to whip its MPs to campaign for Remain.
"We are at a vital crossroads, neutrality is not an option," he said. "The party should be unequivocally pro-Remain.
"All Labour MPs should be whipped to campaign for Remain."
He added: "We have got to give the British public a final say – we have got to give them a second choice.
"I cannot think of anything more democratic than giving the British public a choice."