Tom Watson slapped down a heckler during his speech to the Labour Party conference on Tuesday afternoon with a dig at Jeremy Corbyn, having praised the governments of Tony Blair and Gordon Brown.
Labour's deputy leader warned his party to stop "trashing" its brand by criticising its last 13-years in power. "I don't know why we have been focusing on what was wrong with the Blair and Brown governments for the last six years," he told the audience in Liverpool to widespread applause.
Corbyn, who was re-elected Labour leader on Sunday, has made moving to the left of Blair and Brown a key plank of his offer to voters and party members. Sitting on the stage as Watson spoke, he did not clap as the two previous Labour prime ministers were praised.
And when Watson was heckled from the floor for defending Blair and Brown, Watson turned to Corbyn and said: "Jeremy, I don't think she got the unity memo."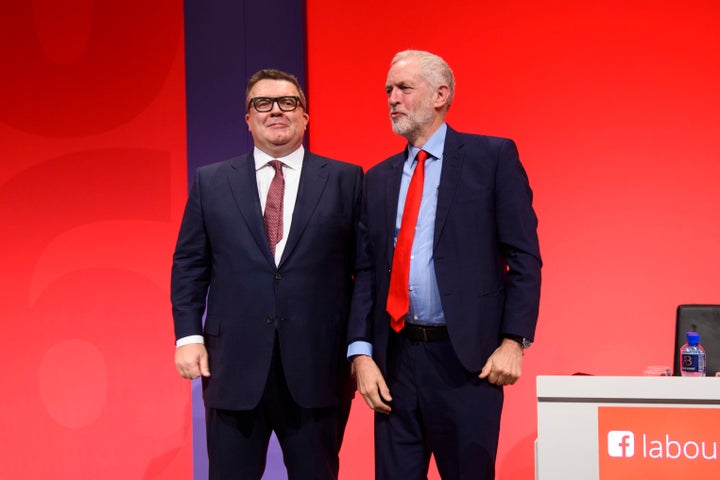 This summer's leadership election has exposed bitter divisions within the party over whether Corbyn is capable of winning the next general election. He has called for party members and MPs to unify behind his leadership. However many Labour MPs also want to see the leadership compromise with many of their demands.
Watson told Labour members today: "Look what happens when you get it right, the 11-years of Labour government between 1997 and 2008 were a complete unbroken period of economic growth.
"Trashing our record is not a way to enhance our brand, we won't win elections like that and we need to win elections."
John McDonnell, a close ally of Corbyn, recently attacked the Blair government as having "lost us five million votes" and of taking the party "to the edge". In a sign of the behind the scenes battle between Corbyn and Watson, McDonnell also recently condemned Watson's "unacceptable" bid to try and change the Labour leadership rules.
Watson's put down to the heckler, as well as his praise for Blair and Brown, was greeted with widespread applause in the hall as well as heckles. He was also cheered as he walked into one of the hotels hosting the conference following his speech.
During his speech, Watson also praised London "spectacular" mayor Sadiq Khan. However Corbyn appeared not to clap while other senior Labour figures on the stage joined in with many in the crowd. Khan backed Owen Smith in the leadership contest.
"What a champion he is," Watson said of Khan. What an outstanding representative of our great national capital and our historic socialist party, still relevant, resonate, and winning elections in one of the most dynamic cities on earth."
Watson's praise of Khan for winning an election was also heckled from the crowd. "Just like Jeremy Corbyn," one man shouted. Watson replied: "Indeed."
Labour's deputy leader's focus on the need for Labour to win power echoed the comments by Khan earlier in the day. London's mayor said Labour had to win by "not just talking the talk, but walking the walk too".
Khan's speech, which was seen as a less than coded message to Corbyn about the need to reach out beyond Labour's base to win elections, mentioned the word "power" 38 times.
Popular in the Community