A toothpaste ad has been banned for its inclusion of a naked woman after members of the public complained that it "objectified women".
The ad, for BOCA organic toothpaste, appeared in a supplement magazine that came with The Times newspaper in July and featured a woman who appeared to be wearing only a pair of heels.
In response to complaints, BOCA denied that the woman in the ad was naked, stating there is a fine line "between sexual objectification and the expression of sensuality".
The Advertising Standards Authority (ASA) banned the ad from appearing again in its current form, ruling it "objectified women" and stating it was "likely to cause serious or widespread offence".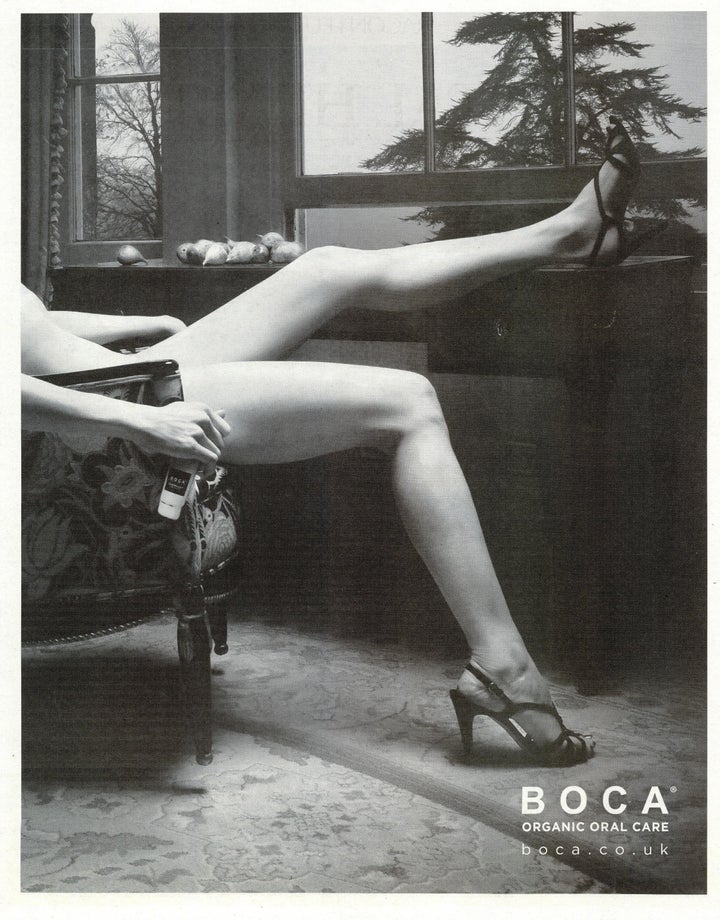 The ASA received two complaints about the ad, which appeared in The Time's Raconteur supplement on July 28 2017.
A spokesperson from Croftscope Ltd, which owns BOCA, told ASA they belived the ad reflected the "sensual and organic nature of their product".
"BOCA also stated their target audience was predominantly female, with an aspirational lifestyle characterised by luxury and self-indulgence," the ASA ruling states.
"They also stated that their products uniquely featured day and overnight formulations, and the latter promoted relaxation prior to retiring. They said the image demonstrated the model in a relaxed pose that was commensurate with the product."
A spokesperson from Raconteur Media Ltd, who oversee the supplement mag, also stated they "did not believe that the image of the woman in the ad was overtly sexual" as she was "mostly obscured by the chair in the image, with only one leg being visible". (HuffPost UK notes there are two legs...)
They added they did not believe that the image objectified women as the ad was "demure in its setting".
Despite these protestations, ASA still ruled the ad was "sexually provocative", stating although the model's upper torso (including her nipples) were out of shot, the implication was that she was nude.
"Furthermore, because the model's face was not shown, we considered that the visible parts of her torso, including her lower portion of her breasts, and the lower half of her body became the visual emphasis of the ad, which was likely to draw readers' attention," the ruling said.
"We also considered that the nudity and the pose of the model, and the provocative nature of the ad, bore no relevance to the product."