Sex And The City's Samantha Jones is the best friend we all want in our lives: fiercely loyal, totally wild and always ready to liven up any occasion, she's a noughties icon that will always represent female fierceness and independence.
Simply put: she's fabulous.
Thinking about Samantha Jones, played to perfection by actress Kim Cattrall, has us wanting to binge-watch SATC all over again - and happily, we can thanks to NOW TV.
The entire back catalogue of Sex And The City is all yours as part of the NOW TV Entertainment Pass (contract free, only £6.99 for a month) so you can relive your favourite Samantha (and Carrie, Miranda and Charlotte) moments all over again.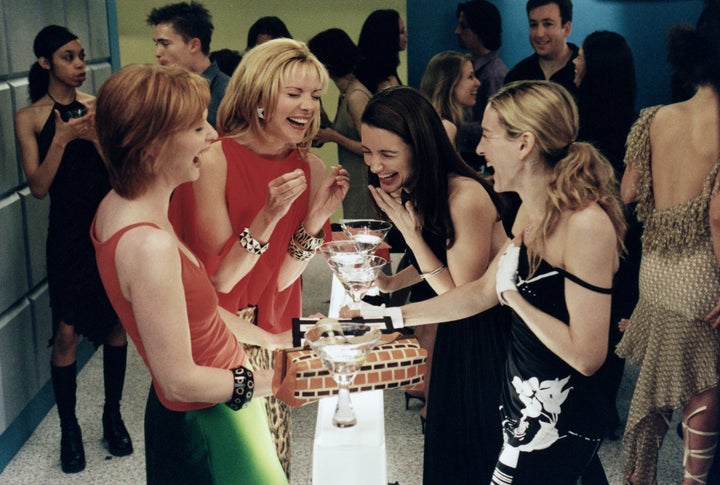 Time to pour a cocktail (or five!), invite our friends over and have a par-tay, Samantha-style. These top ten Samantha-isms are sure to get you in the mood.
She has her priorities straight: "I'm gonna say the one thing you aren't supposed to say. "I love you… but I love me more. I've been in a relationship with myself for 49 years and that's the one I need to work on."
She plays by her own rules: "I will not be judged by you or society. I will wear whatever, and blow whomever I want, as long as I can breathe and kneel."
"Hello, my name is Fabulous."
"Honey, you have to let it go. If I worried what every bitch in New York was saying about me, I'd never leave the house."
"Oh please. There's always a contest with an ex. It's called 'who will die miserable.'"
One of the reasons we can't get enough of Samantha? She's so open - about everything, especially when it comes to sex. She's also got this love thing down pat:
"You can tell a man, 'I hate you,' you'll have the best sex of your life. But tell him 'I love you,' you'll probably never see him again."
"Hi, I need something that'll make a guy cum in his pants as soon as he sees me." Because any outfit that fails to do that is just plain boring.
No matter life's ups and downs, friends are what matter to her. "We made a deal ages ago. Men, babies - it doesn't matter. We're soulmates."
She's even political. Well, sort-of.
"I don't believe in the Republican party or the Democratic party. I just believe in parties." #voteforsamanthajones
Samantha may be known for her brash and witty comments, but she's also a great friend - like when she tells Mr. Big to back off when he's toying with Carrie's emotions or uses her new "back massager" to help baby Brady when his vibrating chair stops working.
When it comes to men, she's had love, heartbreak, and everything in between (and we mean everything - sex in a swing, anyone?). We think this last quote pretty much sums up her life mantra:
"The good ones screw you. The bad ones screw you. And the rest don't know how to screw you."
18+. UK only. Pass renews at £6.99pm unless cancelled. NOW TV account required.

Streamed via broadband (min speed 2.5Mbps)/3G to two compatible devices.

Costs may apply. Further terms apply.
Related