The Tories, Labour and Lib Dems have suspended national election campaigning in the wake of the terror attack on London Bridge, sparking a debate on the political response to the incident which left seven people dead.
Three suspects were shot dead by armed police after a van ploughed into pedestrians, followed by a stabbing attack at nearby Borough Market. Dozens of people were injured, some seriously.
The Conservatives said the party would not campaign nationally on Sunday, as Theresa May chaired an emergency Cobra meeting.
"We will review as the day goes on and as more details of the attack emerge," a spokesman added.
Labour said it would suspend national campaigning until Sunday evening 'as a mark of respect'.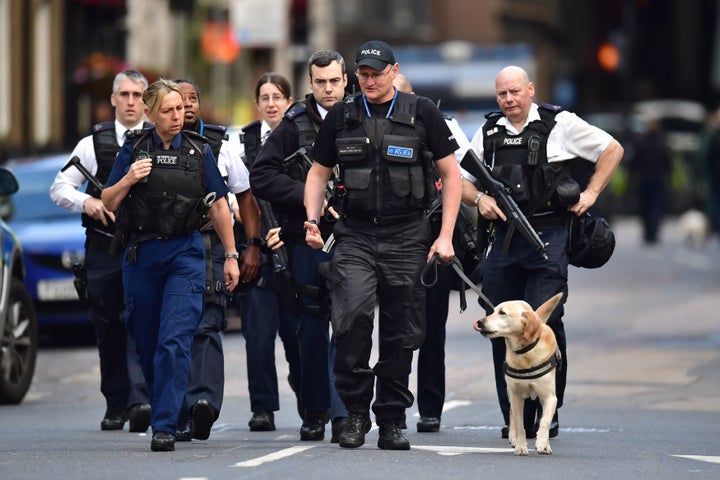 Jeremy Corbyn said: "We are all shocked and horrified by the brutal attacks in London. My thoughts are with the families and friends of those who have died and the many who have been injured. Today, we will all grieve for their loss.
"I would like to thank the police and emergency services for their bravery and professionalism in acting to save lives and deal with these appalling acts of terrorism, as well as NHS staff and members of the public who sought to protect others.
"The Labour party will be suspending national campaigning until this evening, after consultations with other parties, as a mark of respect for those who have died and suffered injury.
"Those who wish to harm our people, divide our communities and attack our democracy will not succeed. We will stand together to defend our common values of solidarity, humanity and justice, and will not allow terrorists to derail our democratic process."
Opinion was divided on the parties' response to the attack, with many political commentators questioning the decision to suspend campaigning on the final weekend before polling day.
The suspension is not thought to include local campaigning and candidates will be expected to use their judgement.
Sunday political programmes, including the BBC's Andrew Marr show and Sunday Politics, were cancelled in favour of rolling news coverage, with interviews with Brexit secretary David Davis and shadow foreign secretary Emily Thornberry.
London Mayor Sadiq Khan described the incidents as "deliberate and cowardly", adding: "There is no justification whatsoever for such barbaric acts".
But he echoed assertions the election should not be postponed.
Khan told Sky News: "I'll be voting on Thursday. I'm not an advocate of postponing the election, I'm a passionate believer in democracy. I'm looking forward to voting on Thursday."
UKIP leader Paul Nuttall confirmed his party would continue to campaign as normal throughout the day.
In a statement posted on Twitter, he said: "For those of us seeking to serve the people of this country, it is our duty to drive the dialogue on how best to confront and defeat this brand of terrorism.
"That is what UKIP will be doing today and beyond. Therefore, I refuse to suspend campaigning because this is precisely what the extremists would want us to do."
"It is time to start honouring our dead with more than just words."