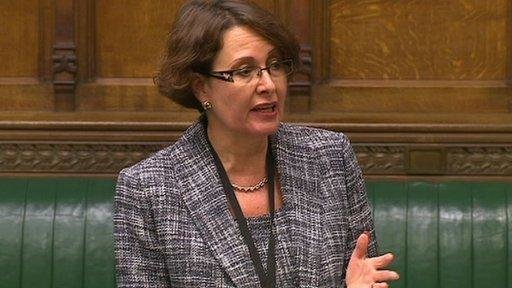 Tory MP Anne Marie-Morris has suggested she could vote for Nigel Farage's Brexit Party at the upcoming European elections.
The backbencher also encouraged Brexiteers to join the Conservative Party in order to force out local chairman and MPs who backed Theresa May's Brexit deal.
Speaking at an event in Westminster on Tuesday, hosted by the eurosceptic Bruges Group, the MP for Newton Abbot said she would not campaign for the Tory party at the elections on May 23 if the UK is forced to hold them.
Asked if she would vote for Farage's new party, she said: "I would need to see who the candidates were.
"But certainly I would prefer someone on the Brexit side rather that the Remain side. In my area they are currently on the Remain side. I would like to vote for someone of a Brexit orientation.
Marie-Morris, who had spoken from behind a podium featuring a picture of Margaret Thatcher, added: "Let me see who the runners and riders are."
The MP, who was briefly suspended by the Conservatives in 2017 for using the phrase "n*****r in the woodpile", hinted she would vote to bring down May's government if the PM tried to link a vote for her Brexit deal to a confidence vote.
"My country comes first and my party, which needs desperately rebuilding, comes second," she said.
Speaking about May, Marie-Morris added: "That lady must go."
And she hit out at Tory MPs who had decided to vote for the Withdrawal Agreement. "I am astonished at the level of ignorance among my colleagues," she said.
Asked what could be done to challenge local Tory chairman who refused to move against MPs who backed the deal, Marie-Morris said Brexiteers had to take over local parties.
"If you are member and you can get more members to join up, then over time you'll be in a position to vote for chairman," she said. "So they will be removed."
May has asked the EU for a Brexit delay until June 30. But according to reports, Article 50 could be extended by nearly a year under plans being considered by Brussels officials.
Such an extension would mean the UK having to take part in European parliamentary elections.
All 27 remaining EU heads of government must agree to an extension if the UK is to avoid the default position of a no-deal Brexit on Friday night.