But when Karen Edwards, 31, fell pregnant, she wanted to do things slightly differently.
Ten weeks after the birth of her first child, Esmé, Edwards and her partner Shaun Bayes set off on a year-long, around-the-world trip.
And for Edwards, this was the best and easiest way to adjust to life as a mum.
"We had two parents looking after one baby the whole year and I think if I was to sit at home it would've been incredibly lonely.
"I was distracted and I always had help - life didn't change drastically for me."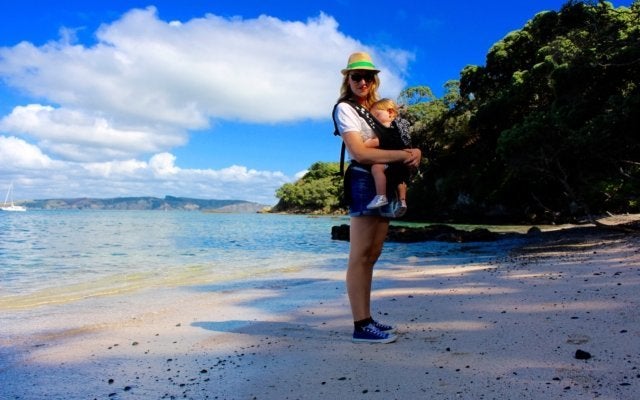 Edwards, who is a full-time nurse in central London, found out she was pregnant in 2014 while she was travelling in New Zealand with her partner.
"Initially when I found out, I was upset, shocked and not ready to have a baby," she tells HuffPost UK.
"I hadn't got travel out of my system so to speak."
At the time, Edwards and her partner had just bought their first home and were in a stable position to bring up a child. But their main concern was no longer being able to leave the country and travel whenever they wanted.
So they decided they'd take their child with them.
"I knew if I stayed in London I wouldn't be able to afford mortgage repayments if I took the whole year of maternity leave," she says.
"But I really wanted the whole year off so we decided to go to Asia and live a cheaper life."
Bayes aka 'Travel Mad Dad' decided to leave his job so he could take the full year off with his new family.
"He works as a landscaper," Edwards explains. "He knew it'd be fairly easy to pick up another job, a bit like a builder, when he got back.
"We told my family we were expecting and that we were taking her travelling in the same breath."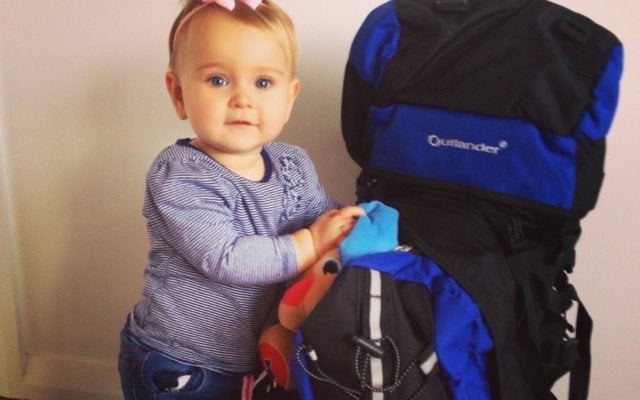 Friends and family were initially shocked with their choice to travel, but they soon got used to the idea as Edwards and her partner spent the rest of her pregnancy planning the 12-month trip.
They booked flights to Ireland, then planned to head to New Zealand, Singapore and through Asia: Indonesia, Malaysia, Vietnam, Taiwan and Hong Kong.
They also visited their doctor to address all the health and safety concerns about travelling with a baby.
When Esmé was born in September 2014, the couple had ten weeks to ensure she had all her injections and their house was rented out before they set off.
"The biggest weight was off my shoulder when we all sat on the plane to leave," Edwards says.
"As soon as I was sat down I just knew everything was going to be fine - my house was rented, my car was sold and I was ready."
Travelling to countless different countries threw up different challenges for the family.
While some countries (Taiwan) were incredibly baby-friendly and had feeding rooms and nappy changing facilities, things were more difficult in Malaysia and Bali where Edwards felt locals weren't helpful in accommodating kids.
Adjusting to the cultural norms of different countries wasn't the only barrier to travelling with a newborn. Edwards also had to help her daughter through the different stages in her life, from weaning, to crawling and walking.
"Weaning was difficult," she says. "We had to find certain fruits that she liked but the biggest problem was that she was fussy with food.
"She would never let anyone feed her so even though there were lots of things she could eat, she chose not to.
"In some cases, Esme took a liking to food in one country (Vietnamese noodles), and she couldn't get her head around them not being there when we moved on."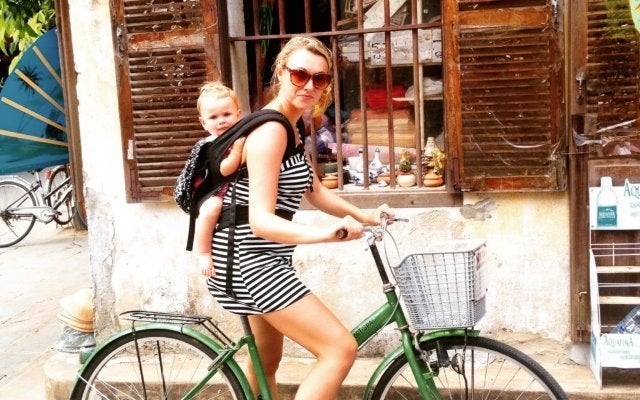 Although food was an issue, the practicalities of travelling around and staying in a different room nearly every night didn't Esme at all.
The family stayed in guest houses and budget hotels and had a pop-up travel cot for the times it wasn't provided.
"It just became normal for her to stay in a different room every night," Edwards says.
"Mums and dads get hung up on all these safety precautions with newborns and think they can't do it.
"I would just put her in a carrier on my front and that's where she stayed. We really didn't do much differently."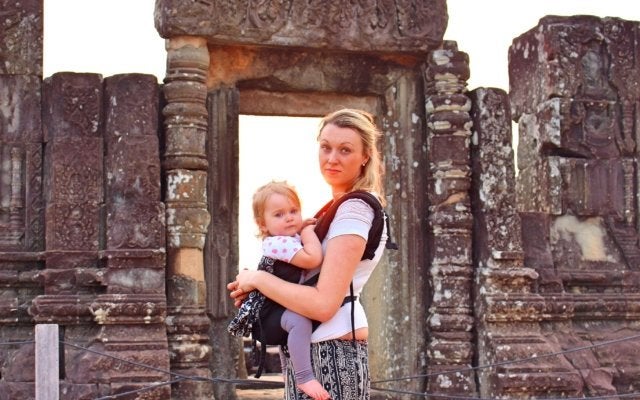 Since getting back in September 2015, the family have been to Cambodia, Thailand, New Zealand and South Africa.
The mum believes that becoming a parent shouldn't abruptly end your desire to travel and is determined to inspire like-minded, travel-loving parents through her blog Travel Mad Mum.
Since documenting her experiences, tips and advice on her adventurous lifestyle, Edwards has been surprised at how many other mums have resonated with her story.
She had emails from mothers saying they were envious they hadn't thought to do the same or didn't feel brave enough to do it.
"People realised it was a possibility," Edwards adds.
"It's the norm that you stay at home during maternity leave but it doesn't have to be that way.
"I think people are slowly realising that."
Edwards' advice on travelling during maternity leave.

- Make the decision early. I had two jobs so I could get my finances behind me before we went away.

- Look at ways to earn money. Essay corrections, research or similar online work are easy ways to gain money while abroad.

- Research the destination. Ensure, from a health perspective, the country you're travelling too will be safe with a child.

- Create a filter group before you leave. I didn't have time to develop a social group of mum friends before I left but it would be nice to have local mums where I live to hang out with.

- Don't get attached about being at home with your baby. It'll be you psychologically nesting. It's hard so keep strong in the first few weeks and realise it's going to be an amazing experience.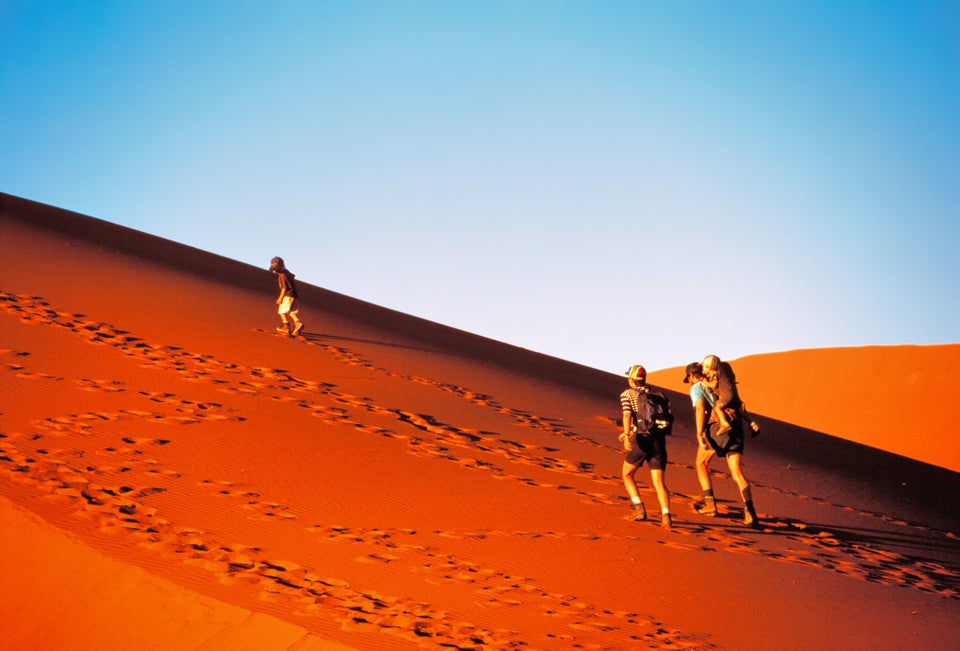 10 Ways To Take The Stress Out Of Family Holidays
This summer The Huffington Post UK is spearheading an initiative helping families thrive, with a focus on parent wellbeing, the challenges facing stay-at-home and working parents, friendships and navigating the landscape of modern parenting beyond the 2.4.
We'll be sharing stories and blogs with the hashtag #ThrivingFamilies and we'd like you to do the same. If you'd like to use our blogging platform to share your story, email ukblogteam@huffingtonpost.com to get involved.