Each day thousands of Brits reject the traditional sandwich and buy sushi in the quest of a healthy lunch.
In fact, last year high street brand Itsu sold 7.5 million sushi boxes alone.
But is sushi as healthy as we're all led to believe?
In the latest episode of Channel 4's 'Tricks Of The Restaurant Trade,' the team investigate and find out the sushi industry is hiding some very fishy secrets.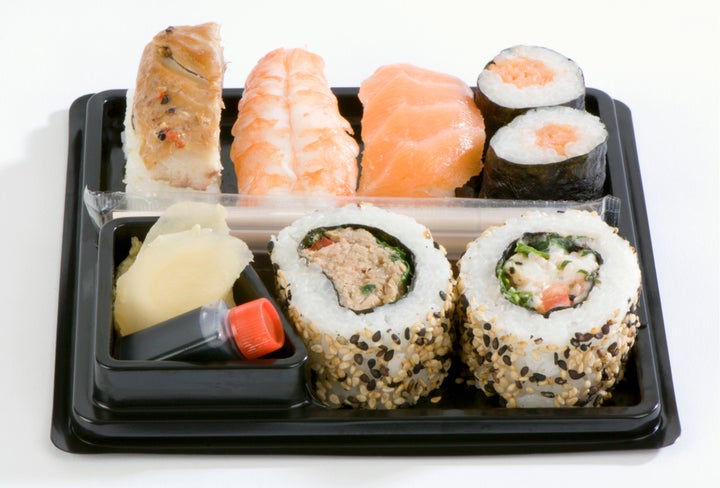 In the episode, nutritionist Amanda Ursell analyses a range of products from popular high street outlets to determine how healthy sushi really is.
She explains that a solution containing sugar is added to the rice used for sushi.
In a Pret a Manger salmon, prawn and crab sushi set, she says there are 10.8 grams of sugar - "almost the equivalent as two Jammie Dodgers".
But the carbohydrate content in some sushi boxes is even more surprising.
In Wasabi's Hana boxset, Ursell says there's 132g of carbohydrates - that's the equivalent of seven-and-a-half slices of white bread.
What's more, you may be being deceived by the wasabi you top your sushi with.
According to presenter Kate Quilton, many well-known high street sushi brands, including Itsu, use a "wasabi" paste that contains only a tiny extract from the wasabi plant. The bulk of their paste is made up from horseradish, mustard and colourings.
"In the trade it's known as label padding. That's when ingredients are added in a minuscule proportions to add a veneer of authenticity or goodness. It's not illegal, but I think it's misleading," she says.
Speaking to The Huffington Post UK, a spokesperson from Itsu said: "It's normal practice for 'wasabi' to contain just a small portion of the actual wasabi plant.
"This is because wasabi itself rapidly loses flavour once it's been grated and is best served within five minutes. Even we're not that fast!"
Itsu added that the show contains "several misleading statistics made about the nutritional information of some of [its] dishes, including a comparison of Itsu's Health and Happiness sushi box (372g) to a McDonald's Big Mac (192g)".
The Huffington Post UK has contacted Wasabi and Pret a Manger for comment, but has yet to hear back at the time of publication.
The moral of the story? Read the labels on your sushi boxes very carefully or make your own sushi using fresh fish at home so you know exactly what you're eating.
'Tricks of the Restaurant Trade' is on Mondays at 8.30pm on Channel 4.