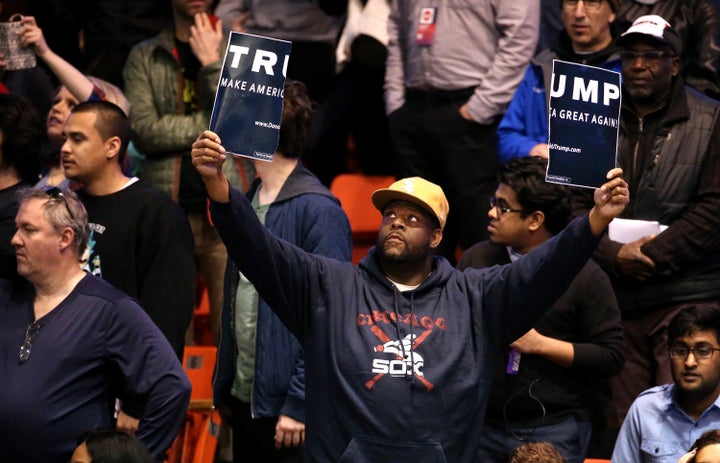 A huge rally for presidential hopeful Donald Trump was shut down on Friday evening over security fears. The event, which was due to begin at 6pm local time at the University of Illinois in Chicago, was axed 30 minutes after the scheduled start time, after thousands of anti-Trump protesters packed the free event.
A heavy police presence surrounded the rally following a day of demonstrations against the Republican Party frontrunner. Several incidents of violence at recent Trump rallies around the country heightened concerns ahead of the event.
As an employee of the Trump campaign announced that the rally would be postponed, the anti-Trump throng celebrated, ripping up Trump signs and banners inside the packed hall. Police separated protesters and supporters as minor scuffles broke out.
"We dumped Trump! We dumped Trump!"
Reuters reported that protesters cried out, "We dumped Trump! We dumped Trump!" Outside the hall, chants of "We shut it down!" could be heard.
A statement for the campaign read: "Mr. Trump just arrived in Chicago and after meeting with law enforcement has determined that for the safety of all the tens of thousands of people that have gathered in and around the arena, tonight's rally will be postponed for another date. Thank you very much for your attendance, and please go in peace."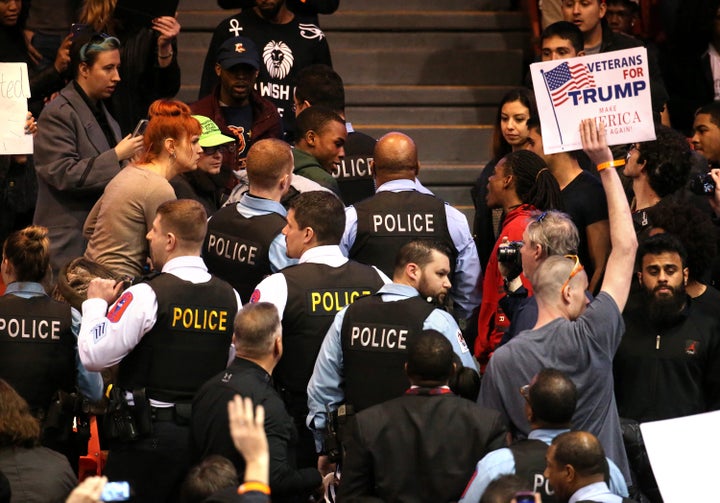 Speaking to MSNBC by phone, Trump said it was his decision to cancel the rally and it was "the right thing" to do.
"You can't even have a rally in a major city in this country anymore without violence or potential violence," said the mogul. "I didn't want to see the real violence, and that's why I decided to call it off."
"You have so much anger in the country -- it's just anger in the country, and I don't think it's directed at me or anything," he added. "It's just directed at what's been going on for years."
On Wednesday, a protester was attacked at a Trump rally in North Carolina, the latest incident in a trend of violence carried out by supporters or security staff of the Republican Party frontrunner.
The assailant, wearing a ponytail and a cowboy hat, was arrested and charged by local police. He was later identified as 78-year-old John McGraw, who admitted to Inside Edition that he liked "knocking the hell out of that big mouth." When asked why he punched the protester, McGraw said: "Number one, we don't know if he's ISIS."
"We don't know who he is, but we know he's not acting like an American," he added. "The next time we see him, we might have to kill him."
Trump Chicago Rally