President Donald Trump's family ignored coronavirus guidelines on Tuesday night at the presidential debate, forgoing masks as they sat in the audience, just two days before the president and first lady Melania Trump tested positive for COVID-19.
The debate was held in an auditorium at the Cleveland Clinic, which months ago was used as a pop-up hospital for coronavirus patients. The venue had imposed public health rules to minimize exposure to the virus.
But most of Trump's children ― Donald Trump Jr., Tiffany Trump, Ivanka Trump, and Eric Trump ― sat in a row sans masks despite doctors at the nearby Cleveland Clinic advising that guests wear masks to prevent the spread of the virus.
NBC's Marianna Sotomayor, who was among the few journalists allowed in the room, reported that a Cleveland Clinic doctor tried to approach the Trump family guests to ask them to wear masks, even offering them extras if they didn't have any.
The doctor never went up to the Trump family because as she got closer to them, someone "shook their head no." No one she asked to wear a mask did so, and she walked away "frustrated," according to Sotomayor. A debate hall staffer replied, "That's all you can do," according to the account in the press pool report.
The Cleveland Clinic did not respond to a request for comment.
It appears that Ivanka Trump, Eric Trump and others did wear masks into the venue and removed them at some point before sitting down. Notably, Melania Trump both wore a mask into the venue and continued to wear it while seated.
On social media, Ivanka Trump shared a snapshot of herself, Tiffany Trump, Melania Trump and Lara Trump wearing masks ahead of the debate.
White House chief of staff Mark Meadows was also seen on CSPAN speaking in close proximity to guests without a mask, even shaking hands with attendees, before quickly using hand sanitizer.
Former Vice President Joe Biden, the Democratic nominee, and his family wore masks.
Trump and Republican officials' defiance, and often mockery, of mask-wearing — a practice the government's own public health officials say could save tens of thousands of lives in the months ahead — was on full display during the debate, when the president openly made fun of Biden for wearing a mask in public settings.
"Every time you see him, he's got a mask," Trump said of the Democratic nominee. "He could be speaking 200 feet away from him and he shows up with the biggest mask I've ever seen."
After Biden argued that "masks make a big difference" and lives would've been saved had the president put out a mask-wearing mandate early in the pandemic, the president attempted to put the blame on infectious disease expert Dr. Anthony Fauci, who said back in March that masks were not effective. Fauci changed his advice the following month after research gleaned that masks did help stop the spread of the virus.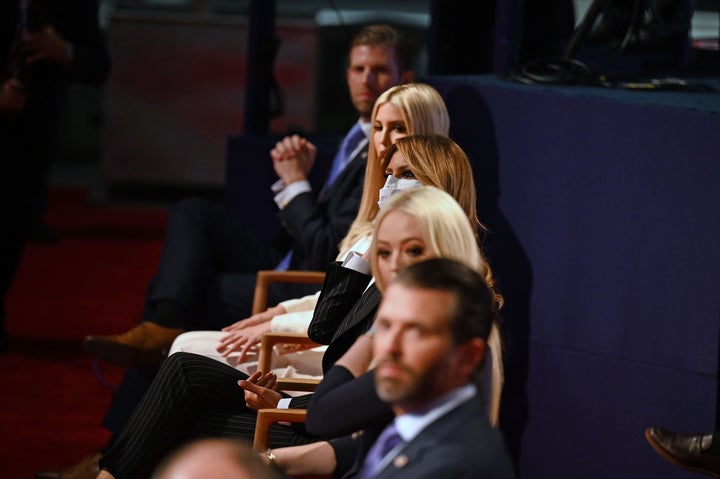 Case Western Reserve University and Cleveland Clinic, where the debate was held, said "risk-mitigation strategies have been developed to help protect everyone within the space." In addition to "adding distance between seats," they incorporated "personal health screening and safety measures" and offered disinfectant measures, according to a list published online.
The president and the first lady, as well as senior adviser Hope Hicks, tested positive for COVID-19 Thursday. Biden and his wife, Jill, said Friday that they had tested negative.
The extent of their exposure to others is still unclear. CNN's Dana Bash reported that Hicks, Trump and several advisers ― including Stephen Miller, Bill Stepien and former New Jersey Gov. Chris Christie ― were all together, unmasked, in a small conference room preparing for the debate. So far, Barron Trump, as well as Ivanka Trump and husband Jared Kushner, have tested negative for the virus, according to the White House.
Testing captures only a snapshot in time — the virus can have a longer untraceable incubation period.
On Friday, Sen. Mike Lee (R-Utah), who met with administration officials in recent days, as well as with Trump's new Supreme Court nominee, Amy Coney Barrett, tested positive for COVID-19. Barrett, who reportedly had the coronavirus over the summer and has recovered, tested negative on Friday.
The White House did not make Hicks' diagnosis public initially; it was first reported in the press. Since then, the Trump campaign has reportedly sent a letter to attendees of a fundraiser — which the president attended just hours before testing positive — telling them to seek medical care as needed.
There was reportedly karaoke at the fundraiser.
A HuffPost Guide To Coronavirus
Everyone deserves accurate information about COVID-19. Support journalism without a paywall — and keep it free for everyone — by becoming a HuffPost member today.
A HuffPost Guide To Coronavirus
Everyone deserves accurate information about COVID-19. Support journalism without a paywall — and keep it free for everyone — by becoming a HuffPost member today.