Bus-loads of Scots descended on Glasgow to rally against Donald Trump's arrival, as the baton of protest passed from London north of the border.
The US President's private jet was on its way to Glasgow Prestwick Airport as thousands of protesters packed into the city's George Square for a rally, which hit the sweet spot between joy and defiance.
On stage, the SNP's deputy leader, Keith Brown, was greeted with laughs as he reminded the crowd that Trump thinks Scotland loves him.
He said: "Lets do a poll here right now. Does Scotland love Trump?"
A huge cry of "no" lifted the square as everyone jabbed their placards and signs into the air.
He continued: "People ask why Donald Trump isn't meeting Nicola Sturgeon. It's because she'd tell him what she thought, unlike Theresa May.
"With Theresa May desperately chasing this trade deal with the US, we now face the prospect that the NHS across the UK will be opened up to American private healthcare firms.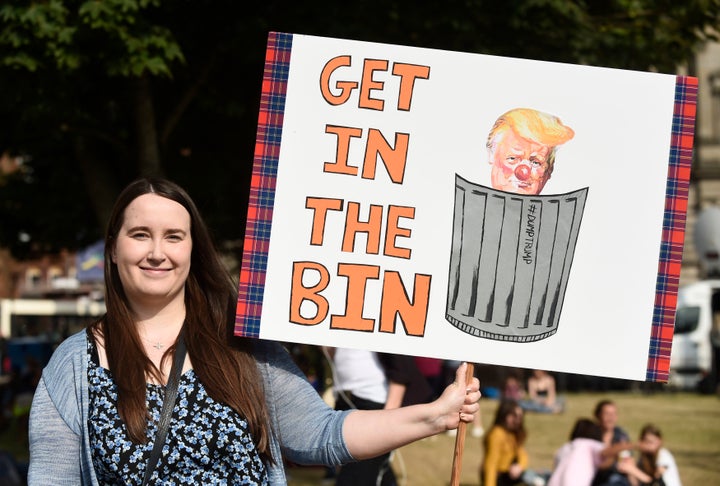 "Scotland rejects these plans and sends a message to Trump and to Theresa May: 'Hands off Scotland's NHS'."
In the crowd, Gary Fry, Glasgow, 51 is holding a sign of a red cap with the words "Naw" emblazoned on it.
He said: "I oppose every thing this man stands for. He will love this and it will be a huge ego trip for him. But we aren't doing it for him. We are doing it for us and cause we want to show everyone that we oppose him."
Nearby Gemma Elliott, 27 from Glasgow and Kirsty Lusk, 26 from Paisley held homemade signs aloft.
Asked why she was protesting, Elliot said: "Donald Trump's visit to Scotland is pointless and he is wasting our country's money, our airport, our police. It's also been fun."
Lusk said: "I think Trump is a symbol of everything that is wrong with the world and society. This is an opportunity to speak against him and his policies, which are sexist, racist, anti-immigration and anti-LBGTQ."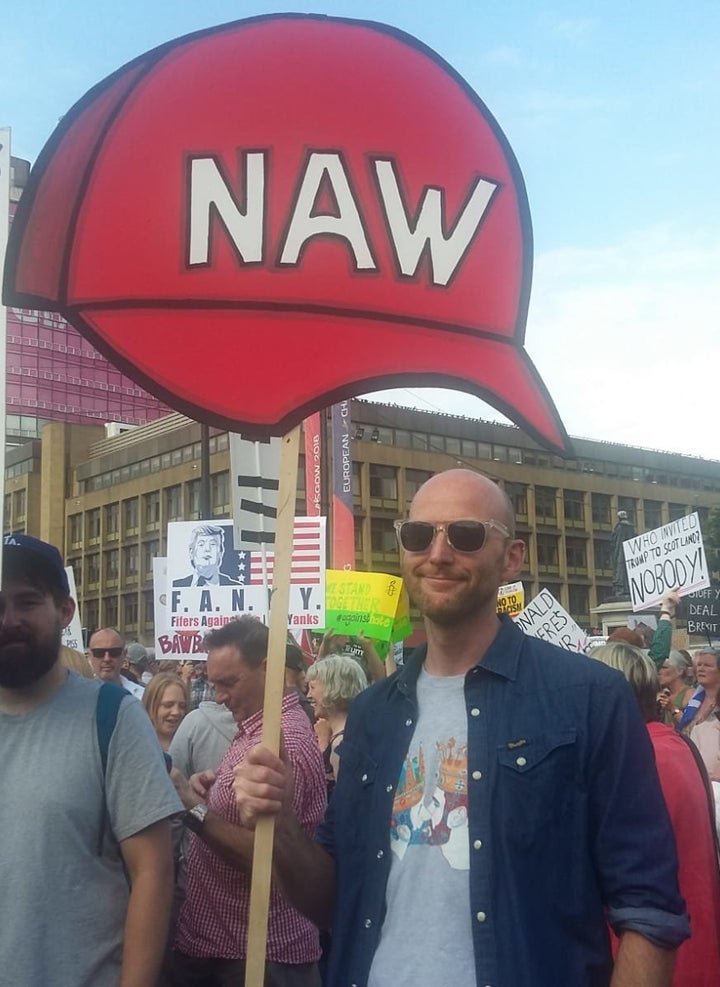 Prominent Scottish lawyer Amer Anwar made clear that Scotland loves the US when he took to the stage.
He said: "We are more interested in the special relationship between people of the United States of American and the people of this country."
After listing Martin Luther King, Dolly Parton and Bruce Springsteen, he said: "We love them and many, many more who will live on long after Donald Trump's name is dust. We will not meet you with hate but with a carnival of resistance."
Earlier volunteers were busy at work building a "wall of resistance" to surround a stage on which community and political leaders will give speeches.
Further protests are planned in Edinburgh and the campaign group Scotland Against Trump has organised coaches to take people to Trump Turnberry, a golf course he owns in Ayrshire, where the President is thought to be headed for a round of golf on Saturday.
Although Police Scotland has denied protesters permission to fly the now famous Trump baby blimp over the golf course, it was confirmed on Friday that the balloon will fly along with the march in Edinburgh as it passes the US embassy there.
Scottish Labour leader Richard Leonard is among those set to speak in Glasgow. He blasted the SNP-led Scottish Government for failing to intervene and bar Trump from using a publicly-owned airport.
"Donald Trump is not welcome here," said Leonard. "The horrific scenes at the Mexican border are a repudiation of decent human values. Caging children like animals is barbaric. We cannot roll out the red carpet for a US President that treats human beings this way"
After hitting out at Trump's travel ban, misogyny and withdrawing the US from the Paris climate change accord, he added: "For Donald Trump to travel to Scotland with public assistance and ease when his travel ban has caused outrage and despair around the world would simply not be acceptable."
Trump's visit to Scotland follows an astounding press conference at Chequers, the Prime Minister's country residence, after an explosive interview in The Sun newspaper in which he said a soft Brexit would jeopardise a potential post-exit UK-US trade deal.
The Commander in Chief appeared to row back from the claim, however, and insisted his relationship with Britain was "very, very strong".
Trump is not scheduled to meet Scotland's First Minister Nicola Sturgeon, who has spoken out against the President numerous times.
The President himself is known to have a fondness for Scotland, given his mother hails from Isle of Lewis.