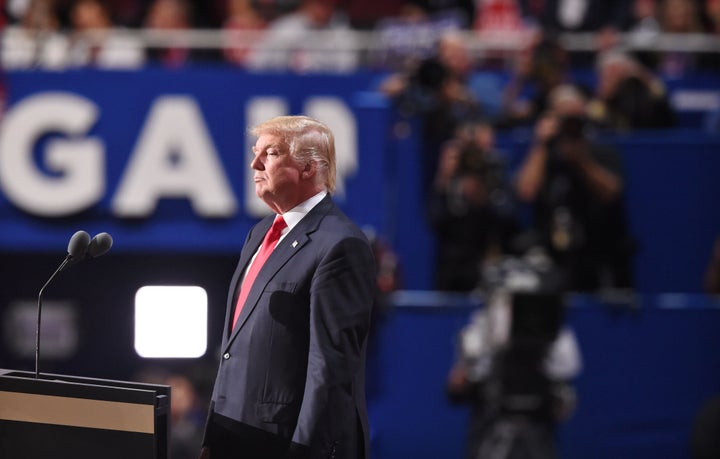 Donald Trump has accepted the Republican Presidential candidacy with a greatest hits speech focusing on crime, illegal immigration, terrorism and international trade - but one that prompted ridicule over his anti-violence claims.
In a long, 4,000-word often angry speech that did little to move him to the centre ground, Trump renewed his flagship pledge to build a "great border wall to stop illegal immigration", and promised to "immediately suspend immigration from any nation that has been compromised by terrorism" - regardless of how practical either are.
In the same riff on immigration and refugees, a recurring motif in an effort to appeal to disenfranchised voters from beyond the Republican convention hall in Cleveland, he set out who believed should be able to live in the US.
"I only want to admit individuals into our country who will support our values and love our people. Anyone who endorses violence, hatred or oppression is not welcome in our country and never will be."
Trump, however, has a history of endorsing violence.
"Nobody wants to hurt each other anymore."
In St Louis, Missouri this year, when confronted by demonstrators, he said: "You know, part of the problem and part of the reason it takes so long is nobody wants to hurt each other anymore, right?"
"I'll beat the crap out of you."
Another protestor interrupted a Trump address at Dayton, Ohio, this year, and he said he would fight the person if he reached the lectern.
"Get him out."
"Try not to hurt him," he said of a further protestor this year in Michigan. "If you do, I'll defend you in court, don't worry about it."
Many picked up the hypocrisy.
Repeated refrains of how the property developer-turned-TV star "alone" could save the "forgotten" electorate from all their economic and social woes - "I am your voice," he boomed - prompted one-time Democrat presidential contender to Bernie Sanders to question what job he was after.