A traditional turkey Christmas dinner has more than double the greenhouse gas emissions than a vegan nut roast with plant-based trimmings, new research suggests.
A typical turkey roast, with roast potatoes cooked in goose fat, pigs in blankets, meat stuffing and meat gravy for a family meal of six emits 23.5 kg CO2e, the carbon dioxide equivalent of driving 78.5 miles in an average UK petrol car, according to the findings from Dr Harwatt, a Harvard University research fellow working with Humane Society International UK.
In comparison, a nut roast, also for a family of six, with roast potatoes cooked in vegetable oil, vegan pigs in blankets, sage and onion stuffing and vegetable gravy emits only 9.5 kg CO2e, the equivalent of driving 31.6 miles in an average UK petrol car.
If everyone in the UK were to choose a vegan Christmas dinner, 125,000 pigs and two million turkeys would be also be spared.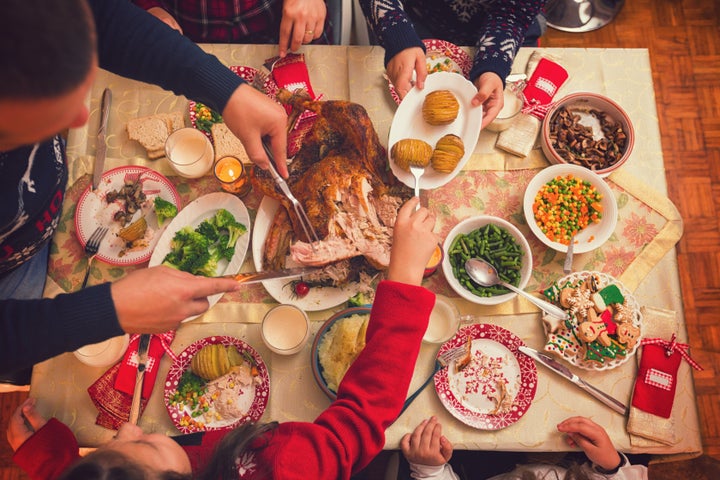 If 85% of the UK's population who normally eat meat at Christmas instead ate plant-based, 131 million kg CO2e would be saved, the research suggests.
This is equivalent to driving 438 million miles in an average UK petrol car or driving from Lands End to John O'Groats 523,701 times.
But even those who stick to a vegan diet could up their sustainability.
Separate research from Satsuma Loans based on a survey of 2,000 people suggests Brits will spend an extra £100 on food this December compared to the rest of the year, and at least £16 of that will go straight into the bin. That's the equivalent of a staggering £444 million in food waste nationally.
Wasted fruit and veg was found to be biggest issue, with Brits admitting to throwing away 46% of the fruit and veg they buy, compared to 19% of meat.