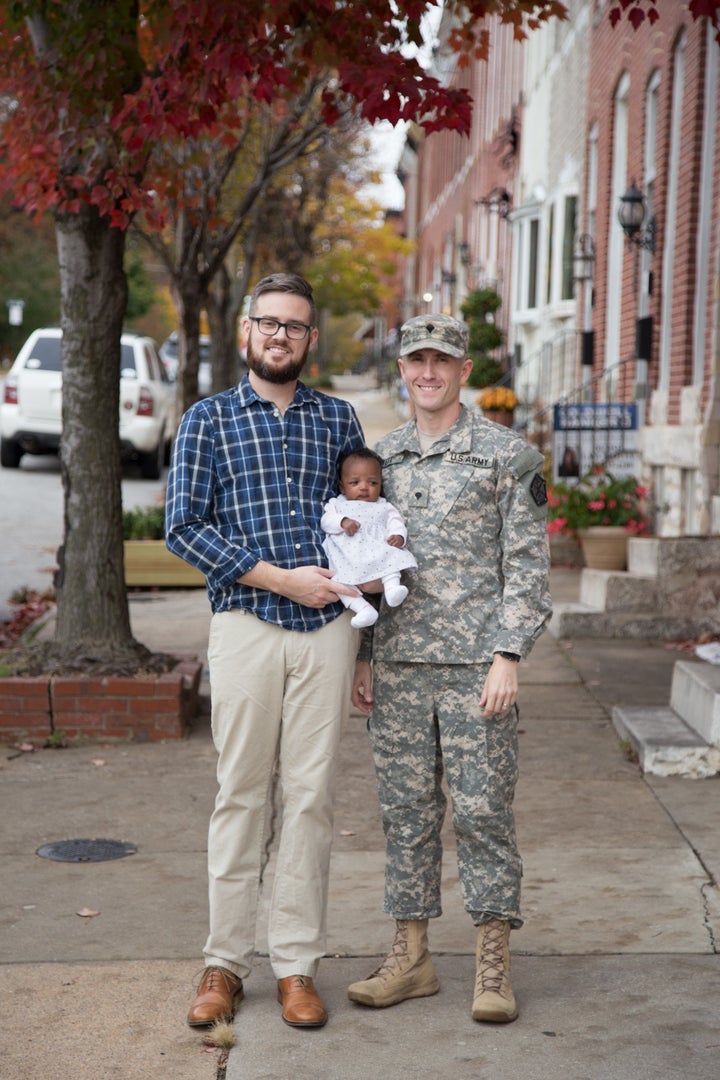 Thomas and Jonathan West have had many things to consider along the way to becoming a family, but one thing they know for sure is: when you have children, life does change overnight -- for the better. Contributing writer Beth Hallstrom tells the story of this military family whose journey to parenthood has taken them from coast to coast in this special RaiseAChild.US Huffington Post Gay Voices "Let Love Define Family®" series installment.
As a military family, Thomas and Jonathan West of Baltimore, Maryland know all about honor, duty and sacrifice. Now, as they foster one daughter and are in the process of adopting another, they are learning those qualities are equally important to fatherhood.
Originally from Vermont, Jonathan, 32, met 34-year old Thomas in his native Florida ten years ago. They were married in 2012 and the next year moved to Baltimore where Thomas serves as a linguist for the U.S. Army. Jon is the creator of the call center productivity software Fido Track and works from home where, these days, he's also a full-time dad to infant girls Anna and Charlotte.
Born Aug. 8 and Sept. 19 respectively, Anna and Charlotte are practically twins, but their futures will most likely diverge as Jonathan and Thomas face a heartrending, yet still heartening, aspect of foster care. While they will adopt Charlotte within the next few months, they will probably say goodbye to Anna when she is reunited with her biological family.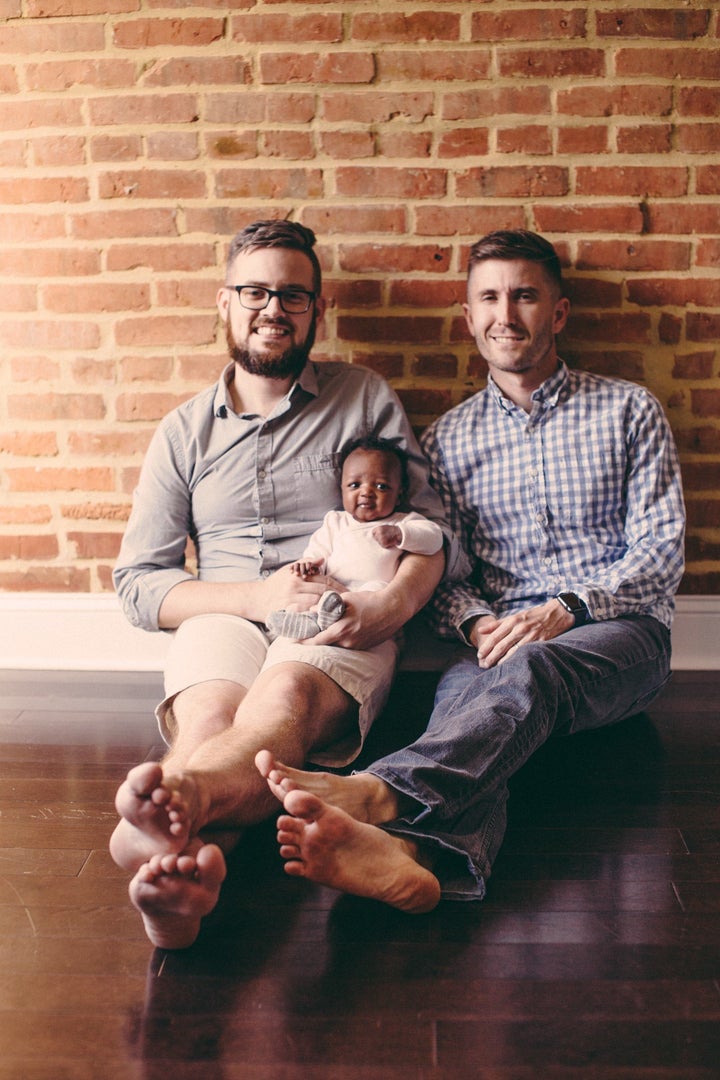 "It's tough," said Thomas. "We are obviously in love with Anna, but her parents are working to get her back. Right now we are her parents and we are giving her everything a child needs -- especially love and the social and intellectual building blocks she needs to grow. We have to be her parents. But we also have to keep our emotions in check because she is likely to leave us."
Jonathan and Thomas began their parenthood journey two years ago in California through a private agency, but Thomas' transfer East provided an opportunity to work with a child protective services agency in great need of quality foster parents.
According to the most recent statistics from the Maryland Department of Human Resources, as of July there are nearly 5,000 children in foster care throughout the state. The majority of these children are from Baltimore County and the City of Baltimore, which operates its own foster and adoption programs.
"When we relocated to Baltimore, we knew we had the chance to move the process along faster. We decided to work with the city, which is a public agency and has a huge need for foster care," Jonathan explained.
They also received advice and support from the American Military Partner Association, an organization whose mission is "connecting, supporting, honoring and serving the partners and spouses of America's LGBT service members and veterans" -- those AMPA refers to as modern military families.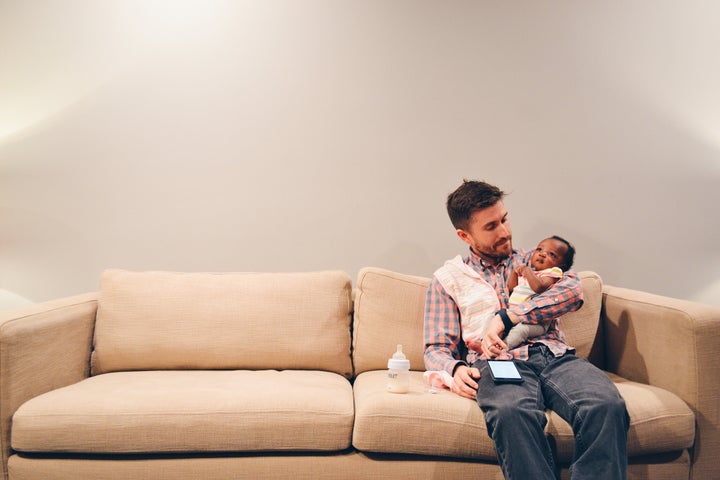 AMPA provides a myriad of services to its members, from assisting LGBT families receive equal treatment such as housing, medical care and other benefits to helping educate the armed forces about applying new regulations fairly.
AMPA recently partnered with RaiseAChild.US to help its members learn about the benefits of building their families through fostering and adoption. A photo of Thomas, Jonathan and Charlotte was featured on the AMPA blog in November during National Adoption Month.
"Once we decided to work with the city, we got through the certification process in three months," Thomas said, picking up the story. "When that was completed, we quickly started getting calls from the placement office. Our original intent was to adopt, not just foster, so we said 'no' to those first few calls.
They reconsidered their stance after receiving advice from a friend -- a veteran foster parent -- who reminded them foster situations can sometimes become opportunities for adoption.
"We realized that we should be asking more questions about the possibilities of the placements. You really never know how it will play out and we needed to remember that. We decided that if the next call ended up being a foster only situation, we would say 'yes.' So, we said 'yes' to Anna," Thomas explained.
Despite acknowledging Anna's time with them could be brief, Thomas and Jonathan said that when they saw her for the first time, they immediately confirmed two facts in their hearts: Anna was their daughter and bringing her home was the right decision.
"Besides, it's easy to say yes when you want the opportunity to be a father so badly. Anna is now five months old and all smiles. You could say we're kind of attached to her," Jon said with a chuckle.
Thomas and Jonathan said they also made sure their caseworker remained aware of their hope for a permanent placement and their tenacity paid off a month later, when they received the phone call seeking a home for Charlotte.
Jonathan recalled that night as, "just amazing. My smile was a mile wide and I remember Thomas just wanted to get to the hospital and see her. We got the call at 9:30 pm but we went anyway. She was just five hours old."
She came home on the day before my birthday and she was the best birthday present I ever got, Thomas added.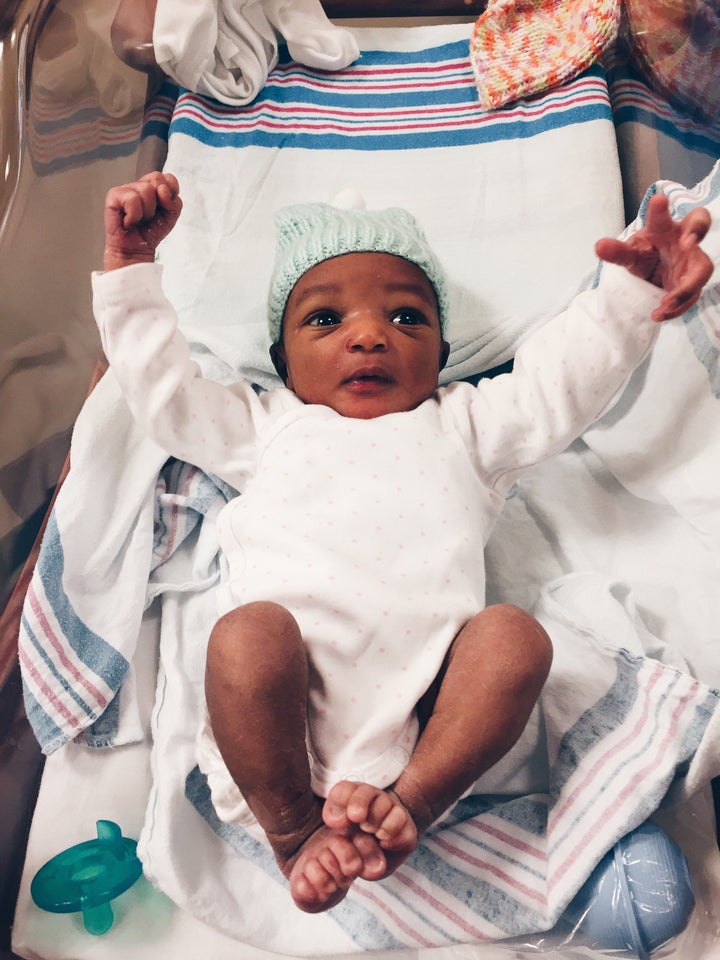 For now, Thomas and Jonathan said they will relish being a family of four while remaining open to the possibility that Anna's status may change and they will be able to adopt her too. But they are at peace with the idea that it may never happen because they know well the concepts of honor, duty and sacrifice.
"We love her. But we understand this may not be her final outcome. As foster parents, we know we may only be a bridge for Anna and our job is to give her a good start to build on. If, at the very least, we can give her the best possible place to live and two loving parents for the time she is with us, then we'll be happy about it. It's really about her, not us," Thomas said.
When Thomas's current tour of duty ends in early 2017 the family will consider several possibilities, from another military post to a farm in Vermont to choosing a random place on a map for a new home.
"We are open-ended about what comes next," Jonathan noted. "Our hearts are in Vermont, but everything depends on our daughter and what she needs to be the best person she can be."
Thomas said fatherhood has provided him with a new perspective that makes reenlistment unlikely, noting, "Having the girls at home has truly changed me. Knowing I might miss a birthday or a first step or any milestone has made me rethink how I want to live my life."
"People say having children changes your life completely and, until you experience it, you think they are making it all up. But life does change overnight -- for the better. When you hold your child for the first time or hear someone refer to 'your daughter' for the first time, you forget about all that and just concentrate on being a family."
Have you ever thought of building a family through fostering, adopting, or weekend hosting? RaiseAChild.US is the nationwide leader in the recruitment and support of LGBT and all prospective parents interested in building families through fostering and adoption to meet the needs of the 415,000 children in the foster care system of the United States. RaiseAChild.US recruits, educates and nurtures supportive relationships equally with all prospective foster and adoptive parents while partnering with agencies to improve the process of advancing foster children to safe, loving and permanent homes. Take the next step to parenthood at www.RaiseAChild.US or call us at (323) 417-1440.
Related