Students at the University of East Anglia (UEA) have voted to sell red and white poppies on campus ahead of Remembrance Day 2017 because some people consider the red poppy "a political symbol with multiple offensive, upsetting and actively negative connotations".
The student union motion, titled "Remember Don't Repeat", stated that for some students the "imperialist nature" of the British military means they see the red poppy "as a celebration of the British armed forces and by extension the atrocities perpetrated by the British armed forces throughout history".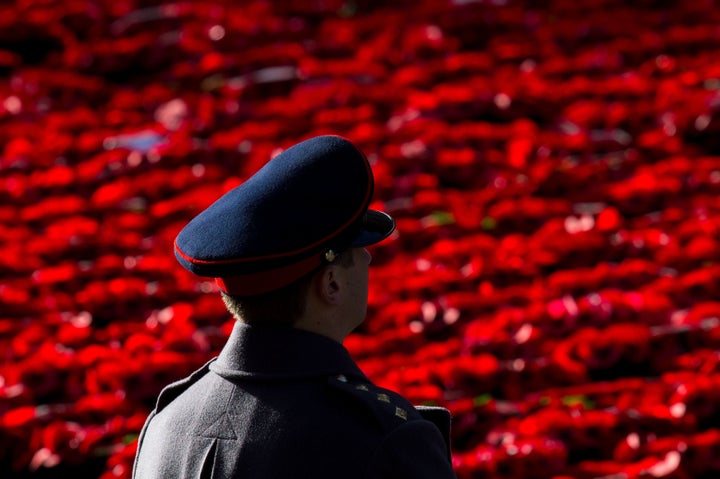 It added that some people believe the red poppy is used "to justify current and future wars", "legitimise the actions of the British Army including atrocities committed there" and to "silence dissent to ongoing wars".
From next year, the union will order an equal number of white poppies, a decision also designed to commemorate the "bravery" of Britain's conscientious objectors.
Despite the motion being passed with a majority vote, it has been received angrily by some students.
Third year student Luke Phillips served in the military for four years before starting a degree in history at UEA. During his time in the Army, he did a tour of Afghanistan.
Phillips said the language of the motion was "offensive" and "disappointing".
"The SU is trying to politicise the poppy and completely missing the meaning," he told the Huffington Post UK. "The red poppy is for remembrance - it doesn't glamourise war and it isn't for imperialism.
"I wear my poppy and I think of friends I have lost and people who have given their lives over the past 100 years," Phillips added.
"I also buy it with confidence knowing that the money has gone to a good cause, whereas the white poppy is not for charity. It's taking money away from the legion by offering another options."
UEA graduate John-Euan Guy Jewers took to the UEA Student Union Facebook page to vent his anger over the decision.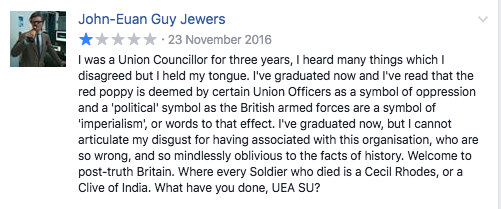 Jewers wrote: "I was a Union Councillor for three years, I heard many things which I disagreed [with] but I held my tongue.
"I've graduated now, but I cannot articulate my disgust for having associated with this organisation, who are so wrong, and so mindlessly oblivious to the facts of history.
"Welcome to post-truth Britain, where every solider who died is a Cecil Rhodes or a Clive of India. What have you done, UEA SU?"
"The decision to sell white poppies is about providing students with an option which they are free to embrace or ignore."
Money given for white poppies on campus will be donated to the Peace Research and Education Trust.