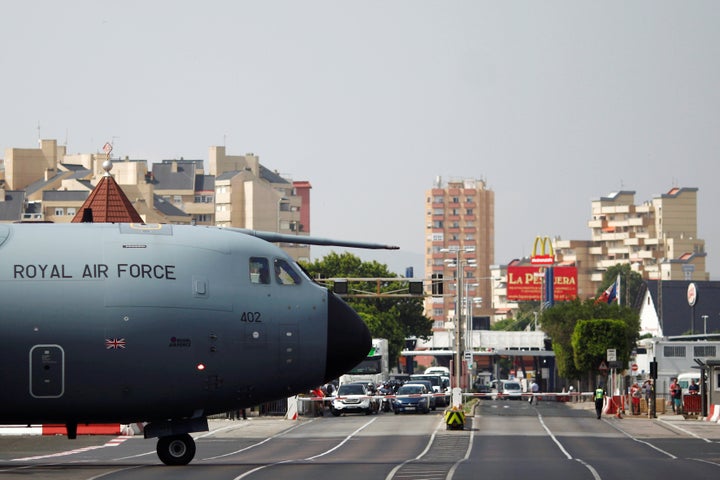 As millions face crippling financial hardship as a result of the coronavirus pandemic, the government opted to cut short a lifeline for the most vulnerable families. As a result, 1.4 million children risk going to bed hungry this Christmas.
Instead, these are the vanity projects the government has deemed worth British taxpayers' money:
1. The "Brexit Festival" (£120m)
First announced by then prime minister Theresa May in 2018, the festival – intended to mark Brexit as a moment of "national renewal" and to "celebrate our nation's diversity and talent" – was given the go-ahead by Boris Johnson last year.
The festival has long been a subject of ridicule with critics claiming it is a massive waste of taxpayers' money. Recently there have been calls to divert the £120m to save jobs in the arts sector facing catastrophic job losses as a result of Covid-19.
2. Repainting the "Brexit plane" (nearly £1m)
Apparently, a Brexit festival is not enough Brexit for Britain – we also needed a Brexit plane. Back in June, Downing Street confirmed Johnson's military grey RAF VIP plane was going to get a fresh new makeover: a red, white and blue repainting that would cost "around £900,000".
The prime minister's official spokesperson said the RAF Voyager was being repainted so it can "better represent the UK around the world with national branding", but there are concerns the new design could leave it looking similar to a British Airways plane.
Painting over the plane's "boring" camouflage grey colour could also render it useless for military use. "No one wants to go to war in a jet painted like a brightly coloured lollipop," warned a former RAP pilot.
The project was slammed for being a waste of public money by Labour and the SNP, but No 10 have insisted everything possible has been done to ensure "value for money for UK taxpayers".
3. Building the "Brexit Bridge" (about £15bn)
Fast forward to the present day, when just earlier this month Downing Street confirmed plans for the Scotland-Northern Ireland bridge are underway. "There is a proper piece of work being carried out into the idea," his official spokesperson told journalists.
Concerns have been raised over the potential cost of the bridge, which Johnson said would "only cost about £15bn", as well as the fact that more than a million tonnes of wartime munitions have been dumped in the sea on the potential route.
4. Investing in a bankrupt space firm (£400m)
In July, the UK government bought a minority stake worth £400m in failed satellite firm OneWeb as part of a post-Brexit space strategy.
To replace the loss of the EU's Galileo sat-nav system, the government will receive a "significant equity share" in OneWeb. The company collapsed in March, blaming the coronavirus crisis for not being able to raise more financial support.
MPs later launched an inquiry into the investment, after it was revealed that a top civil servant had raised concerns about the deal, warning all the money put forward could be lost from taxpayers.
Labour MP Darren Jones said those concerns "prompts further questions about how the government… came to plump for this largely US-based bankrupt satellite company".
5. Subsidising beer for MPs (£4.4m)
The government may be unwilling to spend more money on feeding the country's most vulnerable children over the cold winter months, but it seems keen to continue providing heavily taxpayer-subsidised meals and booze to its MPs.
In the members' tea room inside the House of Commons, a soup costs a mere £1.01 while the most expensive main course runs up to £3.83. Meanwhile a pint in the bar costs £2.60 – surely the cheapest beer you can get in central London.