Raheem Kassam admitted that saying the First Minister should have her legs taped shut to stop her reproducing after suffering a miscarriage was "violent", "crass" and "unacceptable".
But the former aide to Nigel Farage denied he was "anti-women" and pointed to the fact it was made during a debate on the EU referendum "half a year ago".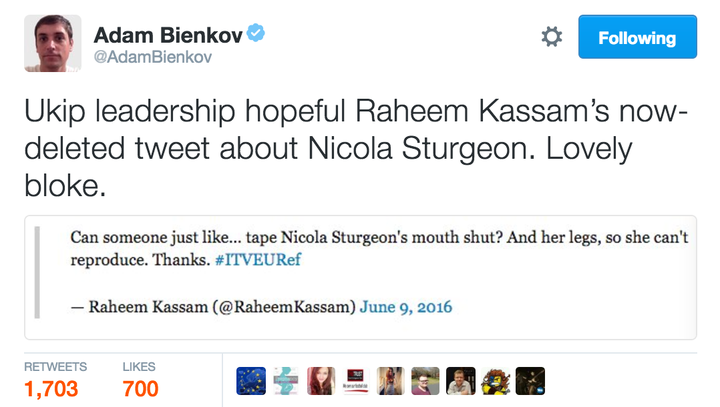 Speaking today at the launch of his leadership campaign, Kassam said he had "apologised for when I've genuinely offended people" but accused his interviewer of "acting like... the outrage brigade".
Channel 4 veteran broadcaster Michael Crick tackled Kassam, asking: "What kind of mind writes that?" of the Sturgeon post.
"I'll tell you what it is Michael... I've worked in what one might call shock jock journalism for a while, right?" Kassam said.
"And that was in the middle of a debate, it was half a year ago and it was certainly before I knew about her miscarriages. And I apologised about this and said sorry."
Challenged over whether it still would have been acceptable had Sturgeon not miscarried, Kassam retaliated: "That's not what I said, Michael. What I've said is, it was before that. I apologised for it. It was in the heat of a debate and I shouldn't have sent it. And I've apologised.
"It's obviously a very crass and... it's a violent image, and it's crass and it's unacceptable in public discourse."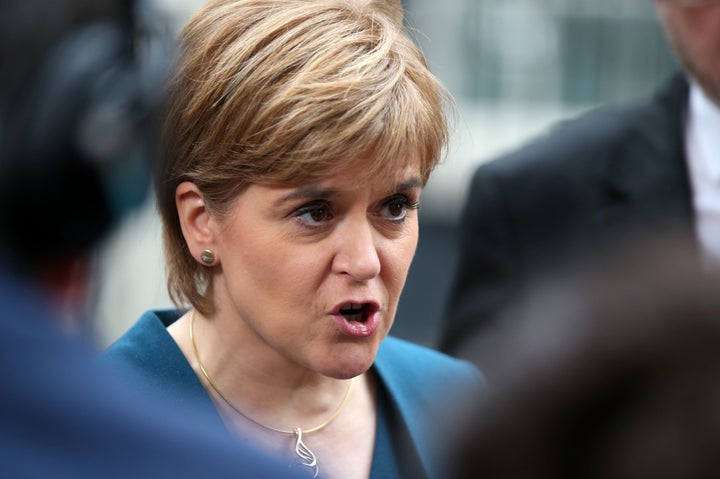 Kassam also admitted that his mother told him off for sending the post, telling him: "Please don't use bad language."
"I said 'Sorry mum, I won't do it again'," Kassam explained.
But the man hoping to replace Farage as leader maintained that he was "not going to get down on my knees and plead for forgiveness".
He said: "I have a heart, I have a conscience. Whether or not you believe it, that exists. I know what contrition feels like. And I've said I'm sorry and I've said I'm not going to do it again."
Some of Kassam's other Twitter posts have earned him criticism, too. The Metro newspaper's deputy news editor Joel Taylor posted a screenshot of an old message from him that said "Now fuck off for good" in response to a story that his now rival in the Ukip contest, Suzanne Evans, had been suspended from the party.
Others have also pointed to more of Kassam's tweets, including one that asked as a "genuine question" if former Labour minister Angela Eagle "was in the special needs class" at school.
Pulled up on the post by one social media user, Kassam responded:
NOW WATCH:
Related