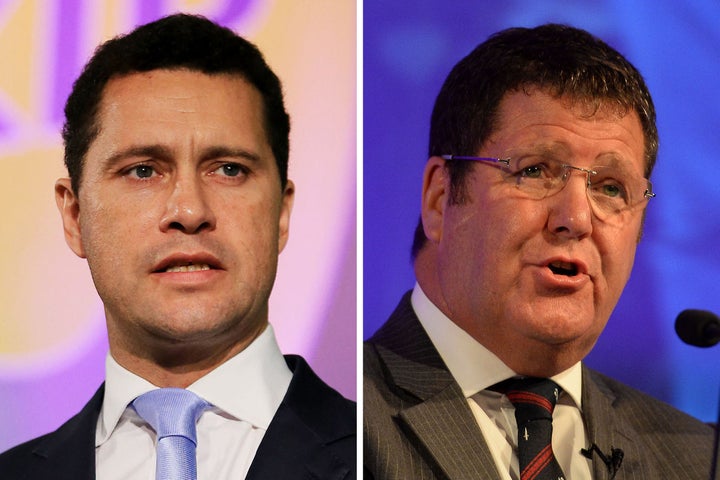 The two Ukip MEPs who had a stand-up row at a party meeting in Strasbourg that left one of them hospitalised have been referred to French police.
Steven Woolfe, then the front-runner in Ukip's leadership contest, suffered two seizures and was treated for a bleed on the brain after the exchange earlier this month.
Woolfe claimed Mike Hookem "came at me and landed a blow" at a heated meeting of party MEPs in the European Parliament.
President of the European Parliament Martin Schulz revealed today he had referred the dispute to the French authorities "given the seriousness of the reported facts and their possible criminal implications".
The move came on a recommendation from the Parliament's conduct advisory committee.
"[It] concluded that the versions of the facts given by the two members involved diverged substantially and the facts seem to have happened in the absence of direct witnesses," Schulz said.
"It also stressed that given the seriousness of the reported facts and their possible criminal implications, further evidence is needed to clarify this matter."
"As a result I have decided to follow the recommendation of the advisory committee and I have referred this matter to the competent French authorities.
"Based on the result of the investigations I will then take a decision about a sanction to be imposed."
After the row, Woolfe said he did not want any police involvement. Ukip's interim leader Nigel Farage did commission an inquiry into the affair.
It comes after Farage branded Ed Miliband and Nick Clegg "quislings" for their pro-EU stance following the Brexit result in June's referendum.
"I know there's been a long tradition in here - whether it's with Denmark, France, Ireland or The Netherlands - that when there's a democratic referendum you try to ignore it or over-turn it," he told the Parliament.
"Again today we heard [President of the European Commission] Mr Junker urging the Dutch government to ignore the referendum result on the Ukraine - frankly the whole things'a a disgrace.
"And it's even worse that it's supported by quislings in the British parliament - people like Nick Clegg and Ed Miliband, who were desperate to keep Britain inside this awful single-market. well I'm sorry but it simply isn't going to happen.
"There are 17.4m who could not have been clearer - we voted to say 'we want our country back' and in the end that is what is going to happen."
Miliband hit back at the jibe on Twitter, saying it was proof to him that "I must be doing something right".
NOW READ:
NOW WATCH: