Soho, London, is officially the unhealthiest neighbourhood to live in Britain, according to analysis from the University of Liverpool – perhaps unsurprising considering its touristic appeal.
Looking at lifestyle and environmental measures, researchers determined that the central London spot was particularly unhealthy because of high air pollution levels, a lack of green spaces and the greatest access to unhealthy options, such as takeaways, pubs and off-licences.
North Killingholme, in North Lincolnshire, was found to be the second unhealthiest place to live.
In contrast, Great Torrington in North Devon was crowned the healthiest neighbourhood because of its low levels of pollutions, good access to parks and green space, and fewer retail outlets that would encourage "poor health-related behaviours" (ie. fast-food chains and takeaways). It also scored highly because of its good access to health services, researchers said.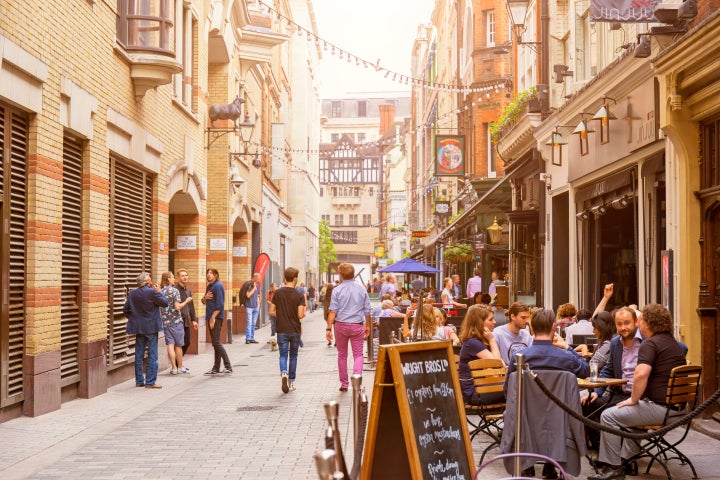 The study found that six of the unhealthiest neighbourhoods were located within inner London. Also in the top 10 were Shotley Gate near Ipswich and Ottringham in East Riding.
The 10 Unhealthiest Neighbourhoods:
1. Soho, Westminster
2. North Killingholme
3. Shotley Gate, Suffolk
4. St. Giles, Camden
5. Bank, City of London
6. Spitalfields, Tower Hamlets
7. Farringdon, Islington
8. Ottringham, East Riding
9. Finsbury, Islington
10. Barbican, City of London
Plenty of the healthiest places to live were located in Scotland, including Lochwinnoch in Renfrewshire, Fauldhouse in West Lothian, Foxbar in Renfreshire and Marnoch in North Lanarkshire.
The 10 Healthiest Neighbourhoods:
1. Great Torrington, Devon
2. Lochwinnoch, Renfrewshire
3. Fauldhouse, West Lothian
4. Foxbar, Renfrewshire
5. Marnoch, North Lanarkshire
6. Ryton, Gateshead
7. Ballingry, Fife
8. Coupar Angus, Perth and Kinross
9. Kinghorn, Fife
10. Kilsyth Bogside, North Lanarkshire
The research was carried out in conjunction with the Consumer Data Research Centre and Public Health England. Dr Mark Green, Liverpool senior lecturer in health geography, who carried out the study, said: "The statistics reveal important insights about the concentration of certain amenities that may be damaging or promote health. For example, on average, individuals in Great Britain are just as close to a pub or bar, as they are to their nearest GP (1.1 km).
"We also found that 42% of people are within 1 km (or a few minutes' drive time) of their nearest gambling outlet. These statistics reveal troubling issues with the neighbourhoods we live in and how they may be damaging to our health."
Professor Alex Singleton, deputy director of the Consumer Data Research Centre, said the study also highlighted that rural areas have poorer access to many health services, and those services which are seen as damaging to health are often concentrated in poorer areas.
"For example, 62% of people who live in the 10% most deprived areas are within 1 km of a fast food outlet compared to 24% in the 10% least deprived areas," Prof Singleton said.
The data resource is available online and free for anyone to use – from policy makers to members of the public. Dr Mark Green added: "We anticipate that this resource will be an important tool for citizens and policy makers alike interested in how their neighbourhoods may be associated to their health."