The row over a Labour candidate who shared an image of Theresa May at gunpoint has intensified as 37 local party members write to party chiefs to demand action.
Grassroots members of Jarrow Constituency Labour Party (CLP) have written to the party's general secretary Jennie Formby and the ruling National Executive Committee (NEC) to demand the decision to impose Kate Osborne as candidate be overturned.
"The endorsement of such a candidate sends a message that threats of violence against women in politics can sometimes be accepted," the letter, seen by HuffPost UK reads.
The selection row has reopened a rift at the top of the party. It is understood that Jeremy Corbyn and John McDonnell had wanted the leader's former chief of staff Simon Fletcher, who lives in Gateshead, to be on the shortlist but were overruled by digital campaigns chief Karie Murphy and Formby.
Unions are also annoyed that Mark Ferguson, a long-standing Unison activist, was rejected.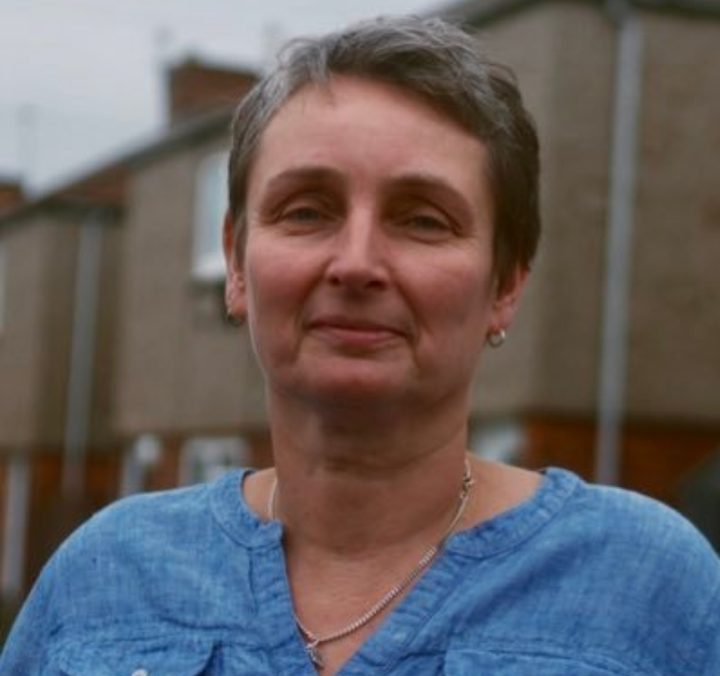 The letter, signed by 37 local members and councillors and passed to HuffPost UK, reads: "This is not about political views.
"The issue for us is the coverage in the last few days of a social media post Kate made of an image of Theresa May being threatened at gunpoint.
"The post was made less than a year after the murder of Jo Cox. In an environment of increasing threat and violence, women of all political parties "including several signatories of this letter), it seems astonishing to us that someone who has posted such content is deemed suitable to be a parliamentary candidate for Labour."
The letter notes that Osborne has said sorry, but adds: "However, sometimes an apology is not enough: in our view the judgement demonstrated by posting such an appalling and unacceptable image in the first place should be incompatible with Labour candidature."
The final deadline for all candidates is Thursday.
A Labour source told HuffPost UK: "The party has taken Jarrow Labour for granted and has created open revolt in what should be a solid Labour constituency.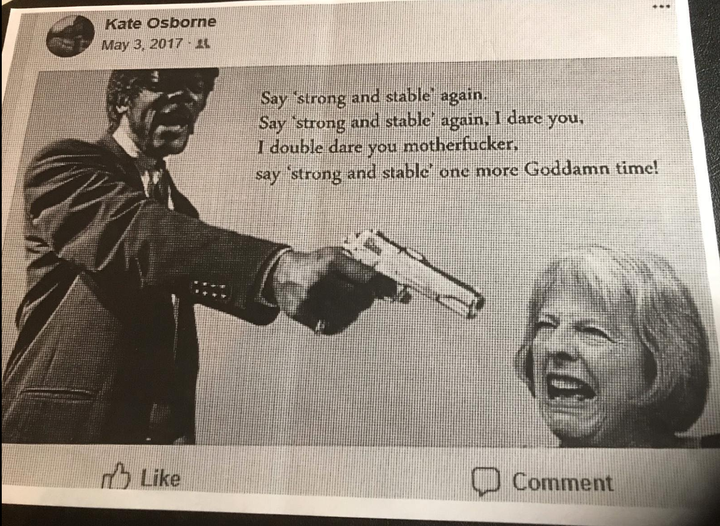 "There is uproar and it is not as if the NEC was not aware of the problem with Kate Osborne's candidacy. The anger is not limited to the members but extends out into the community.
"Jarrow has had a hard enough time adjusting to its MP being suspended - the party does not deserve this treatment. Calm heads need to be brought to bear to persuade Jennie Formby to rethink and oversee a new selection before Thursday."
It reads: "The impact of such images are clear - they incite intimidation and violence against female politicians.
"Many of our Labour colleagues - and indeed politicians from all political parties - have been subject to similar disturbing content online. When women in public life are facing unacceptable levels of intimidation, sharing this image not only indicates an extreme lack of judgement, but further feeds into the cycle of abuse that we are all currently experiencing.
"If Kate Osborne is selected, it would undermine any claim our party makes to stand resolutely against the harassment and intimidation of women in public life. There is a danger of a pattern that affects our general election campaign with candidates that have been selected having abusive social media comments. This is not simply about one seat but about winning a Labour government, and not having candidates selected whose social media history will derail the campaign for all of us when we have a wealth of talent in our half a million members."
Among the 27 ex-MPs who have signed the letter is Tracy Brabin, who is campaigning for re-election in Batley and Spen, the constituency where Jo Cox was murdered by a far right terrorist.
Yvette Cooper, Stella Creasy, Rosie Duffield, Jess Phillips, Bridget Phillipson, Lucy Powell and Rosie Winterton are among the others to sign the letter.
The two other candidates who were interviewed by the panel were women but a Labour source told HuffPost UK that Osborne has lived in the North East for 30 years, and referring to Hepburn's suspension, added: "Given the circumstances in which this seat became available, it's right that Labour's candidate is a woman.
"The panel's decision was unanimous and the panel included CLP and regional representation, which has nothing to do with Unite. Kate worked for Royal Mail for twenty five years, she's a councillor and she's self-identifying LGBT+ woman and an active campaigner for LGBT+ rights.
"She deleted the parody image of Theresa May two years ago as soon as she was made aware of the offence it had caused."