An overwhelming majority of Labour members and supporters want an online ballot to decide the party's policy on a second Brexit referendum, according to a new poll released by deputy leader Tom Watson.
Some 84% of nearly 9,000 people who responded to a survey by Watson said that they would prefer direct consultation rather than wait for a special conference or annual conference this autumn.
With the Tory party set to pick a new leader and prime minister by late July, Jeremy Corbyn is under intense pressure to act quickly to offer a clear alternative to a no-deal Brexit.
None of the Conservative contenders is expected to call a general election to break the Parliamentary deadlock, and so Corbyn is being urged by his MPs and activists to pledge a 'confirmatory ballot' of any Brexit outcome.
The Labour leader put out a new statement on Wednesday night confirming that a new referendum or election was "the only way out" of the Parliamentary deadlock.
Speaking ahead of a trip to Dublin to discuss Brexit, Corbyn said: "Faced with the threat of No Deal and a Prime Minister with no mandate, the only way out of the Brexit crisis ripping our country apart is now to go back to the people."
"Let the people decide the country's future, either in a general election or through a public vote on any deal agreed by parliament."
His words nudge forward party policy, though they echo similar sentiments in a letter to MPs this week. Some of his allies believe that he may outflank Watson with a further announcement in coming days.
Labour fears a repeat of the European elections, when the party haemorrhaged votes to pro-Remain parties like the Liberal Democrats, Greens, SNP and Plaid Cymru.
In the wake of the party coming third in the MEP elections, behind the Brexit Party and the Lib Dems, Watson launched a survey to test members' views.
The results of his survey were released on Wednesday and revealed that 84% of those who responded favoured an online ballot to consult members. 13% favoured a special conference, while 3% said the issue should wait until the full conference in September.
After Labour lost 10 MEPs last week, Corbyn shifted his language on the prospect of a 'public vote' on Brexit, but has yet to commit to the idea as firmly as senior figures John McDonnell and Emily Thornberry.
Some of the Labour leader's close allies believe he will make a new announcement on the issue in coming days, preventing the need for any fresh consultation of the rank and file.
Labour came third in the European elections, scoring 14% of the vote – a drop of 11% and halving their number of MEPs.
Watson said: "It is now a serious concern that the next Tory Prime Minister runs down the clock until 31 October and crashes out of the EU with no deal. We cannot let that happen.
"Labour is rightly calling for a general election. But we cannot go into an election with our current Brexit position. We need a change of direction urgently.
"The next policy-making moment for Labour is annual conference at the end of September. But many members are telling me that's too late. The U.K. will be a month away from crashing out of the EU with no deal and there will be no time left to hold a public vote. Those members are right. We need a process to give members a say sooner."
The party is not scheduled to hold its next National Executive Committee (NEC) meeting until July and several shadow cabinet ministers want an emergency meeting next month to discuss the fall-out of the Euro elections.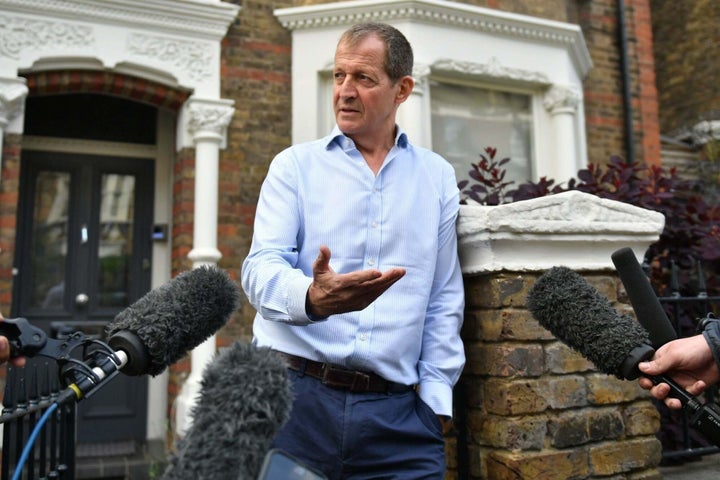 Earlier, Watson urged an "amnesty" for party members who voted Liberal Democrat or Green in the European elections.
He attacked "spiteful" moves to expel people like former Blair spin doctor Alastair Campbell after they admitted backing rival parties in the poll last week.
Campbell was sent an email by Labour's HQ informing him he had automatically expelled himself by declaring on BBC TV on election results night that he had voted for Vince Cable's party.
Meanwhile, former Tory deputy prime minister Michael Heseltine stepped up his own warnings to his party's leadership contenders over their move towards a no-deal Brexit.=
In a swipe at Boris Johnson's famous 'cake and eat it' line, the Tory peer claimed that Britain was now 'choking' on such claims.
"If we've learned anything over the past year it must be that we now know that we cannot enjoy all the rights of being a member of the EU with none on the responsibilities that necessarily go with it," he told a meeting of the European Movement.
"The heady, if intellectually incoherent, claim that we can have our cake and eat it has ended up choking the mother of parliament itself."
Heseltine, who was suspended from his party's whip in the Lords after vowing to vote Liberal Democrat last week, added that a minority Tory government aided by Nigel Farage was a frightening prospect.
All Tory leadership contenders should avoid being "captured by the narrow nationalism, phobia-filled and poisonous politics of Nigel Farage."
CORRECTION: This article was amended on 30/05/19 to reflect that Watson said his survey was of 'members and supporters', not just party members.