Supporting local suppliers, discovering seasonal produce, getting out of a cooking rut – there are plenty of reasons to subscribe to a veg box. But during the pandemic, with social distancing measures firmly in place and a vulnerable economy, more people are signing up than ever – with some suppliers unable to take on new customers due to demand.
But with new food shopping habits, comes new responsibility – how the hell are you supposed to get through all of these new vegetables? We asked three chefs to share innovative recipes using seasonal items we might find in our boxes. Perfect if you're tired of making yet another vat of soup.
Gado Gado Salad
Serves: 2 as a main or 4 as a side | Prep time: 20 mins | Cooking time: 12-15 mins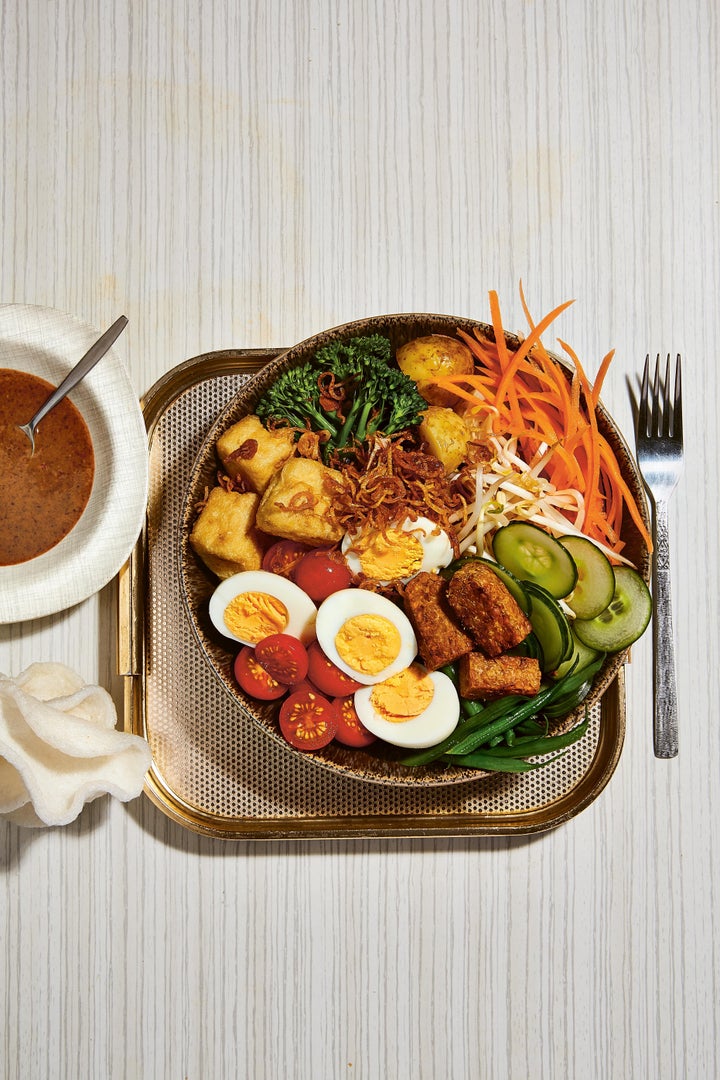 There are many dishes served with peanut sauce in Indonesia, but none is more famous than gado-gado, which literally translates from Indonesian as 'mix-mix'. It also comes from the word menggado, which is to consume something without rice, a rarity on these islands.
You can easily substitute the suggested vegetables with whatever you have to hand – the key to this dish is a good peanut sauce and a hefty helping of kerupuk or prawn crackers. You can eat this dish on its own, but it also makes a great side dish as part of a larger feast. The peanut sauce will last for up to 5 days, but once tossed together, gado-gado is best eaten on the same day.
Ingredients:
60g fried, firm or smoked tofu, cut into bite-sized chunks
150g baby potatoes, halved
100g green beans, trimmed
60g tempeh, sliced into 1cm wide x 3cm long chunks (optional, or replace with more tofu)
Kecap manis (sweet soy sauce, optional)
1 carrot, peeled and cut into long, thin matchsticks 75g bean sprouts
½ cucumber, sliced into thin rounds
16 cherry tomatoes, halved
4 eggs, hard-boiled for 10 minutes, halved
2 tbsp fried shallots, optional
Coconut oil or sunflower oil, for frying
Kerupuk or prawn crackers, to serve
2 quantities of peanut sauce
For the peanut sauce (makes 150g 2 portions as a dressing or dipping sauce):
75g unsalted, raw peanuts, preferably with their skin on (or 75g unsweetened, unsalted smooth peanut butter)
2 long red chillies, deseeded and very finely chopped
1 garlic clove, peeled and crushed
4 tsp kecap manis (sweet soy sauce), or more to taste
2 tsp tamarind paste (or 2 tsp lime juice mixed with 2 tsp brown sugar)
Sunflower oil, for frying
Method:
1. If the tofu is wet, spread the pieces in a single layer on top of several layers of paper towels, then cover with additional paper towels. Let the tofu stand for 15 minutes, pressing down occasionally to squeeze out any excess moisture.
2. Bring a pan of salted water to the boil over a high heat and add the baby potatoes. Simmer for 5–8 minutes, until tender when pierced with a fork. Drain and allow to cool, then set aside.
3. Refill the pan with salted water, bring to the boil and blanch the broccoli and beans for 1–2 minutes until bright green, crisp and just cooked through. Drain and cool in cold water, then set aside.
4. Heat 4 tablespoons of oil with a large pinch of salt in a wok or frying pan over a high heat. When the oil is shimmering, add the tempeh and fry for 3–4 minutes until golden. Drain on a tray lined with paper towels. Alternatively, if you prefer to grill tempeh, brush it with a mixture of 1 tablespoon each of oil and kecap manis and place it under the grill on a high heat for 3–4 minutes each side.
5. Loosen the peanut sauce with water until it reaches a pourable consistency. Transfer the peanut sauce to a pan and place it over a low heat until just warmed through.
6. Arrange the baby potatoes, broccoli, beans, tofu, tempeh, carrot, bean sprouts, cucumber, tomatoes and eggs on individual serving plates or bowls. Sprinkle with the fried shallots and place the crackers on one side of the plate.
7. For the peanut sauce. If using raw peanuts, heat 150ml of oil to 160°C in a deep saucepan over a high heat. (If you do not have a kitchen thermometer, check the oil is at temperature by adding a cube of bread; it should turn golden in 25–30 seconds.) Carefully lower the peanuts into the hot oil using a slotted spoon. Stirring continuously, as peanuts can easily burn, fry for 4–5 minutes until golden. Remove the peanuts from the pan with a slotted spoon and transfer to a tray lined with paper towels to absorb any excess oil.

8. Heat 1 tablespoon of oil in a frying pan over a medium heat, add the chillies and garlic and fry until softened, about 4 minutes. Place the fried peanuts or peanut butter in a small food processor with the cooked garlic and chillies, kecap manis, tamarind paste and salt. Pulse briefly, then add a splash of water to loosen the sauce and pulse again. Gradually add water (about 4 tablespoons) and continue to pulse until the sauce is a pourable consistency. Season with salt or more kecap manis as needed.
9. Serve the peanut sauce on the side in a serving bowl or jug or drizzle generously over the top of each plate. Serve immediately.
Recipe from Coconut & Sambal by Lara Lee, published by Bloomsbury in Hardback at £26 is out 14 May 2020.
Baingan Bharta
Serves: 6 | Prep time: 10 mins | Cooking time: 30-40 mins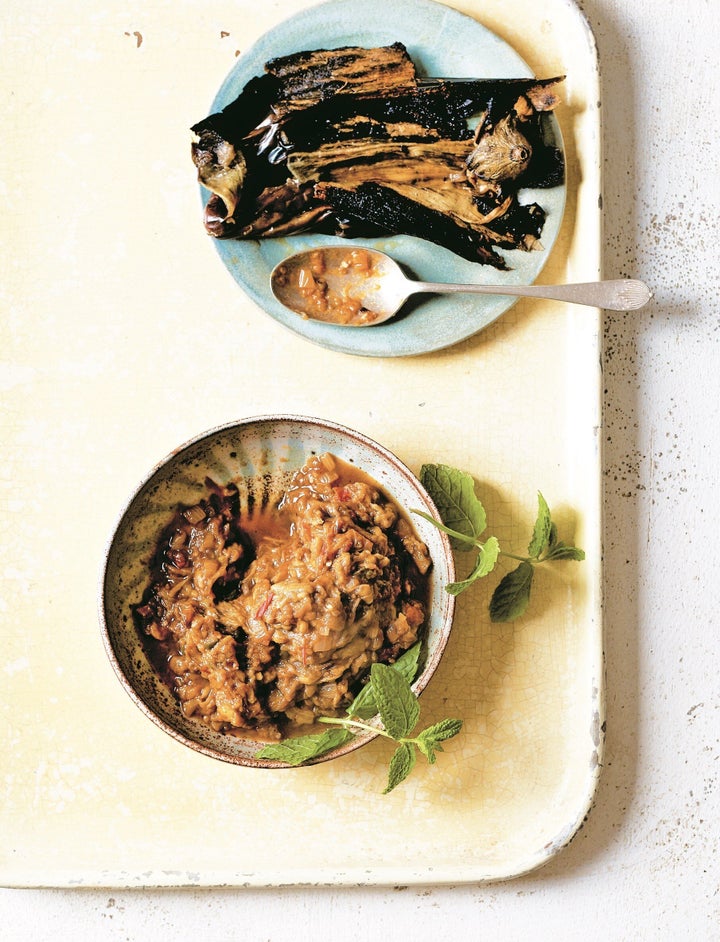 This aubergine dish from north India is traditionally eaten with roti or naan but you could easily eat it with rice too. The texture is similar to baba ganoush and this spiced aubergine purée is wonderful on a toasted slice of bread, especially for all those lockdown sourdough bakers! If your aubergine is looking a little patchy and wrinkled, smoking it is a great way to use up an aubergine, which you may not have had time to cook when it arrived.
Ingredients:
30g fresh ginger, bashed and finely chopped
1 tsp salt (adjust to taste)
A few sprigs of mint, to garnish
Method:
1. The aubergines can be prepared in either of two ways, roasted in the oven or charred directly over a gas burner.
2. If cooking in an oven, preheat the oven to 200°C/400°F/Gas Mark 6. Place the aubergines in an oven tray and roast for 25–35 minutes or until the skin is charred all over and the flesh cooked all the way through.
3. If cooking over a flame, using tongs, hold each aubergine directly over the burner of a gas hob (stove) until the skin is charred all over and the flesh cooked all the way through. (While this method gives the aubergines a wonderful smokiness, it can also be messy and you will need to clean all surfaces afterwards. For easier cleaning, line your hob with foil to catch any drips, then discard the foil after cooking.)
4. Once the aubergine is cool enough to handle, remove the skin and mash the flesh into pulp. Do not discard any juices as they add to the flavour. In a small frying pan (skillet), heat the oil over a medium heat. Add the diced onions and chopped ginger and cook until softened and starting to colour.
5. Increase the heat to high and add the tomatoes and whole green chilies to the pan. Cook for 5 minutes or until the tomato mixture has reduced.
6. Add the mashed aubergine to the pan along with the chilli powder and salt. Keeping the heat on high, reduce the mixture to a thick paste.
7. Before serving, taste to check the seasoning and adjust as necessary. To serve, garnish with sprigs of mint.
No-Churn White Peach and Sake Sorbet
Serves: 4-6 | Prep time: 5 mins | Cooking time: 8 hrs freezing time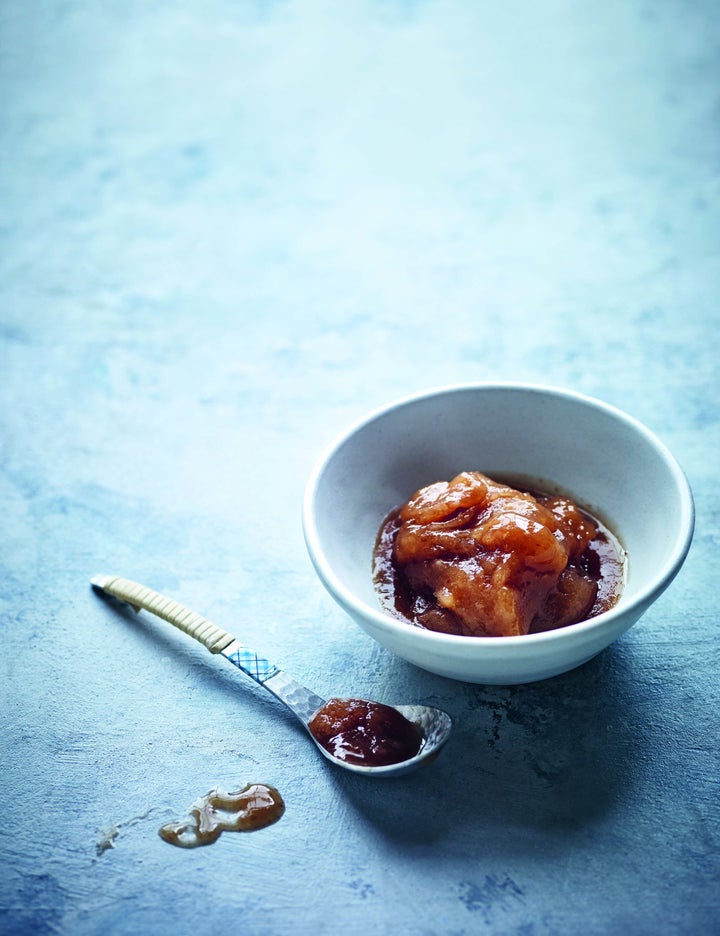 White peaches are the sexiest fruit: all juicy and blushing and fragrant, and they look like lovely, plump, furry bums. The ones grown in Japan are positively slutty, enormous, and almost obscenely sweet. The fact that peach season is so short makes them all the more alluring, but with this recipe, you can preserve their intoxicating aroma for a few months longer by churning it into a slightly boozy sorbet.
Sake seems to have a special affinity for peaches – in fact, some sake even have peachy notes themselves – and the alcohol helps keep this from setting too hard in the freezer. A scoop of this also tastes great in a glass of wheat beer, for a killer beer float to enjoy on a hot day.
Ingredients:
4 big, ripe white peaches, stoned and diced
½ teaspoon vanilla extract
120 ml sake (any will do, but a good-quality sake would be particularly nice)
Method:
1. Combine the peaches, sugar, vanilla, and lemon juice in a container and leave in the refrigerator overnight.
2. In the morning, the sugar will have dissolved into a peachy syrup and the peaches themselves should be very soft.
3. Add the sake and purée in a blender or food processor until smooth, then transfer to an airtight container and place in the freezer.
4. Leave to freeze completely – it will take about 8 hours, maybe a little more or less depending on your freezer. Enjoy immediately or store in the freezer for up to 3 months.
Recipe from Vegan Japaneasy by Tim Anderson, published by Hardie Books in Hardback at £22