Olympic cyclist turned jockey, Victoria Pendleton, and former gymnast and sports broadcaster, Gabby Logan, sit down to share their experiences of balancing their busy careers with taking opportunities to relax and recharge in the latest in a series of InSync Stories produced in conjunction with Activia.
The series brings together inspirational women who share their stories of how they balance the demands of home life with their successful careers. We also discover how they step away and recognize their InSync moments – when they feel confident and in control.
Former Olympic gold medal-winning cyclist Victoria Pendleton, CBE, loves taking on new and different challenges, admitting in this video series: "It's in my DNA to be pushing and challenging myself." After her retirement from cycling following her gold-winning triumph at the London Olympics, Victoria, 36, decided to swap saddles and (although she'd never before even sat on a horse) set herself the goal of racing at Cheltenham. In March this year she achieved her ambition and silenced the cynics, coming fifth in the 2016 Foxhunter Chase, the amateur riders' Gold Cup with a daunting 22 fences over three and a quarter miles. At the time she described the result as "probably the greatest achievement of my life." Victoria, 36, lives in Cheshire with her husband Scott Gardner, 40, a sports coach.
Gabby Logan has also reinvented herself after an early career as a gymnast, representing Wales in the Commonwealth Olympics, to become Britain's best known female sports broadcaster. One of the first women to break into the world of sport presenting, she fronts The Premier League Show every week and presented the Rio Olympics 2016. She's won Sports Presenter of the Year an impressive four times. Gabby, 43, manages to balance her high pressure job with an equally busy home life, as mum to 10-year-old twins Reuben and Lois, her children with husband of 15 years, former Scotland international Rugby Union player, Kenny Logan.
Asked how motherhood has changed her, after winning Celebrity Mum of the Year (in 2012), Gabby responded: "It's made me 100 per cent less selfish, because I always put the children first. I've become a master juggler, but it's also made me stop and absorb things more. The other night after her stories Lois said: 'Mummy, will you stroke my head and sing me a lullaby?'. I was really tired but of course I did it, because I know children grow up so quickly and in a few years' time she won't even want me to read her a story."
The theme of stopping to savour the moment before moving onto the next challenge, is something Victoria and Gabby discuss in the video.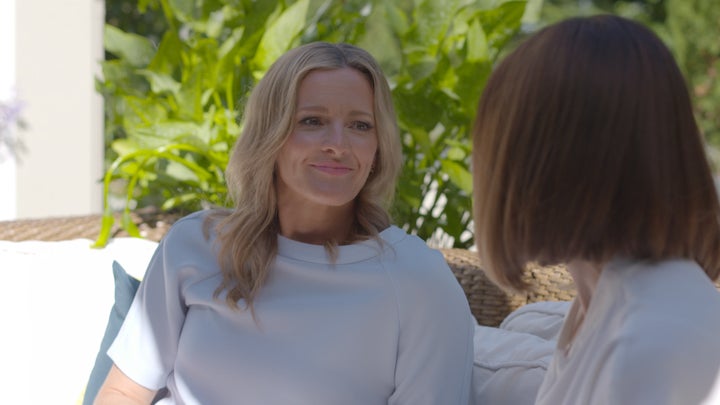 Enjoy the moment
Victoria kicks off the conversation by saying: "I think it's really important after a particularly busy week to have time to reassess, reevaluate, and get back InSync."
Gabby says she likes to walk the dog by herself and relishes being outdoors. But, she admits: "I don't really stop too often since I've had kids. I'm more proud of the juggle; making sure they're fed and go to school and I can work, all that kind of thing makes me feel this is working."
Gabby says in her broadcasting career she's gained confidence as she's gathered experience and that makes her feel InSync. Even when live broadcasts don't go according to plan, experience has taught her that she can put it right.
"You have to put yourself under a certain amount of pressure, you have to deal with situations where things can go wrong. When I do feel I'm out of my comfort zone, I try and employ a little bit of humour, a little bit of lightness and not take myself too seriously."
"Some of the time you just have to laugh and let things go," agrees Victoria.
The women continue their conversation about the importance of living in the moment. As Gabby says, feeling InSync is about treasuring the little moments: "Acknowledging when you have a moment that you think, 'This is a great day, that went really well,' because so often we just rush through things."
"I like the fact life takes you down different paths, and you can try new experiences. It's just getting that balance and making sure you get a little bit of everything. You're never going to be the master of everything. You're never going to get everything perfect."
But as Victoria says it's about "doing the best you can do, giving it your best shot" and savouring the good times in life.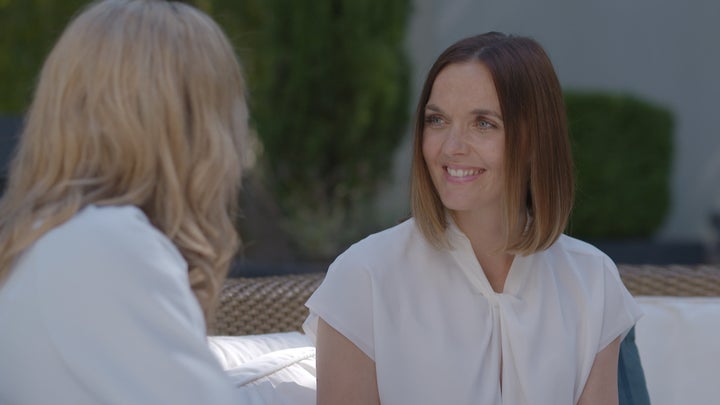 Find your calm space to reflect on the day
Psychotherapist Hilda Burke says: "It's important we each find our calm space, whether that's a restorative walk in the countryside or a chance to read the paper over a coffee. People's calm spaces can be very different - extroverts may feel calmed in the midst of other people while meditation, once learnt, can be done anywhere, even on a crowded commute, and helps regulate our emotional temperature and nurture ourselves."
"Acknowledging the good times in our lives, whether that's a beautiful day on our walk to work or a kind word from someone, and being grateful for those moments is a key way to achieve happiness and a feeling of balance."
The InSync Stories video series, produced in conjunction with Activia, sees inspiring women reflect on their lives and the ways they stay InSync - balancing career success, family life and finding personal fulfillment. The series is hosted by Victoria Pendleton, Olympic Gold medal winning cyclist turned jockey and broadcaster, CBE, and prolific classical-crossover singer and songwriter Katherine Jenkins, OBE, women whose work and family life exemplify what it means to be InSync.
Activia believes that women can achieve their best when they feel InSync - with a sense of harmony, order and control. For more InSync inspiration, go to danoneactivia.co.uk.
Related