RICHMOND, Va. ― LaVaughn Williams had been waiting for a long time.
During Tuesday's election in Virginia, Williams had originally planned to go and vote right at 6 a.m., but her ride was delayed a few hours. Williams, a former felon, lost her right to vote decades ago because she was convicted of a felony and Virginia bars felons from voting unless that right is restored by the governor.
Williams, who is now back in school working to earn a degree that will help her become an auto-mechanic, said she was last in prison in 2014, but only recently had her voting rights restored by Gov. Terry McAuliffe (D). And so on Tuesday, at the age of 55, Williams cast a ballot for the first time in her life.
Williams' ride to the polls on Tuesday was Tammie Hagen, a former felon who had her rights restored and is now an organizer with New Virginia Majority, a group that helps former felons restore their voting rights. Williams and Hagen met in jail in 1990, and ran into each other again recently in Richmond, where Hagen helped her old friend to get the right to vote. Williams had plenty of people she could've called to help get her to the polls, but she wanted it to be Hagen.
Wearing red sneakers, a red jacket and a red hat, Williams seemed to savor every second at the polls. As other voters filed in and out of the local recreation center, Williams stood at her voting station. She later said she wanted to make sure to read every word on the ballot. Even as she filled out the piece of paper, she didn't entirely believe she would be allowed to vote. It wasn't until she ran her ballot through the scanner and it was accepted that she fully realized what she had done.
"I now felt like a citizen. I now felt like I will make a difference in some kind of way. Just bubbling in them little circles, it's like power, it's power," Williams said just after she voted, displaying two "I voted" stickers with American flags on her jacket. "If you had asked me maybe a year and a half, two years ago, I would've said, no, I didn't never think I would vote."
Votes from people like Williams on Tuesday were deeply significant because it marked a significant achievement by McAuliffe, who acted unilaterally to restore those rights to more than 168,000 former felons ― a policy Lt. Gov. Ralph Northam, the governor-elect, has said he is proud of and would continue.
Ed Gillespie, his Republican opponent, ran attack ads warning that restoring voting rights to former felons would make Virginia less safe. Republicans in Virginia have expressed little interest in continuing to aggressively restore the rights. Last year, the state GOP successfully challenged McAuliffe when he tried to give a blanket order restoring rights to former felons, and he has done so only on an individual basis since. The party also unsuccessfully pushed a constitutional amendment in the state legislature that would condition the restoration of rights on the payment of all fines and legal fees ― a measure critics likened to a poll tax.
In 2016, there were 508,680 potential voters in Virginia disenfranchised because of felonies, including more than one in every five African Americans, according to The Sentencing Project. The state's disenfranchisement of felons extends back to the 1830s and was included in the state's 1902 constitution as part of a set of voting restrictions intended to keep African Americans from voting.
Felony disenfranchisement policies vary by state, but Virginia is among four of the most severe that disenfranchise people for life.
Driving around Richmond in an old Chrysler 300, often with a Marlboro cigarette in one hand, Hagen helped about a half-dozen people vote on Tuesday. She switched back and forth easily between talking on the phone to people she promised to help vote and pointing out landmarks in Richmond, including one place on the side of the road where she was once busted using heroin, "getting high as gas."
Hagen estimates she's helped get voting rights back for about 1,000 people, a number she says isn't high enough. She compared disenfranchisement to the trunk of a tree whose roots were racism and whose branches were systemic things like low-wage jobs, bad schools and public assistance policies that perpetuate inequality.
For some of the former felons who voted on Tuesday, getting to cast a ballot was about restoring a sense of dignity. Bobby Lee, 62, didn't get to vote until he was 60. Lee, who is working as a school custodian but hopes to work one day as a social worker, said not being able to vote made him feel like a child who couldn't make a decision for himself.
On Tuesday, just before he stepped into his polling place at Richmond Community High School, people outside were trying to convince him to vote for different candidates down the ballot. Lee said it was something that made him feel "powerful."
Brianna Ross, 53, voted for the first time on Tuesday and said she had been barred from voting because of a felony she committed when she was 19. After she showed her ID and got her ballot, she asked the poll workers where she was supposed to fill it out. After she scanned it and it was accepted, she was determined to hunt down an "I voted" sticker.
Describing how she had previously felt before casting her first ballot, Ross said "it made me feel unimportant."
"When you're waiting to get picked to be on a team and nobody picks you, it makes you feel unimportant or invisible," she said. "And that's how I felt all those years. That no one wanted to pick me."
Related
Before You Go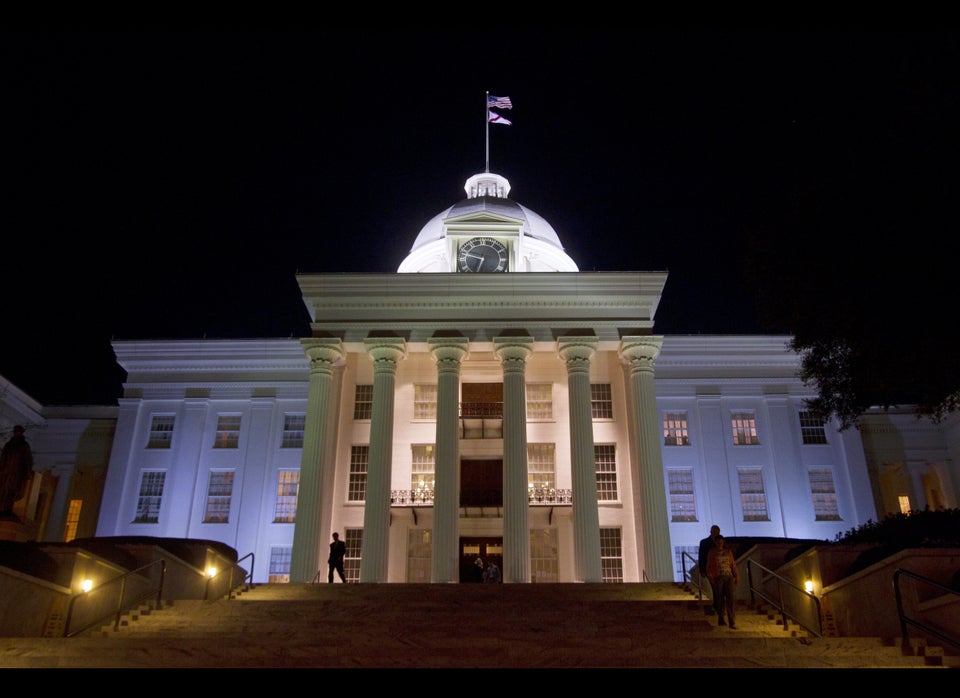 U.S. State Capitol Buildings