Christmas has become a valid excuse to be bask in materialism. But it shouldn't be that way.
Because for many people this year, Christmas will be a real struggle.
"[It] can be an extremely isolating time for those without a home to call their own," said Jon Sparkes, chief executive of homelessness charity Crisis.
"Many of us can take for granted the companionship and shelter we enjoy at Christmas, yet one in four homeless people spends the festive period alone.
"This year, the number of rough sleepers in England has continued to rise at an alarming rate, and across the UK tens of thousands of people do not have a proper place to call home."
While many there are many charities, like Crisis, that help people throughout the year, there is an extra special need at Christmas time. Here's who you can help (and how).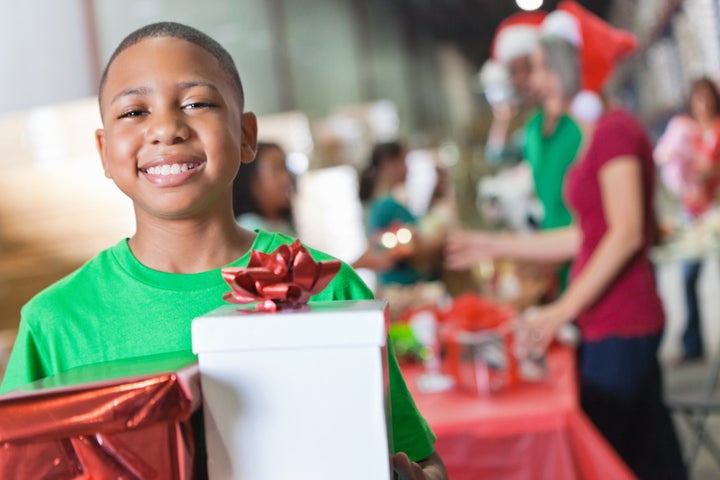 Royal Voluntary Service
What it does: Support older people all over the country to stay independent at home and active in their communities.
It offers practical help that can make all the difference – whether it's giving older people a lift somewhere, collecting shopping or providing friendly company to break up the day. It also offers social activities as well as patient and community support.
Opportunities this Christmas: "A very small number of our centres and meals on wheels services run on Christmas day, but it really isn't many," says a spokesperson.
"We do encourage people to volunteer over the festive season as they can help at one of our lunch clubs."
The lunch club enables elderly people to come together and have a special Christmas dinner a week or so before 25th December.
"We also have lots of volunteer drivers who help all year round, but are particularly vital in helping older people to go to the shops or to a social event during the winter and in the run up to Christmas," added a spokesperson for the charity.
The Salvation Army
What it does: The Salvation Army is a worldwide Christian church and registered charity. It is dedicated to caring for people who are vulnerable or in need, and works with some of the most disadvantaged people in our communities including supporting people experiencing homelessness, older people and victims of modern slavery.
Opportunities this Christmas: The charity has opportunities for volunteers in locations across the country and needs people to volunteer all year round as well as at Christmas.
The types of volunteering opportunities available will vary but may include serving meals to people who would otherwise be on their own on Christmas Day, preparing and serving food at lunch clubs and community cafés, helping at a charity shop, or running activities in community centres.
North London Cares
What it does: The charity runs lots of exciting events throughout the year to reduce loneliness and isolation among the elderly.
It runs a 'Love Your Neighbour' programme which allows volunteers to establish a long-lasting friendship with an older neighbour by encouraging weekly visits.
Opportunities this Christmas: "During December we host our usual clubs and activities with some festive flare. Our final social club of December is on Thursday 22 December," says a spokesperson for the charity.
"We find that over the Christmas period, our Love Your Neighbour programme is especially valuable. Our volunteers who have established a friendship with an older neighbour over the course of months (even years) will often visit their neighbour on Christmas day and spend some time with them."
Crisis
What it does: Crisis is a national charity for single homeless people. It is dedicated to ending homelessness by delivering life-changing services and campaigning for change.
Opportunities this Christmas: From night shift workers to nurses, dog handlers to dentists, dedicated volunteers are needed to help bring Crisis' temporary centres for homeless people to life this Christmas.
Crisis at Christmas 2016 runs from 23-30 December and more than 10,000 volunteers will be needed to make Christmas happen for guests this year. As well as warmth, companionship and hot meals, guests in London, Birmingham, Newcastle, Coventry and Edinburgh will receive healthcare and specialist advice on housing, work and benefits.
The centres are run by thousands of volunteers from all walks of life. Registration is now open at crisis.org.uk/volunteer, with a huge variety of roles on offer, including:
:: General volunteers, who chat to guests, serve food, sort bedding and make sure the centres are happy, welcoming places to be.
:: Night shift volunteers, who provide the essential support that keeps Crisis' centres running 24 hours a day throughout the Christmas period.
:: Service volunteers, including medical professionals, hairdressers and caterers, who give guests access to services they usually miss out on.
:: Logistics volunteers, who drive vehicles, co-ordinate deliveries and provide translation services – all essential to making Crisis at Christmas happen.
:: Entertainment volunteers, such as musicians, artists and sports coaches, who use their talent to bring some Christmas cheer to guests' lives.
Trussell Trust Food Banks
What it does: Provide emergency food to people in crisis through a network of UK food banks. It partners with churches and communities to open new food banks nationwide. There are almost 400 Trussell Trust food banks, with three opening each week to meet a growing need.
Opportunities this Christmas: Food banks need people to help with collections at supermarkets. You might also be required to help pack Christmas hampers ready to go out to local families in crisis this Christmas.
"Food banks get very busy around Christmas so people could be doing things like packing Christmas boxes and giving out warm winter coats if they're available."
HuffPost UK is running a fortnight-long focus around helping others this Christmas. Giving Back will shine a light on the organisations and individuals making a difference in their community, tackling issues such as loneliness, homelessness, food waste and financial struggle. We'd also love to hear your stories. To blog for Giving Back, email ukblogteam@huffingtonpost.com. To keep up to date with our features and find tips on how you can make a difference this Christmas, follow the hashtag #GivingBack.
Related