From Gregg's sausage rolls to bleeding burgers, we've had our fair share of vegan products masquerading as the real deal of late. Now, Wagamama has launched a vegan egg as part of its new "avant gard'n" dish.
With an "egg white" made of coconut milk, cornflour and miso, and a Siracha mayo "yolk", the creators say they never intended it to taste like the real thing – which is lucky, because looks aside, this "egg" is not particularly eggy. Instead, it is designed to work as part of the bigger dish which includes glazed BBQ seitan, king oyster mushrooms, edamame and sticky rice.
We're still not quite sure what we make of that approach. But being the good, gluttonous sports that we are, HuffPost UK decided to get involved and taste the dish for ourselves.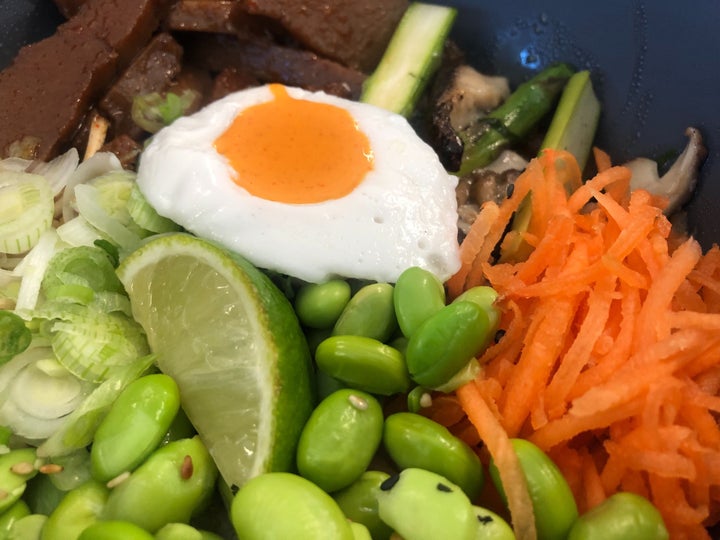 Becky: 'It's like a milky, wobbly, mousse.'
"It did not taste like an egg at all - although I am impressed with the way it looks.I love an eggy flavour but this is more like a milky, wobbly mousse. I think it would be interesting to have it as a vegan alternative in a dish. It's great to see people attempting vegan alternative to eggs though so I applaud Wagamama."
Rachel: 'Really quite an eggy texture.'
"It looks ok, the egg white is very much egg-like. The texture is also quite eggy, but the taste is weird – a little tangy, which was nice but not really eggy. It goes well with the meal, I think! I am also the sort of person who puts eggs on basically everything so it might make me more likely to order the vegan option if I can still get my fix."
Stephanie: 'Think of it as a blob of extra nondescript flavour.'
"I try to eat vegan when I can, but I don't think creating direct substitutes of non-vegan foods is the way to go. But this is OK – kind of coconut-y and soft enough that you could just blend it into the rest of your dish. Think of it as a blob of extra nondescript flavour."
Jess: 'My brain's a bit confused about what I'm eating.'
"I think maybe it would be less disconcerting if it wasn't meant to be an egg. Basically, it tastes nothing like one...and I found the texture quite unpleasant, though I think that might be because my brain was confused about what I was eating. There's definitely a synthetic feel to it, it reminds me a bit of those white milk bottle sweets, but gooier. I'm really not making it sound very appetising!
"I love the mushrooms in this dish. Though again, I find seitan a bit synthetic-feeling. I love vegan food, and even though I do eat meat I often choose a veggie or vegan option when I eat out, but I'd rather give this a miss for something a bit more natural."
We all work hard to earn our money – so it shouldn't feel like hard work to spend it well. At HuffPost Finds we'll help you find the best stuff that deserves your cash, from the ultimate lipstick to a durable iron to replace the one that broke (RIP). All our choices are completely independent but we may earn a small commission if you click a link and make a purchase.