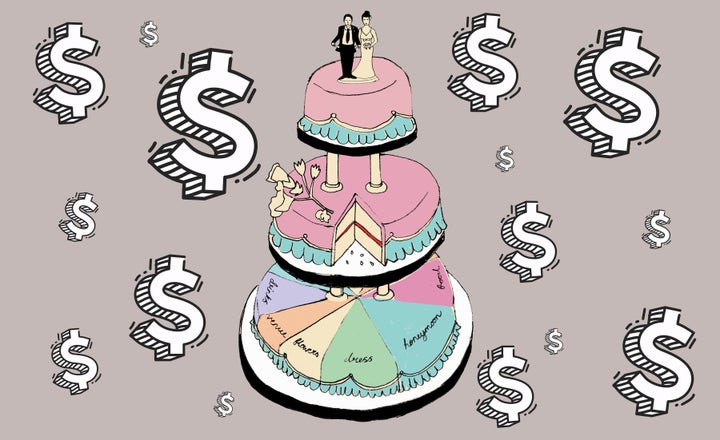 Weddings are expensive events any way you slice it, unless you're willing to cut some major corners ― like having a cash bar instead of an open one or getting married on a Tuesday instead of a Saturday. But fortunately, there are some small ways to reduce costs without sacrificing fun or comfort.
Where couples decide to spend and scrimp really depends on their personal preferences. For this reason, making sweeping recommendations about how to cut costs can be tricky because different couples prioritize different aspects of the wedding.
"My general advice to all my clients, regardless of budget, is this: Don't spend money on things that you don't think are important," Lori Stephenson, founder of Lola Event Productions in Chicago, told HuffPost. "If the tradition of cutting a wedding cake isn't important to you, or you don't like cake and prefer other types of desserts, don't pay for a cake. The only thing you really have to have is the marriage license, right? The rest is just gravy."
Planner Maggie Gaudaen, co-founder of Pop! Wed Co. in Washington, told HuffPost that she recommends clients pick three areas that are the most important to them and focus on those.
"Put all your energy and resources into those three, and let everything else come together afterward," she said. "That way, you'll plan a wedding day that feels like the two of you, while not totally going over budget."
We asked wedding planners to reveal the expenses that may not be worth the money, particularly for couples on a budget. That said, if one of the items or services listed below is of the utmost importance to you, then by all means, invest there. Otherwise, you're probably fine skipping it.
1. Wedding favors
If you're trying to trim your budget, wedding favors are an easy thing to eliminate that guests are not likely to notice, let alone miss. The cost of these trinkets can really add up, especially with larger guest lists.
"After your guests have come to your wedding and ate, drank and danced for hours, they really don't need a piece of chocolate or a picture frame to take home," Tracie Domino, founder and creative director of the Tampa, Florida-based Tracie Domino Events, said.
Domino said she often ends up packing up lots of leftover favors that guests leave on the tables at the end of the night. Do you really want a box of those leftover knick-knacks collecting dust in your garage for years to come?
2. Live cocktail hour music
Quality music is often at the top of a couple's priority list ― after all, you want that dance floor to be poppin'. But the music playing in the background during the cocktail hour is just that: background music. So it may not matter if it's live or streaming off a Spotify playlist.
"We love good entertainment as much as anyone and I would be the first person to say to splurge on a fabulous reception band or DJ, however, to get that string quartet for cocktail hour most often goes unappreciated," Domino said. "Your guests are chatting and drinking and will never notice if you have piped in music of any style instead of a live performer."
3. Desserts
As Julia Child once said, "A party without cake is just a meeting." And you probably don't want your wedding to feel like a meeting. That said, throwing down serious dough on a huge wedding cake and other dessert options may be overkill.
"Once the cake is cut and the dessert bar is open, guests immediately move on to dancing and hanging out, anything but eating dessert," planner Liz Coopersmith of Silver Charm Events in Los Angeles said. "Get enough so that each guest can have one slice or a piece of whatever you're serving, make it pretty to look at, yummy as hell and leave it at that. You're still going to have to throw some away, but not as much."
Another option is to cut a smaller, decorative cake for the photos, but have your caterer cut and serve a simple sheet cake in the same flavor. And planner Jove Meyer of Jove Meyer Events in New York added that if you and your partner don't really have much of a sweet tooth, you shouldn't feel like you have to serve wedding cake just for the sake of having one.
"Do not spend the money if the tradition does not matter to you or your fiancé," he said.
4. Paper invitations
Between the stationery and the postage, paper wedding invitations can become rather pricey, especially the more ornate ones. Paperless e-vites may not feel quite as formal, but they will help you whittle down your budget (and they're eco-friendly too!).
"I know this won't be popular but if you're on a tight budget, don't spend tons of money on fancy invitations," McLane said. "Yes, they are the first impression but I've had clients who spent thousands on invitations and people still asked for the information that was clearly printed out for them."
If you have certain guests who aren't particularly tech-savvy, you can always order a small number of printed invitations to mail to those people and send e-vites to the rest.
"No one really cares about the invitations, past good design and clear information, and most of your guests are not going to save them," Coopersmith said. "And, if someone does give you hard time about it, then it was a mistake to invite them to your wedding in the first place, you know?"
If you don't want to go the digital invitation route, you can eliminate some of your other wedding paper goods, such as programs or menu cards, instead.
5. Transportation
If your ceremony and reception are in two different locations and you have the money to spend on a party bus to shuttle guests, fantastic. And if not, with the variety of rideshare options available today, it shoudn't be all that pricey or inconvenient for your guests to use Uber or Lyft.
"When it comes to things to skip, you can decide not to offer transportation, if you are in a big city that has easily accessible cabs," Meyer said.
If you are having a wedding in a more remote or rural area, do know that cabs and rideshare options may be limited. If you are able to have the ceremony and reception in the same location, even better.
6. Upgrading rentals
"You can save on costs by utilizing any and all in-house rentals, since they would be included in your rental and cost you nothing," Meyer said. "Upgrading rentals can add up very quickly."
Before You Go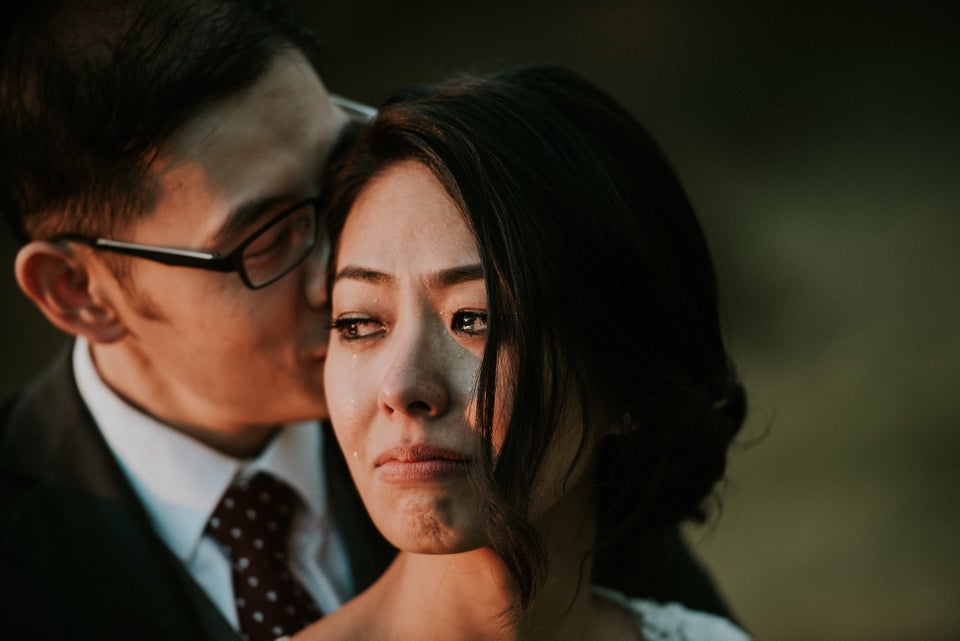 Best Wedding Photos of 2017