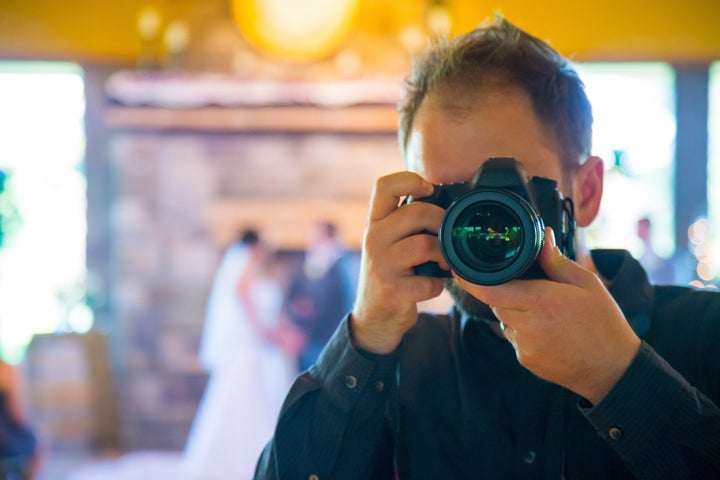 Weddings are full of drama - and nobody appreciates that quite as much as the people behind the cameras.
From nudes galore to full-blown fights between family members, here's what they had to say...
The Brawl
"I once worked at an Indian wedding where there was some big feud between the groom's family and the bride's. The day starts out fairly peaceful, but a few hours into the reception... a big massive brawl breaks out. Hundreds of guests were at this event and a good solid four or five dozen began trading punches.
"Weirdly enough, it died down very quickly and the atmosphere lightened significantly. I think everyone seemed to get it out of their system, and they all began joking with each other. The police showed up and I got a great photo of the bride and groom in handcuffs which everyone liked.
"Of course, that still didn't mean I could release the photo of Uncle Raj kicking an usher in the unmentionables while a little kid in the background was slinging samosas into the melee."
The Downpour
"I was photographing a wedding about four years ago in the country. After the ceremony, we went to a friend of the couple's property to shoot the wedding party photos. It was a fairly nice day, however there were a few moments where it would shower for a few minutes. We got some really cute romantic photos in the rain and plenty when the sun was shining.
"At one point the rain wouldn't stop so the bridesmaids went from the location we were photographing at to under one of those canopy tents. I started taking some pics of the bridesmaids running in the rain when it happened. Just as they were getting under the tent, the weight of the water built up from the rain caused the roof to dip and a waterfall of water came down - right on the maid of honour's head. I just so happened to catch the exact moment that the water made contact with her head. It was one of my favourite shots I have done at a wedding."
The 'Gift'
"I was shooting pictures at a friend's wedding―she was the bride―and she had a pretty good sense of humour about things and certain photos she wanted.
"She had me shoot several pics of her in her dressing room wearing nothing but her hose, gloves, heels, and veil while holding the bouquet as a special 'gift' to her husband."
The Confession
"I photographed the wedding of two friends from college. The best man's speech was a subtle expression of his undying romantic love for the groom, though you'd really only pick up on that if you knew them. I withheld the photos of the other groomsmen looking right at my camera, mouths open and eyes wide in disbelief."
The Arousal
"My sister does wedding photography. My favourite is when she caught the best man with a huge boner looking right at the bride's boobs. The best part was that the best man was the bride's cousin and the photo was the only group shot that had all the cousins in it. She spent hours having to look at this man's boner to Photoshop it out."
The Undie Shot
"I am currently on my way home from a wedding...and I have a picture of the groom dipping the bride at the end of the first dance, pretty religious couple, and the only shot I could get was straight down her dress! Will not let that see the light of day."
The Kilt-Lifter
"Not me, SO [significant other] is a wedding photographer. Groomsmen wore kilts, in the traditional manner. They decide to surprise the photographer with a bent-over full-Monty shot. Quite a graphic image of darkened butt hole hair and hanging sausage and balls that will unfortunately never leave me."
The Family Affair
"Photographed an old friend's wedding, was trying to get some shots of the sunset over the hills as everything was wrapping up. As I turned to head back up to the reception I took a few wider angle shots and I got one of the groom getting some action from one of the bride's sisters just inside the tree line down the hill. It's blurry in the picture but it's definitely clear that it's him."
The Cake Fail
"The last wedding I did the DJ had called me up as it was nearly time to cut the cake and just as I got there the top two tiers of the cake collapsed. Got a cracker of the groom's mother she was hysterical with rage. I lol'd."
The Accidental Flash
"I shot an entire first dance not knowing there was a lady in a short dress squatting down in the background with no panties on."