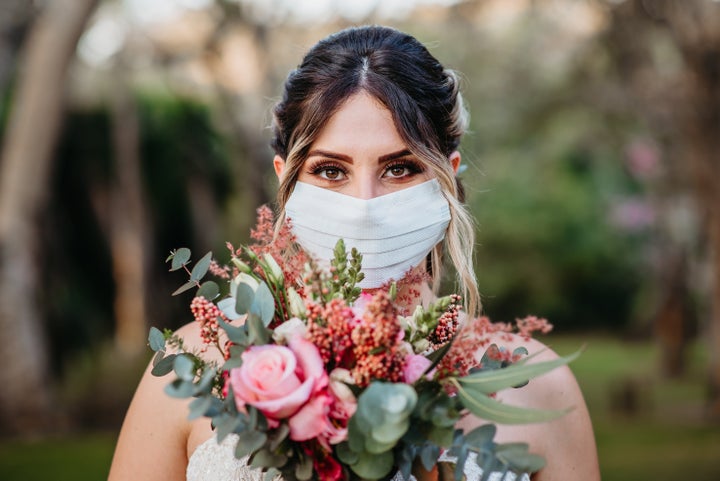 Charlotte Neary, 27, and Chris Haynes, 33, are due to get married in just over one months' time. They'd already cut their guest list from 80 guests to 30 to abide by the government's Covid-19 restrictions. Now, they'll have to halve it again.
On Tuesday, Boris Johnson announced new restrictions in England, including a ban on weddings with more than 15 people. The limits are likely to be in place for six months, the prime minister warned, meaning weddings scheduled until March may be impacted.
Meanwhile, weddings are restricted to 20 people in Scotland and 30 in Wales, while limits are determined by the venue's size and subject to a risk assessment in Northern Ireland.
The fact pubs and restaurants can still take bookings, but the wedding industry is under strict guidance, is frustrating for brides-to-be like Charlotte.
"I understand the economy has to keep going, but it feels like the government is targeting weddings," the bride-to-be, from Swindon, tells HuffPost UK. "They should leave the life-changing events and focus on the day-to-day.
"They worry about mental health, but what about ours? We've saved 30k of our hard-earned money, waited patiently, followed the rules and now we're being stuffed because of everyone else."
Chloe Metzger and Ali Miller, both 26 and based in Hampshire, are also disappointed by the latest announcement. They're considering postponing their January wedding until later in 2021.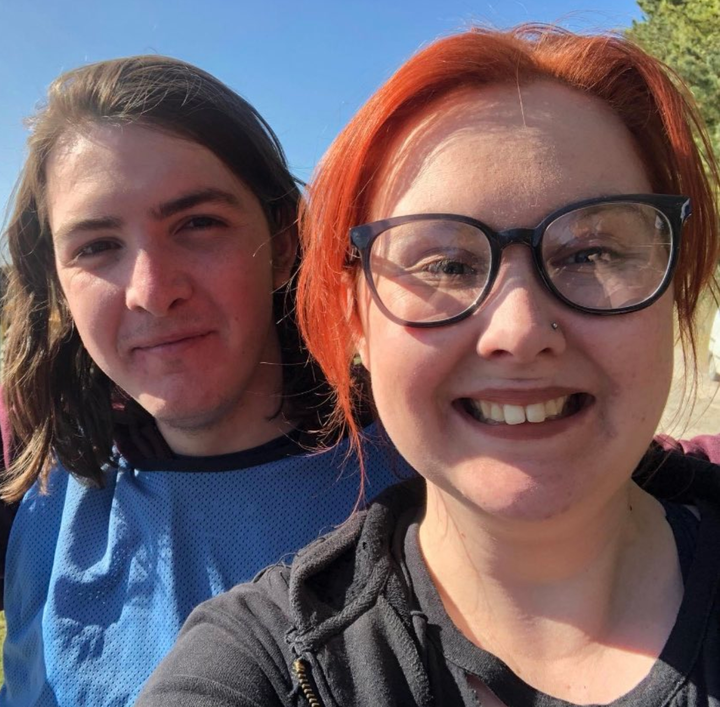 The couple are expecting 55 day guests and another 20-30 in the evening. They have four groomsmen and four bridesmaids. A smaller wedding wouldn't be possible, they say, as there isn't enough space for friends and family members.
"We were getting married at a local hotel, we've been together since we were teenagers so I feel like I've waited a lifetime for it," says Chloe. "I was just really, really sad when I heard the announcement. I didn't think it would go ahead, but coming down to 15 cemented it for us."
The announcement also didn't come as a surprise to Cathie Swan, 23, who's been doubtful about her wedding plans for a while. Cathie is due to marry her partner, Beth Addison, 26, in Northumberland with 60 guests in March.
"The announcement just solidified our concerns more than anything else," she says. "We've spent all summer brushing it aside and saying everything will probably be fine by the time the wedding comes around, but once we hit the six-month-mark – both six months since it all started to get bad here, and six months until our wedding – it hit us both that we almost definitely won't be able to have our wedding in the capacity we wanted to."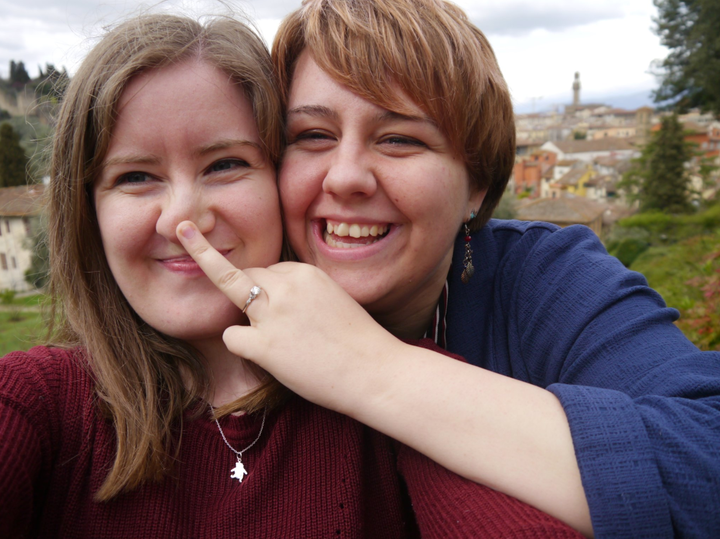 The couple plan to still get married on the same date if their venue allows them to have a smaller-scale event with just parents and siblings.
"We're in the process of telling friends and family they may not get an invite, but it's tricky," says Cathie. "We can't really book anything if we don't know for sure how many people we can have, so we feel stuck at the minute because we've seen how much the situation can change in waves."
Other couples we spoke to said the excitement has been taken out of wedding planning. Mickeal Denis, 49, is due to marry his partner Antonio, 48, in London in November, with a reception held on a boat on the Thames. They'd originally planned for 130 guests, but have had to drastically rethink their plans, with the help of their wedding planner Bianca Gardner from Bumble Events. After Tuesday's announcement, they still haven't decided what to do.
"The thing I keep saying is it's not about what we want anymore, it's about what we're allowed to do now," says Mickeal. "The charm of the wedding has gone."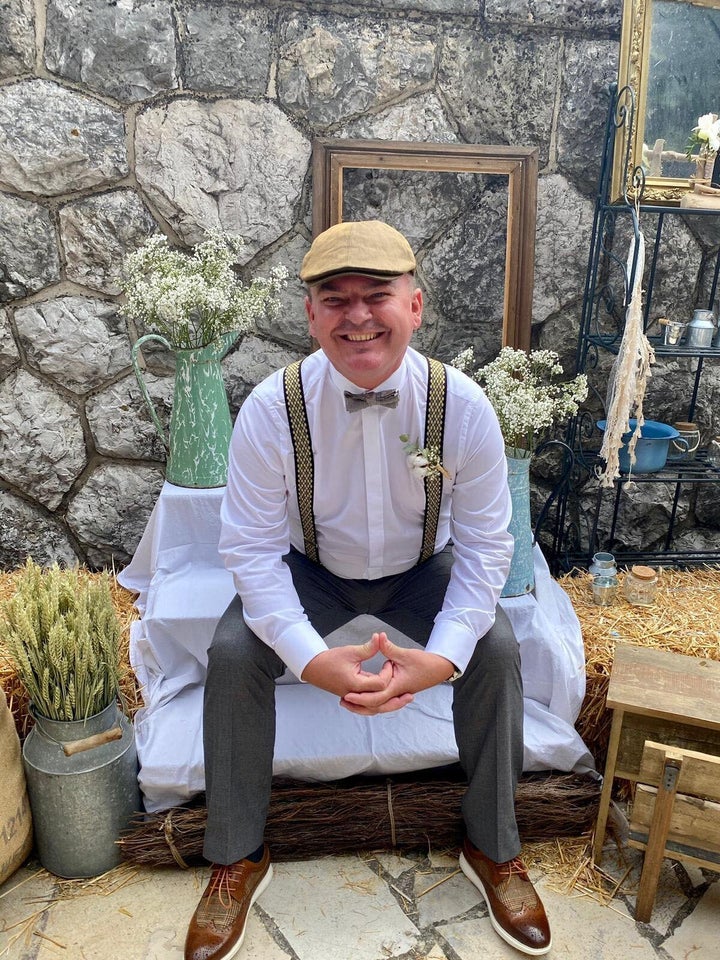 Mickeal is originally from France and Antonio is from Columbia, so while monitoring the situation in the UK they've also had to consider travel arrangements for their international guests.
"We've been changing plans since March," he says. "We've had plan A, plan B, plan C – I think we're at plan Z now. I still want to go ahead, even if it's in a mask. Love is love and we both really love each other, of course. It looks like we'll go for it."
Others got in touch to day the new guidelines are unfair, considering the rules regarding some workplaces and entertainment venues. Fiona, a 32-year-old teacher from Northampton, is due to marry her partner Russel in October and is frustrated by the inconsistencies.
"I can teach 180 kids a day, and by extension this means a connection with their families. My bubble isn't a bubble, it's a whole ocean," says Fiona, who chose not to share her surname. "I can regularly sit in our staff room with 20 other people, but yet I can't have 30 at my wedding."
"We've had plan A, plan B, plan C  – I think we're at plan Z now."
Fiona believes it would be much easier for her guests to socially distance than it is to stay apart in school, as the venue is much larger than her workplace. "Yet the classroom is in theory – government theory – safer," she adds. "This makes little sense. To say I'm livid is an understatement."
Safina Ahmed, 26, from Manchester, has had a small Islamic ceremony with 20 people to mark her marriage to her partner Ali Marks, also 26, but the pair are still not legally married. They postponed their big wedding and legal registry from September this year until March 2021 – and now, they're preparing to postpone again.
"It's made me feel really hopeless and a bit forgotten about as a couple hoping to get married," says Safina. "Due to my cultural background, the wedding was supposed to have 400 guests and be spread across the course of two weeks with lots of celebratory events leading up to it."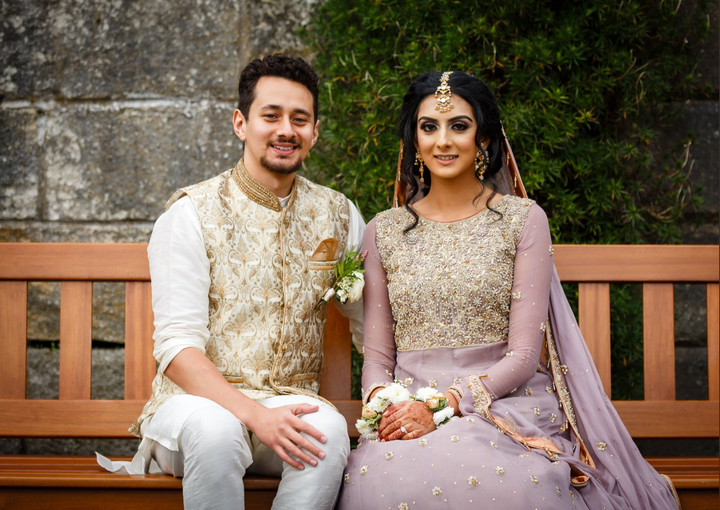 Having a religious ceremony without all their friends and family present was "heartbreaking", Safina adds. "This was done in the hope of having a bigger event next year so they could at least witness the legal registry. But the thought of doing it again without everyone really isn't even an option."
Couples due to get married beyond March 2021 are also worried. Katy Shroff, 40, from Cambridgeshire, said the announcement has "devastated" her and her partner, Adam Chapman, 31.
The couple were originally due to marry in May 2020 with 150 guests but postponed until May 2021. They're now doubtful weddings will be back to normal next year and are considering moving their plans to 2022.
"It was such a hard decision to make postponing this year, we had been planning it for two years and everything was ready to go," says Katy. "It was hard enough spending my 40th birthday in lockdown in March, [and then] losing our stag and hen parties was equally as hard."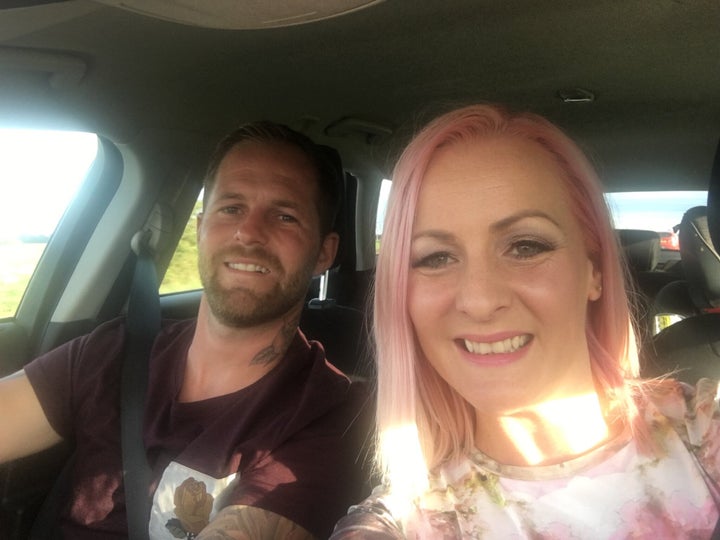 While the couple is hoping to arrange a new date with their church and reception venue, Katy says money will inevitably be lost.
The couple have two daughters and several nieces, who will be flower girls on the day. Katy is doubtful their dresses will fit come 2022, but says a smaller wedding isn't an option. "I have paid a lot for my dress and I don't see the point in just 15 people being there in a church we have paid £900 for," she says. "My fiancé has four brothers, we both have huge families."
So, what are your options if you're affected by the latest announcement?
"If your wedding date is coming up, speak to your venue and suppliers ASAP – they are professionals and in the best possible position to advise you on your options," advises Hitched editor Sarah Allard.
"If you plan to go ahead with a smaller day, have an honest conversation with your guests – they will appreciate how difficult it's going to be for you to cut down your guest list. For those you'd still like to join you, make sure they're aware of health and safety measures you'd like them to adhere to on the day.
"For those that are no longer able to attend, consider ways to still ensure they can still feel involved – whether it's live streaming elements like the vows or speeches, or seeing them separately to celebrate."