For the first time in JD Wetherspoon's history, staff in two pubs have announced they are to go on strike after successfully balloting union members.
In an historic move, workers in the Brighton pubs, The Bright Helm and Post And Telegraph, will stage coordinated action with McDonalds and TGI Fridays workers on Thursday 4 October.
They must be a tough bunch who are used to serving the British public in various states of inebriation, but the Wetherspoon's striking staff say they are going into battle over concerns about general working conditions and everyday events.
They say that these issues, paired with company policies including no sick pay, are making their lives far harder.
In order to strike, the workforce - largely comprised of people in their 20s - has organised itself, with employees joining the Bakers Union to coordinate an official ballot, before meeting with Brighton And Hove MP Caroline Lucas, who has given her full support.
HuffPost UK spoke to three Wetherspoon's workers who told us they're campaigning for better pay and union recognition in the face of "doing a physically and emotionally exhausting job, for wages most of us can just survive on″.
The first change they calling for is to pay all staff - regardless of age - at least £10 an hour. Currently they pay below that to all non-management staff, apart from employees at airport branches, who earn slightly more.
Katie Southworth, 22, has worked in the Bright Helm Wetherspoon for two years. She says: "You're serving alcohol to the public so you sometimes get verbally abused by the public, with rude language. Particularly as a woman, you get a lot of sexual slurs as well.
"A lot of the time people say the work is unskilled and we should be paid accordingly but we can't survive on those wages.
"My pay packet takes me month-to-month, I pay my bills but I can't save. I live in shared accommodation, there's not hope for me every getting enough money to put down a deposit on somewhere or get a mortgage."
Wetherspoon's employs over 37,000 people in nearly 1,000 outlets, which include pubs, Lloyds Bars and hotels. In the half-year to January 2018, it made a profit of £62 million, a 20.6 percent increase on the same period the year before. The company's impressive profits add to the employees' sense of being undervalued, one striking worker says.
"I've worked in Wetherspoon for four years now," says Chris Heppell, 29. "I'm paying extortionate rents for squalid, shared accommodation and it's a job that's physically and emotionally exhausting.
"Anyone who has worked in hospitality will know it's a demanding job to do and we get very little from a company that makes millions from our hard work."
In a statement issued to HuffPost UK, a JD Wetherspoon spokesperson said: "Rates of pay have come under review at most pub and restaurant companies.
"In the last financial year we paid record monthly bonuses and free shares of £43 million, equivalent to about 50 percent of our net profits. 75 percent of this sum was paid to those who work in our pubs.
"Wetherspoon has introduced many initiatives for employees in recent decades."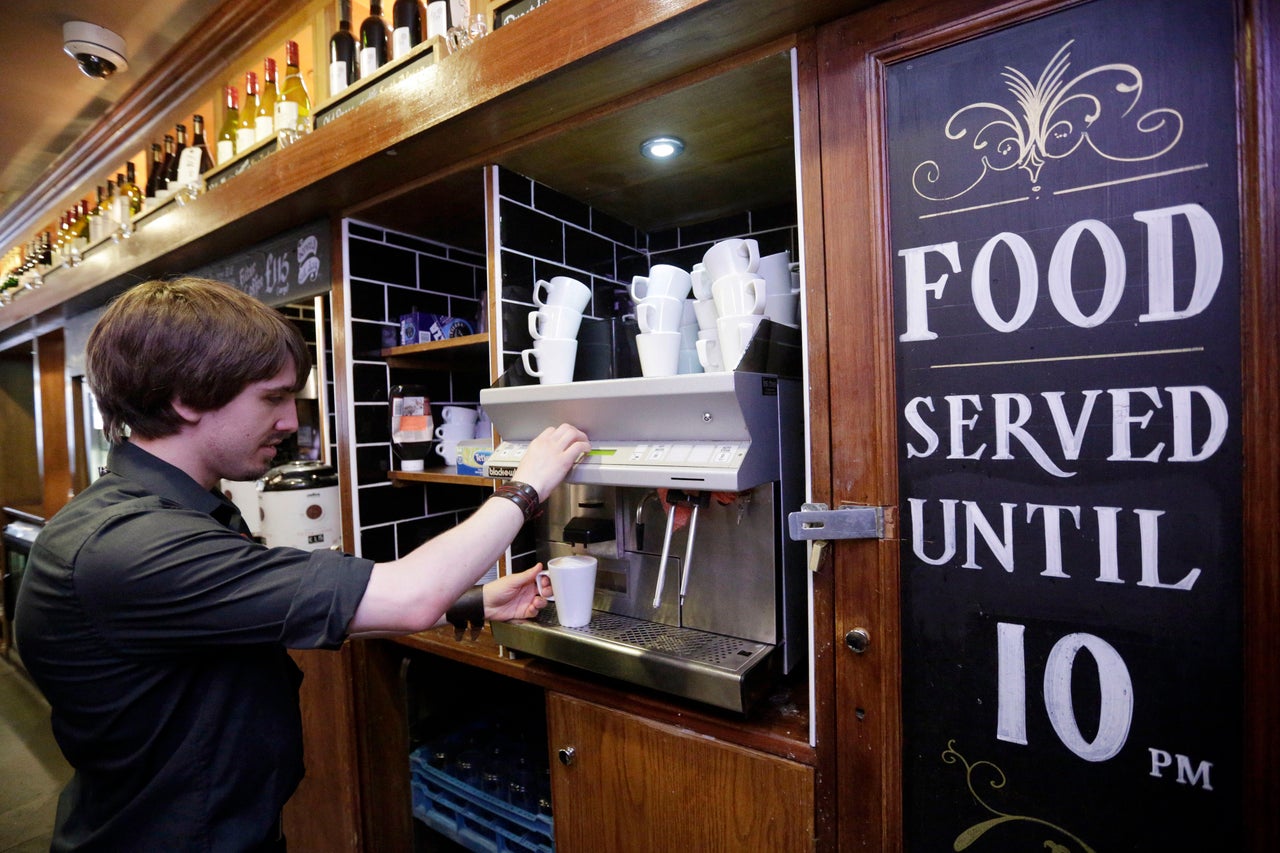 Those leading the strike action are also calling for union recognition, which they say will help to negotiate better pay and working conditions in the future.
Currently, every Wetherspoon's staffroom should contain a copy of 'The Associate Promise' which lays out basic expectations workers "should expect" from the company. It includes holiday pay rules, break allowances and details how all rotas should be issued a full two weeks in advance, with associates getting the final say on "any subsequent changes" made.
However, at the time of speaking to HuffPost UK, two Bright Helm staff said that they were not in possession of rotas for their next two weeks of work.
"Quite often, my shifts will change a couple of days before I'm due to do them and I don't get asked if I'm ok with it," Katie says. "A lot of that goes on in the pubs."
Alex McIntyre is 19 and in his sixth month working at the Bright Helm. He says he has also seen the rota clause overlooked. "I feel like it's more of a guideline," he adds. "As of late, we get our rotas a week in advance."
It may sound like a minor issue but when shifts can mean working any day or any time - day and night - not knowing hours in advance can be a huge inconvenience, they say.
There are also complaints about breaks. Employees are entitled to one 15-minute break if they work from five to six hours, 30-minutes for six to seven hours, and 45-minutes for a shift that lasts between eight and 11. Katie says staffing levels mean breaks are often difficult to manage, and Alex adds that it's common to work through them on a night shift, when two employees are tasked with cleaning the entire kitchen and readying it for the following day's service.
The overnight shifts can be completed by staff of any level and Alex who as an associate is the most junior staff level, describes himself as "one of the workers that pretty much does every one". He explains: "We have to deep-clean the kitchen, close down all the equipment, polish pretty much everything, including the machinery. We do stock rotation, food prep, taking deliveries and putting them away - and there's only two of you.
"Sometimes if the kitchen has been left in a state, you're put back an hour and you don't get a break."
Alex continues: "There were times where I was doing 5 a week, my sleeping pattern was everywhere. There was no compensation for the anti-social aspect, you were getting paid the same £8.25 or whatever and pretty much not having a life.
"And we still get spoken to sternly in the morning if things aren't perfect, despite the fact you've been working hard around the clock."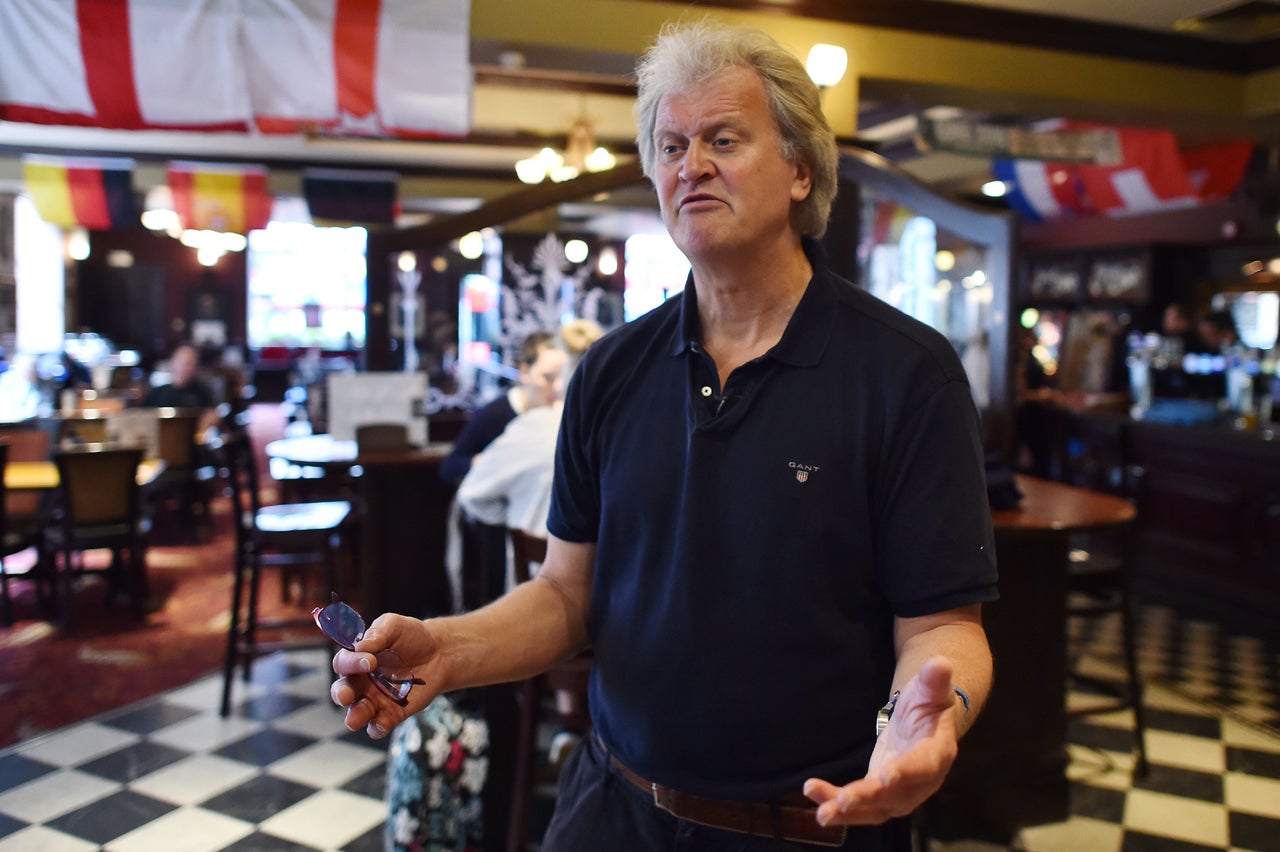 Both the overnight shift issue and terms contained in the employee 'Promise' have already been successfully fought by the Brighton workers.
Earlier this year, staff at the Bright Helm launched their own petition against the overnight working conditions. Just under one week later - with results of the strike ballot looming - Wetherspoon's announced plans to increase night shift pay rates to £1 more an hour than day ones, putting it at £9.25/hour. Chris says the amount of work required means it's still "not enough for a night shift, really".
In the same announcement, Wetherspoon edged its way towards some of the other financial changes the workers are requesting, including abolishing youth pay rates for workers aged 18-to-20 and rising their starting wage.
Over in the Wetherspoon's branch called the Post And Telegraph, a petition on the rota issue resulted in management making a concerted effort to make sure it's adhered to. Chris says: "It wasn't being implemented but now it is, as a result of the action we all took together."
They also have grievances that are not covered by the employee 'Promise'. and are hoping union recognition could give them a way to table these.
One is sick pay, as Wetherspoon does not currently offer the benefit, which fosters a working culture where staff often come in when they are unwell, two employees state. According to Chris, staff at the Post "often have to work through sickness", while Katie explains: "You can only take a certain amount of absences so people are also scared to go over that number. Or they can't afford to pay their bills if they don't come in."
Staffing levels in general are something they're also highlighting, claiming the number of people working in the pub at any given time is often less than optimum. The Bright Helm should have 12 to 14 staff on a busy Friday or Saturday night, but Katie says it's rare for this to happen.
For staff on the bars, this means a lot more running around. For those, like Chris, who are in the kitchens, it "makes things much more strenuous".
"Shifts in the kitchen are physically very demanding, it's hot, we're struggling usually on just enough staff to get through the shift," he says. "It's difficult to maintain [the service] with the staffing levels. We're under pressure."
There's concerns about the Wetherspoon app, too. "The introduction of the I-order app [means] everyone has to rush and work harder to do table service with no extra staff," Chris says.
"Customers get frustrated with us because we're not serving them as quickly. Everyone is more stressed than they were.
"We have to run trays of glasses up and down the stairs in a busy pub."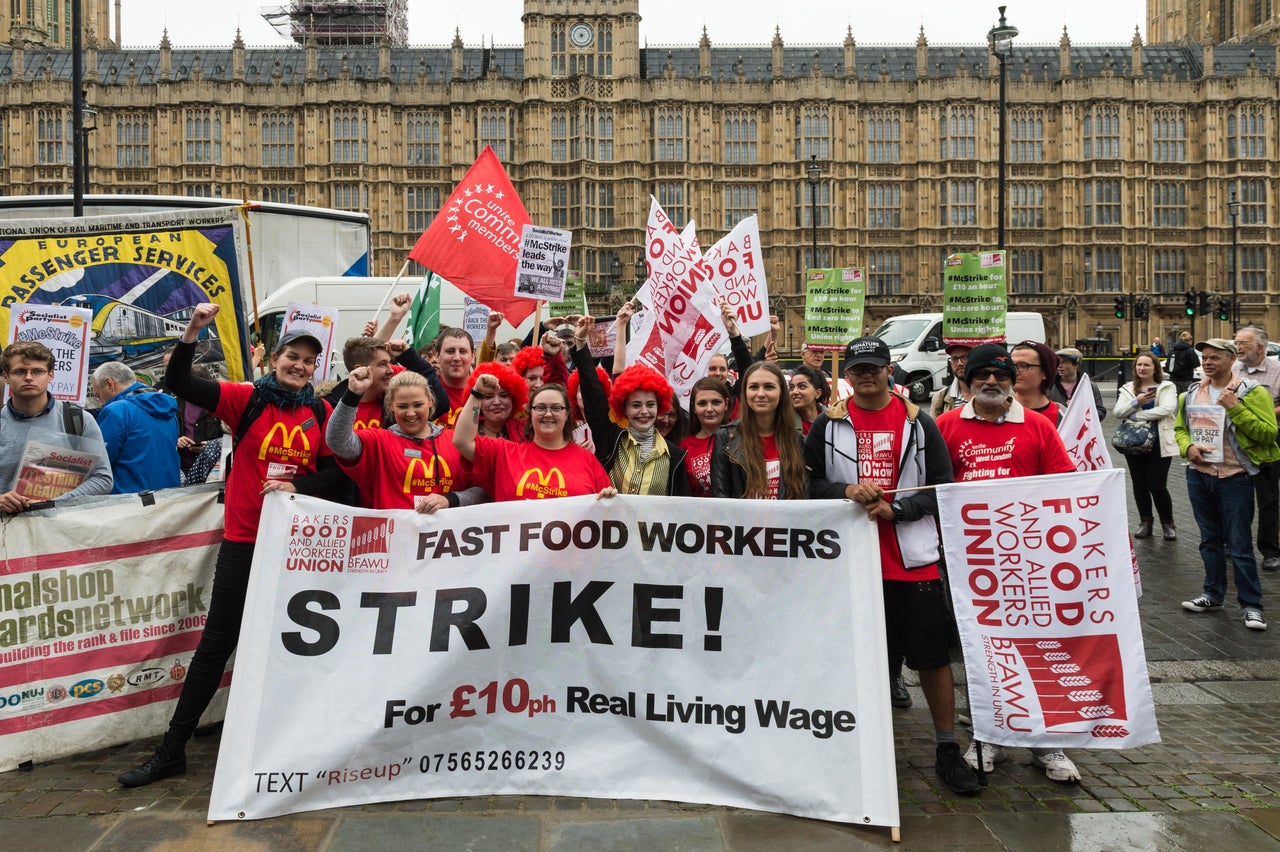 When the ballot was announced, a Wetherspoon spokesperson said the company was "disappointed that we were not approached directly by these employees but, as always, we are keen to listen to what the people in our pubs have to say".
The staff, on the other hand, say there are no open channels for communication - hence why they've taken this action.
"We would be able to bring up the problems," Katie says, when explaining what union recognition would mean.
"They could be sorted internally, the people in head office could speak to the union.
"At the moment, there is no communication between the employees and those that basically make the money off us.
"With the union we could actually come together, rather than having to battle with each other."
"All of the changes we've had already are simply by us unioninsing and standing together," says Alex. "It's proof that there's strength in numbers.
"People are unlikely to approach management themselves and raise the issues we've raised, because you don't know what the reaction [will be].
"To be honest, I've just got my head down and dealt with it, but it's got to a point where you break. Union recognition is so important for the entire hospitality industry. Our story isn't unique."
The fact both pubs have already successfully campaigned for change has bolstered their confidence in the bigger call for action.
"The fact that we've seen the kind of power workers can have when we take action and are listened to... when we come together the company can't ignore us," Chris says.
"It's given us a lot of confidence. If this is how they're reacting to us maybe going on strike, then I can't wait to see what's going happen when we actually do."