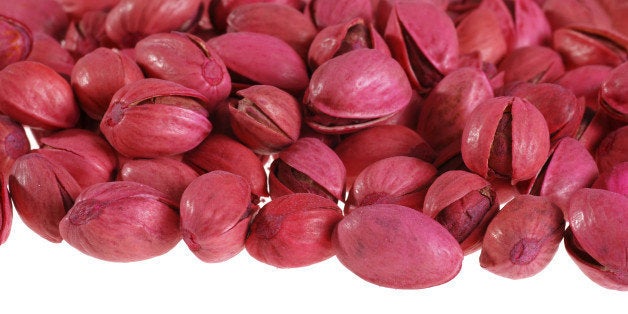 What the hell happened to red pistachios? If you have no idea what red pistachios are, you're probably under the age of 30 and think they sound as foreign as SqueezIts. Once upon a time, however, pistachios used to be bright red -- not a natural red, but a dyed red that left your hands (and potentially your face) a vivid hue of cherry. But they're not around anymore. So what gives?
Pistachios are native to the Middle East and Asia, and up until the 1970s, the United States imported most of its pistachio nuts. Though pistachio trees were first planted in California in the mid 1800s, the industry didn't take off in America until an embargo on Iranian pistachios was enforced in 1979 due to the Iran hostage crisis. While the ban was lifted in 1981, it was enforced again from 1987 to 2000, and then reinstated by President Obama in 2011 in response to Iran's nuclear program.
Today the United States is the second largest producer of pistachios -- after Iran -- and around 98 percent of pistachios grown in the United States come from California. The rest of the country's commercial pistachio production occurs in Texas, New Mexico and Arizona.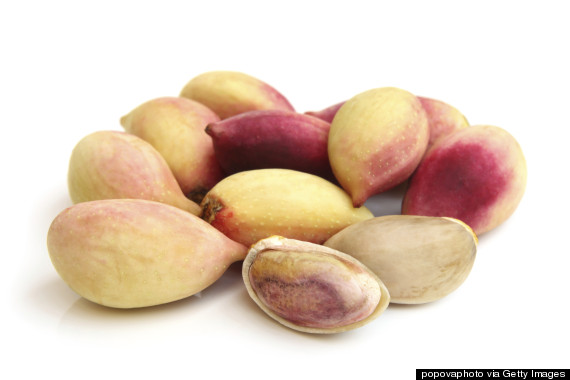 The disappearance of red-colored pistachios is a direct result of the exponential increase in homegrown pistachios and the limit on pistachio imports from the Middle East. When the U.S. was importing pistachios, the nut shells would often be splotchy in color, the Kitchn explains. The shells got stained from traditional harvesting methods in which the nuts weren't immediately hulled and washed. Since the appearance of these stains was unappetizing, pistachio producers in the Middle East took to dying the shells bright red to hide the stains, Richard Matoian, Executive Director of the American Pistachio Growers told HuffPost Taste. A few American producers followed suit because the market was used to seeing pistachios with a bright red hue, Matoian said. But all that's over now.
Red pistachios starting disappearing in the '80s, Matoian confirmed. With the limit on imports and the increase of American grown nuts with American harvesting systems, there became no need to dye the nuts. American pistachio producers use a harvesting system that dries and hulls the nuts before they are able to get stained, which eliminates the need for covering up blemishes altogether. Even today in Iran, Matoian explained, pistachio producers have picked up the new harvesting technique that eliminates stains and the subsequent need for dye.
You can still find red pistachios in some places, Matoian told HuffPost Taste, but they're just a rare novelty product and a seasonal one at Christmastime, not the dominant trend they once were.
The upshot of red pistachios being all but obsolete today, thanks to California-produced pistachios, is that you no longer have to worry about dyed hands -- an unfortunate result of the red dye. Pistachios are just a little more boring now.
Related
Before You Go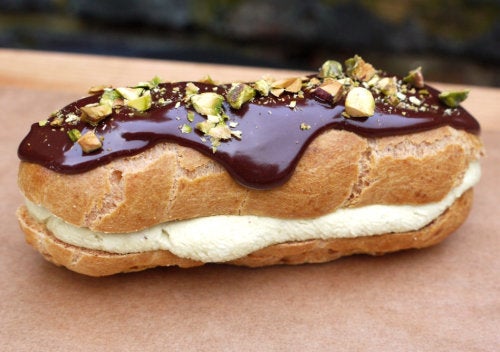 Pistachio Recipes