To delay people's second dose of the Covid-19 vaccine – or not to delay? It seems there's no clear answer to that question.
However, due to high transmission rates in the UK, the government said at the start of 2021 that rather than aiming to give a smaller number of people two doses of the vaccine, vaccinating a greater number of people with a single dose first – therefore delaying the second dose – would prevent more deaths.
"The second dose is still important to provide longer lasting protection and is expected to be as or more effective when delivered at an interval of 12 weeks from the first dose," reads the guidance.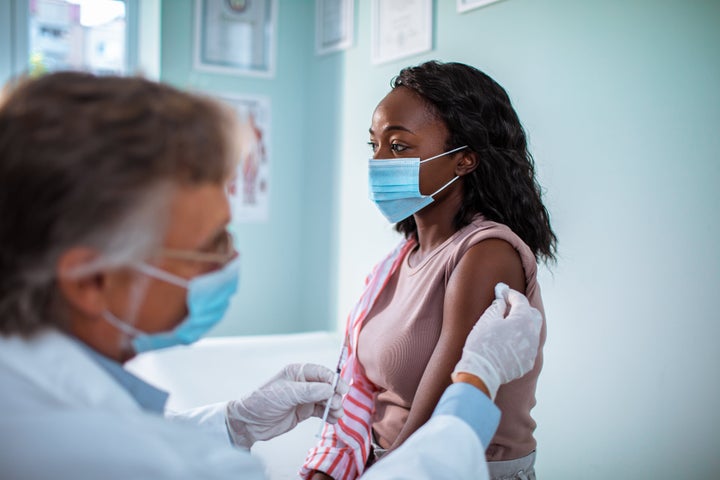 There was a strong initial response to the proposals. In January, the World Health Organisation (WHO) advised the second dose of the vaccine should only be delayed by up to six weeks. Meanwhile some GP surgeries in England decided not to cancel appointments for patients scheduled to have their second dose of the vaccine three weeks after the first, the Independent reported.
In the US, the Food and Drug Administration (FDA) said any changes to the dosing or schedules of these vaccines would be "premature and not rooted solidly" in the available evidence. "Without appropriate data supporting such changes in vaccine administration, we run a significant risk of placing public health at risk, undermining the historic vaccination efforts to protect the population from Covid-19," it said in a statement on January 4.
What do health experts think about delayed doses?
Dr Stephen Griffin, associate professor in the School of Medicine at the University of Leeds, told HuffPost UK in January he was concerned about plans to alter the Pfizer vaccine's dosing schedule.
While the data supporting the Pfizer vaccine robustly supports having two doses given 21 days apart for the vast majority of the patients involved in the phase III trial, the data for the Oxford/AstraZeneca vaccine is "more nuanced and broader", he said.
The UK Medicines and Healthcare products Regulatory Agency (MHRA) provided authorisation for emergency supply of AstraZeneca's vaccine and recommends two doses administered with an interval of between four and 12 weeks, which fits with the altered criteria. According to AstraZeneca, this regimen was shown in clinical trials to be safe and effective at preventing symptomatic Covid-19, with no severe cases and no hospitalisations more than 14 days after the second dose.
"Each vaccine brings different benefits," said Dr Griffin, "with Pfizer being highly effective within a somewhat inflexible framework, whereas the greater breadth of conditions within the AstraZeneca trial revealed the apparent increase in efficacy where doses were spaced further apart."
But altering the Pfizer dosing would mean using the vaccine 'off-label', Dr Griffin explained. In short: not following the exact instructions that have been approved. "The company has understandably distanced itself from this notion", he said.
Pfizer told HuffPost UK in a statement in January that recommendations on alternative dosing regimens reside with health authorities and may include recommendations due to public health principles. But its position is supported by the label and indication agreed upon with regulators, and informed by data from its Phase 3 study.
"Pfizer and BioNTech's Phase 3 study for the Covid-19 vaccine was designed to evaluate the vaccine's safety and efficacy following a 2-dose schedule, separated by 21 days," said Pfizer's spokesperson, as the safety and efficacy of the vaccine has not been evaluated by the company on other dosing schedules.
The scientist behind the vaccine, BioNTech chief executive Professor Ugur Sahin, said in February he believes the first and second dose should not be given more than six weeks apart. He told Sky News: "As a scientist, I wouldn't mind if the second dose of the vaccine is given three weeks, four weeks, maybe five weeks, even up to six weeks might still be okay.
"But I wouldn't delay that further. As a scientist I believe that it is not good to go longer than six weeks."
Professor Stephen Evans, an expert in pharmacoepidemiology at the London School of Hygiene & Tropical Medicine, is aware there isn't an easy solution.
"This is not a simple problem," he told HuffPost UK in January. "The idea that there is a definite clear-cut answer is not true because respected scientists differ in their views. In an ideal world, decisions about treatments would only be made within the exact parameters of the trials which have been conducted. In the real world, this is never so.
"It is safest and most cautious to use the vaccines in the exact conditions reflecting the trials. However, this will never be possible in the real world and the question is how much moving outside the exact conditions is acceptable."
Prof Evans pointed out that pharmaceutical companies are constrained by law and must only make claims that are reflected in the authorisation documents set out by regulatory authorities. But clinicians and health authorities have to take the circumstances they are dealing with into account.
"We have a crisis situation in the UK with a new variant spreading rapidly," he said, "and as has become clear to everyone during 2020, delays cost lives."
Vaccinating only half of a vulnerable population will lead to a notable increase in cases of Covid-19, said Prof Evans. "When resources of doses and people to vaccinate are limited, then vaccinating more people with potentially less efficacy is demonstrably better than a fuller efficacy in only half," he added.
The British Society for Immunology, a professional body representing scientists and clinicians who study the immune system, said that while it would prefer the original dosing schedules tested in the trials to be used, it recognised a pragmatic approach in the short-term is needed – which is why it accepted the rationale for the change in dosing schedule for the Oxford/AstraZeneca and Pfizer/BioNTech vaccines.
"Most immunologists would agree that delaying a second 'booster' dose of a protein antigen vaccine (such as the two approved Covid-19 vaccines) by eight weeks would be unlikely to have a negative effect on the overall immune response post-boost," the society said in a statement.
"We also would not expect any specific safety issues to arise for the individual due to delaying the second dose, other than an increased potential risk of disease during the extended period due to lowered protection."
So what happens now?
People will receive the first dose but may have to wait up to 12 weeks to receive their second. This doesn't mean they won't receive the second dose at all, however. Having two doses offers the highest level of protection available.
You can still catch Covid-19 after having your first dose, although your risk of becoming seriously ill is lower. With this in mind it's important to remember to regularly wash your hands, wear a mask in public, and socially distance. People who are shielding should continue to do so even after having the vaccine.
Scientists, including the British Society for Immunology, have called for a programme to monitor how the delayed dosing impacts efficacy of both vaccines, "with rapid modification of dosing schedules as appropriate".