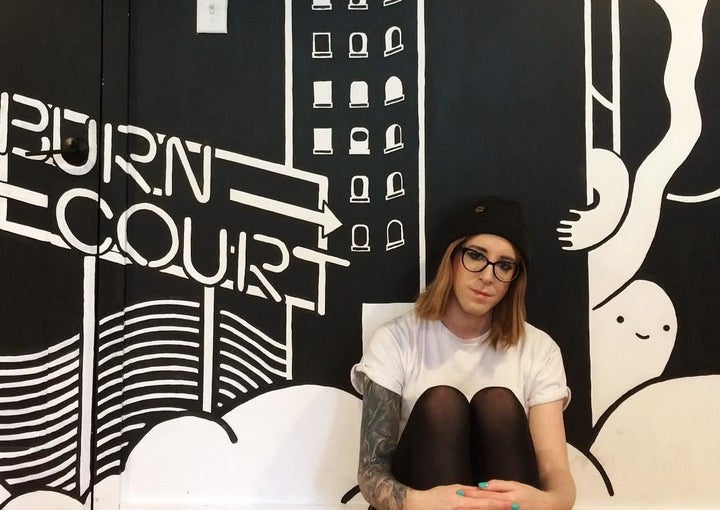 Like most parents, I'm anxious about the day when my young son eventually starts school. He'll leave the comfort of the bubble we've so far created for him and he'll be bombarded with questions from his new classmates.
And I'm perhaps more nervous than other mums and dads… and that's because I used to be a man before coming out as trans in October 2016.
Now I worry how my two-year-old, Oliver, will have to grapple with the concept of 'normal'. And I want to talk about my concerns in the hope it'll offer some comfort to other young trans parents going through exactly the same thing.
Two years ago, I had the perfect life. I had an amazing family. I had just had a baby. I was recently married. But deep down, I was unhappy. I wanted to have a traditional family life. And I was always attracted to women - getting married seemed like the right thing at the time. But it dawned on me that something was wrong. I struggled to put my finger on it for a long time then suddenly it just clicked.
I didn't know any transgender people at all. But the more I looked into it I thought, 'This is why I'm feeling so unhappy'. There were times when I'd go shopping with my wife, Hayley, and I'd buy girl's leggings. My wife would be like, 'Why are you buying that?' And all I could say was, 'I just like it'.
I reached breaking point. I knew I was going to make some huge sacrifices and that I might end up lonely. But I had to do it because it wasn't fair on Hayley after the commitment I'd made to her. So, in 2016, I finally told my wife I was going to transition to become a woman. My marriage has ended amicably and I still have a wonderful, close relationship with my son.
And now I want to be the best parent possible to Oliver. However, for trans people like me, it's unfortunately not as simple as that.
At the moment, Oliver, just sees people as people. I've never 'told' him about my transition, as such - he was so young he wouldn't have understood. I just dressed like myself in private, and he grew to see that. In his eyes, that's just who I am.
But if we go out together as a family, I won't dress as myself, in order to avoid any strangers saying anything to us. You never now how some people might take the way I look, and I would never want our son to be hurt from someone else's physical violence towards me.
I'm lucky in that I've never been physically assaulted, but I'm aware of the great many trans women, both here and abroad, who have. Just last month, new research from YouGov and LGBT charity Stonewall laid bare the harrowing extent of hate crime and discrimination faced by the UK trans community. The stats showed two in five trans people have experienced a hate crime or incident because of their gender identity in the last 12 months, while four in five anti-LGBT hate crimes go unreported. As a precaution I would never want to put anyone I care around in danger.
For me, I still need more time before I feel fully confident. As part of my transition, I've been taking the female hormones oestrogen, as well as anti-androgen drugs Spironolactone, for the last six months. I've also had facial feminisation surgery by pioneering surgeon Christopher Inglefield at the London Transgender Surgery clinic - a procedure documented by ITV on their well-received new series' Transformation Street' - which is well worth a watch.
And I want to get to a stage where people simply don't notice I'm trans. Until then, and as sad as this sounds, I won't take Oliver out by myself.
I've got another two years to savour and enjoy until Oliver starts school. I'm poised for some extremely difficult conversations. But it won't detract from the fact I'm glad and relieved that I've made the decision to transition, despite knowing full well the personal cost to my family.
In my eyes, it's better to take the leap now than dying having never lived the life I always wanted to live.
And it'll never stop Oliver being the most important thing in the world to me.