When you've got a mate like Adele, you want her to be part of your wedding. On Tuesday Alan Carr revealed the signer was "ordained" in the US in order to conduct a wedding ceremony between him and husband Paul Drayton in Los Angeles in January.
If the news has made you think about asking a friend to deliver your vows Joey-from-Friends-style, there are a few things you have to consider. Kaleel Anwar, a family lawyer from Slater and Gordon, says it's not as easy to conduct a wedding in the UK as the US.
"There are only certain registered people who are given licences to perform a marriage in this country, this is either someone who is part of the Church and has a licence to do so, or alternatively if you are a registrar whose job it is to conduct marriages," he tells HuffPost UK. By contrast, in the US some organisations allow people to get ordained online for free.
Unfortunately, the same is not possible in the UK. Being a vicar or a priest can take years and is a vocation as well as a religious commitment, meanwhile a registrar is someone who is employed to record details of all births, stillbirths, deaths, marriages and civil partnerships, and is employed by the local council.
But according to Anwar, there is nothing to stop a friend from conducting a ceremony to mark a marriage. All parties just need to be aware the ceremony has "no legal effect whatsoever" and the happy couple with have to pop to the registry office before or afterwards to make their commitment legally binding.
That's not to say having a friend conduct a wedding ceremony is pointless. For many couples, being able to celebrate with those closest to them is the most important part of tying the knot. In fact, popping down to a registry office before or after a ceremony is not that unusual.
Take humanist wedding ceremonies for example, which are non-religious, and all about having a day that is meaningful to the couple. While such ceremonies are legally recognised in Scotland, they are not in England, Wales and Northern Ireland - meaning registering the marriage afterwards is the norm.
Humanist ceremonies are conducted by trained celebrants (like an unofficial registrar) who will spend time getting to know the couple before the day and tailor the ceremony to them. However, those wishing to conduct a friend's wedding can take inspiration from this kind of ceremony.
In humanist weddings there's no set script - forget "until death do us part" - instead, the order of the day is completely personal. The ceremony may include details about how a couple met, poems they like, or vows they wish to write to each other. If you're conducting a friend's wedding - or have asked a friend to conduct yours - have a long chat about what the couple want from the day.
Dinesh Mehta, 37, a designer from London, officiated a wedding for his friends Tommy and Mike when they got married in the Lake District in August 2015. Dinesh met the couple when they all lived together in Hackney and says he felt a responsibility not to "mess it up" on the big day.
"Being a little nervous, I prepared myself the best I could and practised over and over again, boring my wife into submission until she finally said, 'you'll be fine'," he tells HuffPost UK.
"But when it came to the big day and I saw my friends in front of me, I almost forgot anyone else was in the room and it just felt like a funny chat in the kitchen after a night out. Just felt completely natural. It was an amazing day and one that I will cherish forever. "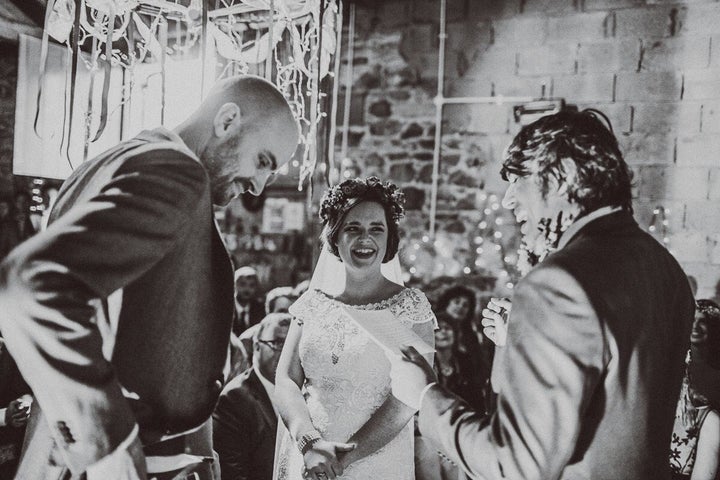 James MacFarlane and his wife Yvonne also opted to have their friend, Devlin, officiate their wedding ceremony after all living together.
"Having him do it made it a much more personal experience. We both always wanted an outdoor ceremony and doing it this way meant that we weren't constrained by the strict rules or anyone else's idea of what a ceremony should be. He also did a stellar job of planning and organising with us," James tells HuffPost UK.
Devlin adds: "I wanted to from the start because this was the joining of two of my best friends, and two of my friends making a family, and it was important to me to be a part of that experience in any way that I could. Especially for people like us who aren't necessarily very religious, it doesn't make any sense for you to have a priest or anything doing that."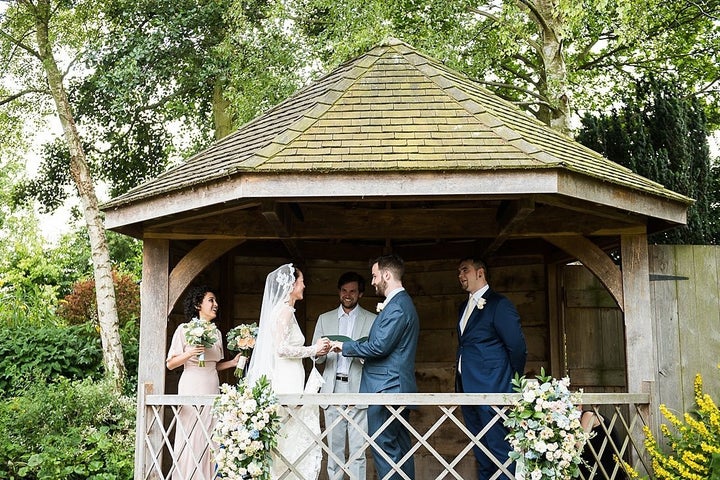 As well as creating a happy memory for all involved, one of the biggest benefits of having a such a ceremony is you get to say your vows in whatever location you want. For a wedding to be legal in most of the UK, it must be conducted at a registry office, a premises approved by the local authority such as a hotel, a registered religious building (such as a church or synagogue), the home of one of the partners if the partner is housebound or detained, in hospital if one partner is seriously ill and not expected to recover, or a licensed naval, military or air force chapel. Nature fans will be sad to know that while you can get legally married outside in Scotland, you can't officially in the rest of the UK.