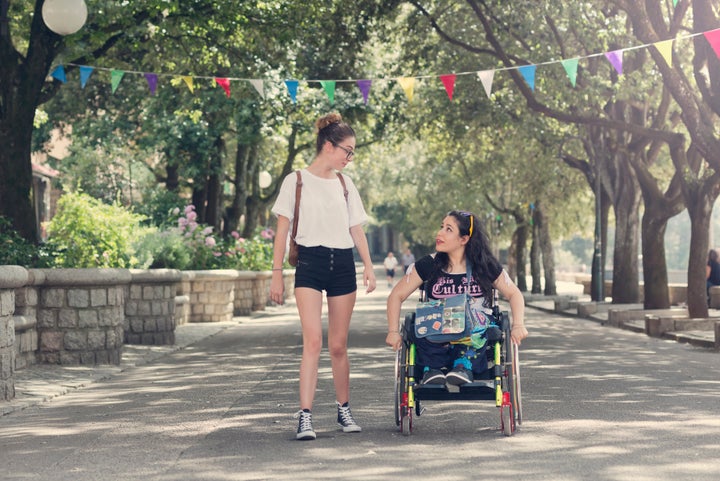 Travelling as a wheelchair user can be stressful, worrying, and sometimes disastrous. But it can also be exciting, empowering and absolutely wonderful. There's no fail-safe way to ensure everything goes to plan, but with a little extra care and attention it is possible to survive the bumps in the accessible travel road, and thrive on the joy that the journey brings.
Right now I'm researching my next holiday. It's stressful, it's time-consuming, and more than once I've shut the laptop down in a fit of frustration and consoled myself with chocolate. I'm a difficult customer when it comes to travel. I've spent years working in the industry and heard a million horror stories of accessible travel gone wrong. I know exactly what I want out of this holiday, and balancing that against what I need means I'm struggling to find the perfect hotel. But I'll persevere, possibly make a couple of compromises, and eventually find the right place for a week of autumn sunshine.
And then the fun will really begin: making sure I get an accessible room which actually is accessible, that the airline will assist me and not obliterate my wheelchair, and that I can get travel insurance that doesn't double the cost of my holiday, etc. Here's what I've learned about surviving wheelchair-accessible travel, and ultimately getting the most out of my holidays.
Research, research, and research some more
Information is power. If you only do one of the things mentioned in this post, make it research. It can be frustrating so arm yourself with a treat - a glass of wine, a bar of chocolate (family-sized, in my case) - and spend some time web searching, guide book reading and asking for recommendations.
I'll start with a destination or two in mind, ask for recommendations from friends and on Facebook groups, see which hotels are noted as being accessible in that area, check the hotel's actual website and/or a listing site that goes into detail on accessibility to make sure it broadly meets my requirements, and then cross-reference with TripAdvisor. From there I'll build a shortlist, and contact the hotels directly to confirm accessibility in writing and photographs – this is very important as things can get lost in translation if you're travelling internationally.
Then it's about checking the nice-to-haves – is it close to the town/restaurants/beaches, do I like the look of the dining options, can I get a spa treatment?! Ok, I'm high maintenance. And then I repeat the process looking for transport options, things to do, places to visit, restaurants and most importantly cocktail bars.
If you've gone through the painstaking hours of research, make it count and keep written and photographic evidence of everything you've arranged. As well as your standard travel tickets and confirmations, have copies of any emails with hotels, transport operators, equipment hire providers and tour companies.
Have a copy of your wheelchair manual – and if you're travelling by air with a powerchair or add-on, documentation to say that the battery is flight-safe.
Travel insurance for those of us with pre-existing conditions can be hideously expensive and it's frustrating to have to pay extra to declare a condition which may actually have no bearing on your ability to travel. But I always ask myself, can I afford to lose the cost of my holiday if I have to cancel? Can I afford to replace my wheelchair if it gets damaged beyond repair? I definitely can't. So I have an annual wheelchair insurance policy that includes travel, and a separate travel insurance policy on which I declare my Cerebral Palsy.
Specialist insurers dedicated to covering pre-existing conditions are usually cheaper, and some of the comparison sites now offer the ability to search for inclusive insurers.
Up until last year, I travelled with a bog-standard, NHS-provided folding manual wheelchair, and to be honest I wasn't overly concerned about it getting damaged. Maybe I was just lucky, but it had never happened to me. Then I bought my first privately-funded chair and power pack, and, oh – the anxiety!
I bought a top-of-the-range hard shell suitcase for the power pack, covered it in fragile stickers and took literally everything detachable off the chair and onto the plane with me. I also photographed my chair before the flight as evidence in case there was any damage when it came back to me.
If the worst happens, make sure you report any damage before you leave the airport, and ask the airline to provide a repair, or a replacement rental wheelchair.
Sometimes we all have to travel on tight schedules, but if you can, allow time in your itinerary for disruptions. My last holiday was a three-night break, with a packed schedule of train travel and places to visit at the destination. Add in a two-hour flight delay and the resulting exhaustion from all that waiting around, and it meant I had to cancel part of the trip.
I was really disappointed (and emotional, I have been known to sulk!) so next time I'll make sure I plan at least a few hours of downtime just in case.
If things do go wrong, give yourself a break
There's no way to guarantee everything will go to plan. On one my annual wedding anniversary trips, my husband and I faced a flight delay, a very inaccessible 'accessible' room, a missed train and a day of torrential rain.
But I reminded myself that I was in a beautiful place that I'd never been to before, with new experiences just waiting to be discovered. Perfect or not, we still had an amazing time and have memories of yet another adventure, good and bad.